Of all the unlikely people to receive Divine Intervention, it would probably have been Mary. She was a genuine nobody in a nowhere world called Nazareth. She was a simple Jewish girl with a simple Jewish faith and betrothed to a simple Jewish man with a simple righteousness that stands out in its pristine beauty and simplicity.
Divine Intervention complicates everything. 
And it never, ever, returns to normal.
Luke 1:34 "How will this be," Mary asked the angel, "since I am a virgin?" 35 The angel answered, "The Holy Spirit will come on you, and the power of the Most High will overshadow you. So the holy one to be born will be called the Son of God. 36 Even Elizabeth your relative is going to have a child in her old age, and she who was said to be unable to conceive is in her sixth month.  37 For no Word from God will ever fail."

"I am the Lord's servant," Mary answered. "May your Word to me be fulfilled." Then the angel left her. (Luke 1:38)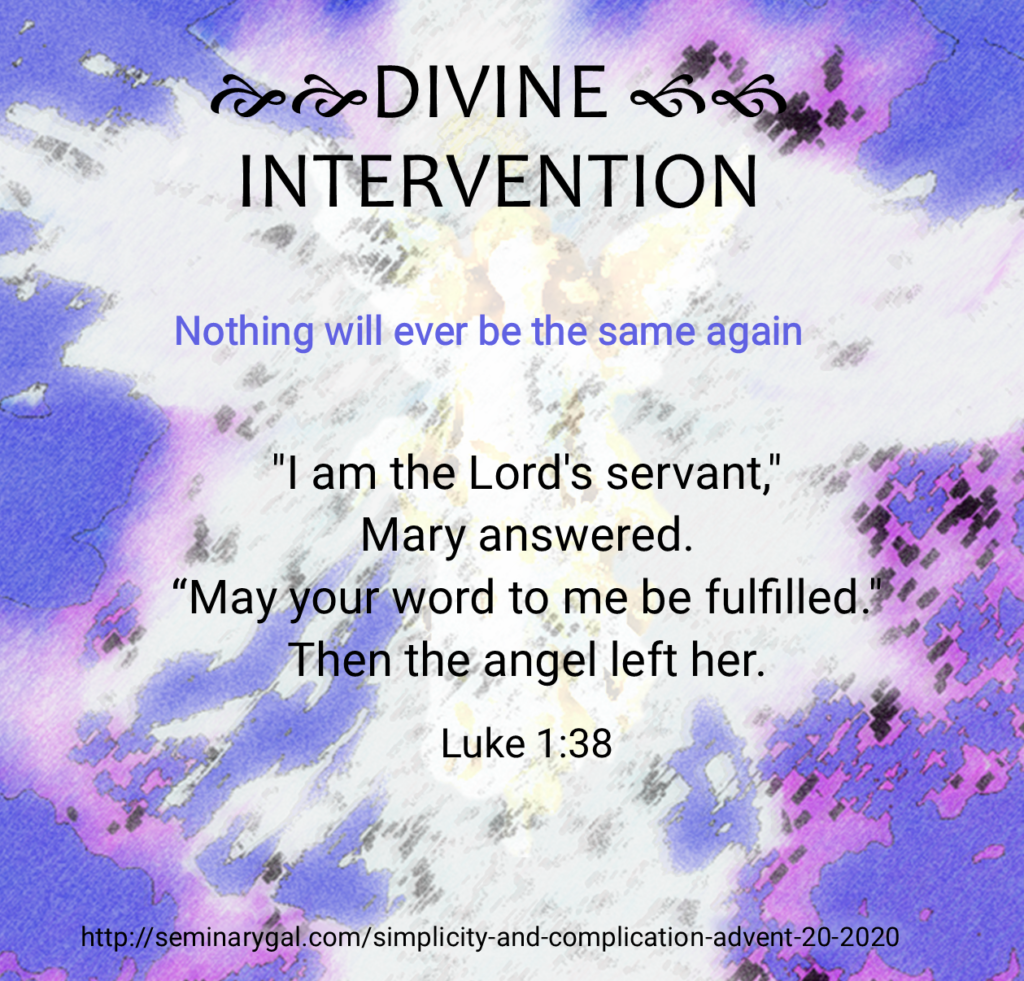 Questions for further thought:
Can a woman ever go back to virginity after pregnancy? 
How was Mary's life changed in one pivotal moment of her assent to being the mother of the Messiah, to the Divine Intervention?
Would her life ever go back to normal?
Think about what COVID has done to nations around the globe.  We look at photos of how things used to be.  What about COVID has changed things permanently and in what ways can we someday go back to normal?
Read Luke 2:25-35, especially, "Then Simeon blessed them and said to Mary, his mother: "This child is destined to cause the falling and rising of many in Israel, and to be a sign that will be spoken against, so that the thoughts of many hearts will be revealed. And a sword will pierce your own soul too." (Luke 2:34-35 ) How did Jesus change everything for Israel and a sign spoken against. Would the future ever look like normal motherhood for Mary?
Now think about the distinctions between a person's body and mind.  The human mind can be held captive or freed. A captive mind can exist in a free person. A mind can change. What kind of Divine Intervention is required to free a mind that has become accustomed to bondage?
Lord Jesus, how we praise You and thank You that those You set free are free indeed!  May we become increasingly aware of what is happening to our minds in our current culture, may we reject our minds being made slaves to evil, or silenced, and instead, submit to You and embrace the true freedom we have in You.  We praise You that this earth is temporary, and as it continues to spiral down, down, down that You have called us to be citizens of two kingdoms as followers of Christ.  We are citizens of this earth, yes, but we are citizens of the Kingdom that can never be destroyed.  We are citizens of Your Kingdom, Lord, and we praise You! 

Thank You that someday glorious freedom will surround us and be part of our lives once again in far greater measure!  We thank You that our hearts can belong to You even if our bodies are constrained by laws, by world events, by disease, by terror….and spiritually, we still have freedom in You! 

We ask, Lord, that You would give Divine Intervention in the lives of people whose minds are still captive, whose minds are still under the yoke of fear, under the yoke of terror, under the yoke of COVID, and under the yoke of Satan.  We ask Lord that You would intervene powerfully in the lives of our friends, our families, our neighbors–indeed people around this world who need to know You–and we pray, Lord, that their turning to You will hasten Your return. 

Oh, Lord, in this Christmas season, may people come to see in You the Light of the World, to see the freedom in Christ that You came to bring.  You, Lord Jesus, are victorious over sin and death!  The chains upon humanity have been broken!!!  You are the King of kings and Lord of lords!  We bow before You in worship at the manger, at the Cross, and before Your throne in heaven!  We offer this prayer in Jesus' mighty Name. Amen.
===
Advent 2020 began Sunday, November 29th and continues to Thursday, December 24th as we celebrate the first coming of our Lord Jesus Christ and look forward to His Second Coming. "Divine Intervention" is this year's devotional study. By signing up on the sidebar of my Home Page you can receive these daily devotionals. Or they will be reposted on SeminaryGal's Facebook page as well.
Together we will see how God has been actively involved all along as Divine Intervention for a hurting world and nations in tumult– Intervention for you and for me when our status as sinners required nothing short of a miracle.
===
Acknowledging inquiries about an entire season's devotionals for your study group's planning purposes, Seminary Gal's prior seasons' Advent devotionals can be accessed via the archives to the right and are as follows: