"Be still, and know that I am God; I will be exalted among the nations, I will be exalted in the earth." (Psalm 46:10).
"Be Still," God's Word says. Do we even know what being still feels like anymore? How can we get to that place of stillness? Especially at Christmas.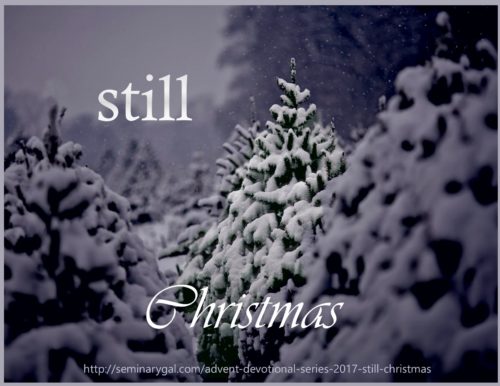 .
This year's Advent Devotional Series, Still Christmas, is the Advent complement to the Lenten series, Be Still and Know that I AM God.
Every day through Advent, we will look at the birth narrative of Christ and find ways to have a Still Christmas, taking time for appreciating what an amazing and transformative event the birth of our Savior was.
We will allow ourselves to take refuge in God's Word and under His mighty hand.
By doing so, we will learn to relinquish our desire to control our surroundings and in the stillness, find comfort and hope.
Finally, there will be questions for personal reflection designed to carve away all our self-imposed stresses and refocus our pure attention upward.
Be Still and Know that I AM God.
* * *
Advent Devotionals begin December 3, 2017. If you're already signed up on my Home Page sidebar to receive posts, you'll get the Advent devotionals automatically. If you haven't signed up, today is a great day to do so. Advent and Lenten devotionals remain among my most popular offerings. You don't want to miss this great way to prepare your heart for the true meaning of Christmas! See you in a week!
== ==
Acknowledging inquiries about the entire season's devotionals for your study group's planning purposes, Seminary Gal's prior seasons' Advent devotionals can be accessed via the archives to the right and are as follows:
The 2016 season devotionals were called "Timeless: The Message of Christmas for All Ages" and explored how the message of Christmas is timeless truth, for all ages of people, and for all ages at all times. Timeless hope, encouragement, grace, peace, and love as we looked into the Word, saw the face of our Lord Jesus, and experienced restoration in His presence. His goodness and His Gospel are truly Timeless. The 2016 devotionals began November 27, 2016.
The 2015 season devotionals were titled Incarnation and involved digging deep–and yes, I mean deep– in this important mystery of Christian theology. They began November 29, 2015.
Carol Me, Christmas! remains one of my most popular offerings and tells the Christmas story through our most beloved Christmas hymns and carols. You can access all of the numbered devotionals from 2014 via the archives. They began November 30, 2014.
The 2013 series was Emmanuel: When LOVE Showed Up in Person and examined the Prologue to the Gospel of John. It began December 1, 2013.
The 2012 series focused on Expecting the Unexpected…the unexpected, unlikely, and uniquely divine qualities of God's perfect plan outlined in Luke's account of the Christmas story. It began December 1, 2012.