For those of you, my dear readers who have been with me for a while, you know that every year, I've endeavored to do a devotional series for Lent and also for Advent.  For Advent 2016 Devotionals, God placed on my heart the Timeless desire for healing and encouragement and how the Gospel ministers both.
It's been a tough year with divisive politics, world events that are enough to give a sane person real pause; there are worries, strife, and many personal tragedies that can cause each of us to look inward, knowing the bitterness and the gall as Jeremiah once lamented.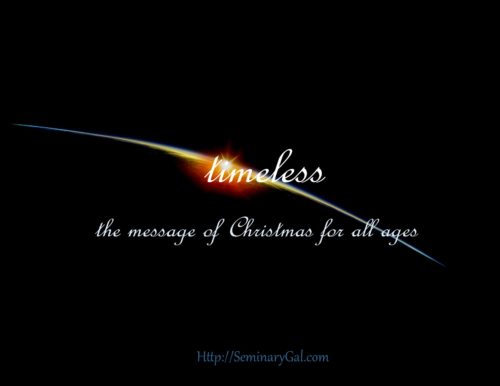 Lamentations 3:19 I remember my affliction and my wandering, the bitterness and the gall. 20 I well remember them, and my soul is downcast within me.
21 Yet this I call to mind and therefore I have hope: 22 Because of the LORD's great love we are not consumed, for his compassions never fail. 23 They are new every morning; great is your faithfulness. 24 I say to myself, "The LORD is my portion; therefore I will wait for him." 25 The LORD is good to those whose hope is in him, to the one who seeks him;
It is into a world such as this that Jesus came and gave us the Timeless message of the Gospel.  It's a message of encouragement for all ages.
No matter how the election turns out, we'll all need a little healing and I trust we will find our places again as brothers and sisters in the family of God.  Those outside of the family likewise will have had a tough year as most years inevitably are on this fallen earth.  Once you have been strengthened and restored, as Advent nears, reach out your hand to someone outside the Church who needs Timeless encouragement.  The Gospel heals.
Join me for Advent 2016 Devotionals called Timeless: the Message of Christmas for All Ages beginning November 27, 2106.  Timeless hope, encouragement, grace, peace, and love will be ours as we look into the Word, see the face of our Lord Jesus, and experience restoration in His presence.  His goodness and His Gospel are truly Timeless.
Advent begins November 27, 2016.  If you're already signed up on my Home Page sidebar to receive posts, you'll get the Advent devotionals automatically.  If you haven't signed up, today is a great day to do so.  Advent and Lenten devotionals remain among my most popular offerings.  You don't want to miss this great way to prepare your heart for the true meaning of Christmas!
====
Prior year's Advent devotionals (all of which can be accessed via the archives to the right) are as follows:  
The 2015 season devotionals were titled Incarnation and involved digging deep–and yes, I mean deep– in this important mystery of Christian theology.  They began November 29, 2015.
Carol Me, Christmas! remains one of my most popular offerings and tells the Christmas story through our most beloved Christmas hymns and carols.  You can access all of the numbered devotionals from 2014 via the archives.  They began November 30, 2014.
The 2013 series was Emmanuel: When LOVE Showed Up in Person and examined the Prologue to the Gospel of John.  It began December 1, 2013.
The 2012 series focused on Expecting the Unexpected…the unexpected, unlikely, and uniquely divine qualities of God's perfect plan outlined in Luke's account of the Christmas story.  It began December 1, 2012.