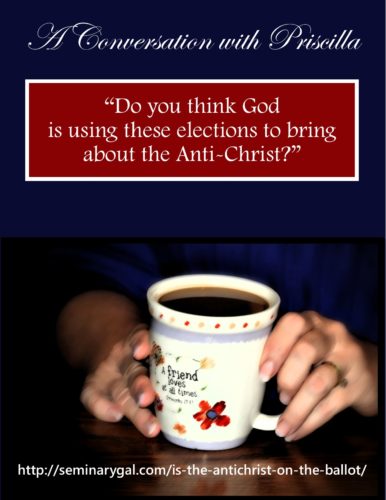 "Do you think God is using these elections to bring about the Antichrist?" Before you read this and think YIKES ALERT (!) Priscilla is not alone in asking this question. It's actually a question in the hearts of many Christians, if they had the honesty and the guts to ask it like Priscilla did.  My Conversation with Priscilla concludes and may your heart be encouraged like hers was by someone being willing to give her a truthful answer and not just run around judging the question.
QUESTION: "Do you think God is using these elections to bring about the Antichrist?"
ANSWER: I am long on record that neither President Obama nor the Pope is the antichrist. Hillary is not the great whore of Babylon. And Donald Trump may have language I cannot stand, behavior I would imagine he regrets these days, but he's one of 3 anti-Clinton candidates…not the antichrist.
The spirit of the antichrist has been in this world since Jesus ascended into heaven and this is what Scripture says about how we'll know.
1 John 2: 18 "Dear children, this is the last hour; and as you have heard that the antichrist is coming, even now many antichrists have come. This is how we know it is the last hour."
1 John 4:2 "This is how you can recognize the Spirit of God: Every spirit that acknowledges that Jesus Christ has come in the flesh is from God, 3 but every spirit that does not acknowledge Jesus is not from God. This is the spirit of the antichrist, which you have heard is coming and even now is already in the world. 4 You, dear children, are from God and have overcome them, because the one who is in you is greater than the one who is in the world."
Therefore, I will not worry about the future.  The Holy Spirit residing in every believer will keep us safe and deliver us from evil and through any difficulties so that even if our bodies suffer in this world, they cannot snatch us out of the loving hand of God our Father. As in the days of the flood and the exodus from Egypt, God delivers through it…not rapturing us from it.
If you choose to vote for one or the other candidate for reasons related to issues, your vote will be a vote for change of direction… or more of the same, but I don't think the man of lawlessness is on the ballot. (I've got my own ideas of who is fomenting disorder and anarchy, rebellion against authorities and exaltation of a borderless government, but he's not on the ballot.)
I'll close with what Scripture says about him:
2 Thessalonians 2: 3 Don't let anyone deceive you in any way, for that day will not come until the rebellion occurs and the man of lawlessness is revealed, the man doomed to destruction. 4 He will oppose and will exalt himself over everything that is called God or is worshiped, so that he sets himself up in God's temple, proclaiming himself to be God. 5 Don't you remember that when I was with you I used to tell you these things? 6 And now you know what is holding him back, so that he may be revealed at the proper time. 7 For the secret power of lawlessness is already at work; but the one who now holds it back will continue to do so till he is taken out of the way. 8 And then the lawless one will be revealed, whom the Lord Jesus will overthrow with the breath of his mouth and destroy by the splendor of his coming. 9 The coming of the lawless one will be in accordance with the work of Satan displayed in all kinds of counterfeit miracles, signs and wonders, 10 and in every sort of evil that deceives those who are perishing.
They perish because they refused to love the truth and so be saved. 11 For this reason God sends them a powerful delusion so that they will believe the lie 12 and so that all will be condemned who have not believed the truth but have delighted in wickedness.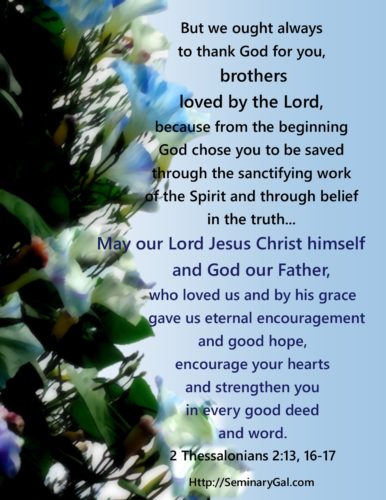 13 But we ought always to thank God for you, brothers loved by the Lord, because from the beginning God chose you to be saved through the sanctifying work of the Spirit and through belief in the truth. 14 He called you to this through our gospel, that you might share in the glory of our Lord Jesus Christ. 15 So then, brothers, stand firm and hold to the teachings we passed on to you, whether by word of mouth or by letter. 16 May our Lord Jesus Christ himself and God our Father, who loved us and by his grace gave us eternal encouragement and good hope, 17 encourage your hearts and strengthen you in every good deed and word.
Verses 13-17 make a fitting closure and benediction, do they not? 🙂
* * *
The full Q&A plus follow-up commentary with Priscilla can be accessed here
I'm moving on now to the healing we'll all need after the election, regardless of how it turns out.  I'll be doing it with my Advent devotional series called Timeless.
But I cannot move on from this conversation without letting you know that as much as we're all sick of politics, a conversation about the Truth and how a Christian relates to the culture is an important conversation to have.  Thank you, Priscilla, for your bravery in asking these important questions.  May we all be blessed by it.