I am pleased to announce the Advent Devotional Series for 2013 "Emmanuel: When LOVE Showed Up In-Person."  In the Person of Jesus Christ, that is.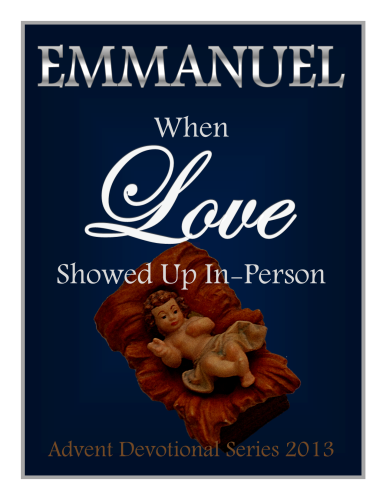 It is far too easy to let the holidays—the secular term for the holy season of Thanksgiving, Advent, and Christmas—go by with very little thought as to what this time of year would be like had LOVE not shown up.
If Jesus didn't become flesh. 
If He didn't leave heaven behind to walk this earth as the man Jesus of Nazareth.
If He wasn't the Son of God. 
If the manger was empty apart from hay or was filled with just another baby born into a humble existence in the likeness of Adam.
So during this season of Advent, we will walk through selections from the Gospel of John and remember what it means to us today that LOVE showed up, the definition of the first Advent of our Lord and Savior.
This devotional series begins December 1st and continues daily until Christmas.
If you haven't signed up to receive the daily postings from SeminaryGal, you may sign up either on  Facebook SeminaryGal or use the space provided on the Home Page side bar.  If you already have signed up and are receiving these writings by email, I thank you for the encouragement you are to me!  I look forward to journeying together during Advent as we see "Emmanuel: When LOVE Showed Up In-Person."