Have you ever been rendered speechless?  Being at a loss for words is fairly common.  Being suddenly deprived of your ability to speak is odd, if not otherworldly.  Divine Intervention.
The angel said to him, "I am Gabriel. I stand in the presence of God, and I have been sent to speak to you and to tell you this good news.  And now you will be silent and not able to speak until the day this happens, because you did not believe my words, which will come true at their appointed time." (Luke 1:19-20)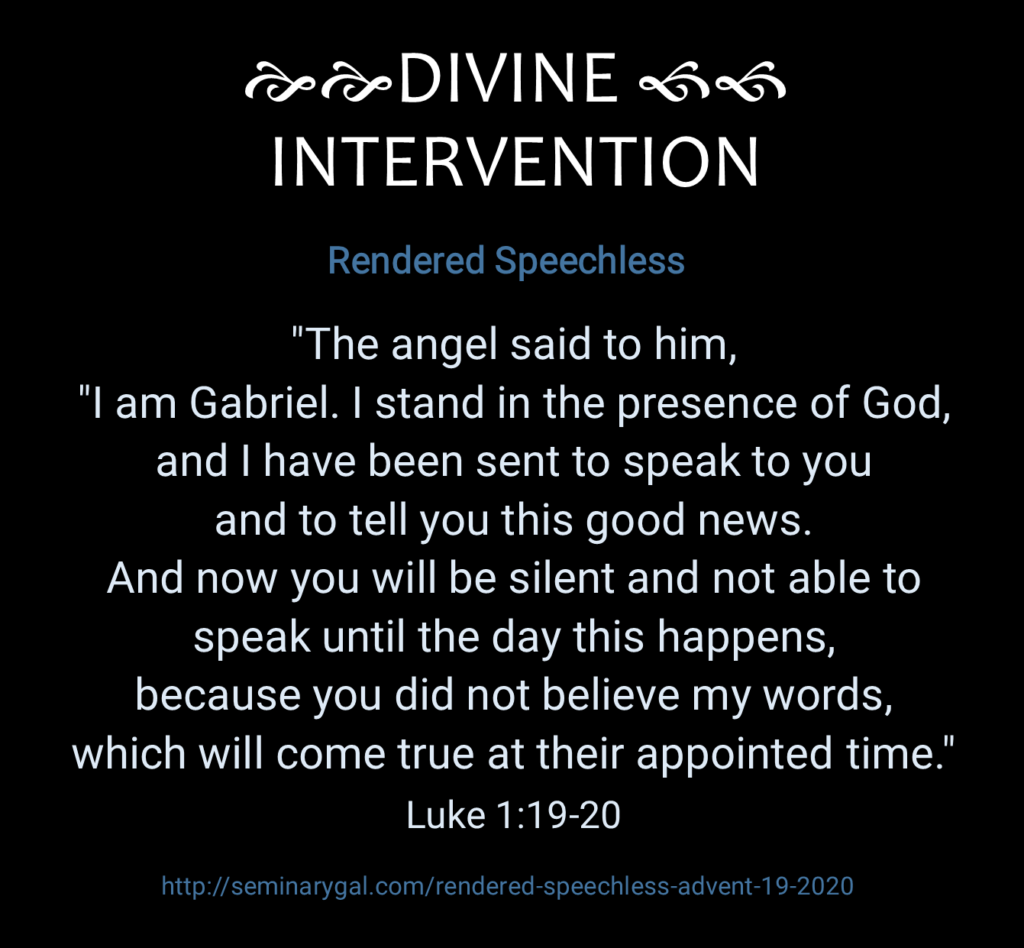 Here's Zechariah, in the Temple with a once-in-a-lifetime privilege! The angel gives him unprecedented, good news for this old man and his old wife. Here he is, a man of the cloth, a religious man, a priest! And what's his response? Doubt.
Questions for further thought:
How easy is it to doubt when circumstances seem to say, "Nothing's Happening?"
Many people assert that they'd believe if God would ___(fill in the blank)____.  If an angel, if God would write it across the sky, if He's burn a bush right in your own front yard and tell you it's holy ground, if He'd give you what you want…  Zechariah had an angel tell him the best news he could ever hope for, a holy messenger came to announce God was giving Zechariah the very joy he'd wanted since marrying Elizabeth.  How do our current circumstances in the natural world interfere with our ability to believe?
Think about what you tell yourself. How does a rehearsing of what we fear in life or the natural course of earthly events keep us from hope?
In the natural world, people don't rise from the dead. In the natural world, old people don't have reproductive capabilities to have babies together. In the natural world, whose actions rule our thought life?
Now think about the supernatural world. Jesus reminds us, "Everything is possible for one who believes." (Mark 9:23) Whose actions rule the supernatural?
Why, particularly at Christmas, is it important to look beyond the natural world to believe the supernatural exists?
Must one suspend his view of the natural world completely in order to believe that the supernatural happened at Christmas?
Father God, I do believe! Help me to overcome my unbelief.  The natural world, being in our faces all day long, tempts us to ignore what we cannot see as if it doesn't exist. May I silently wait for it, to see it, to know it. Please, Lord, grant me the ability to look beyond my circumstances, to ignore what distractions there are that would keep me from faith in You, and to see with spiritual eyes things You wish me to see about Your will and Your activity in my midst. I acknowledge Your Son Jesus Christ as my Lord and my Savior! Help me to believe the story the Bible tells of His birth, when the supernatural descended to earth and divinity was clothed with humanity. Might we celebrate at Advent this beautiful interjection of what is spiritual upon the natural world. Thank You for giving us ample evidence to believe and in times of my doubting, help me, Lord, to overcome my stubborn unbelief. Amen.
===
Advent 2020 began Sunday, November 29th and continues to Thursday, December 24th as we celebrate the first coming of our Lord Jesus Christ and look forward to His Second Coming. "Divine Intervention" is this year's devotional study. By signing up on the sidebar of my Home Page you can receive these daily devotionals. Or they will be reposted on SeminaryGal's Facebook page as well.
Together we will see how God has been actively involved all along as Divine Intervention for a hurting world and nations in tumult– Intervention for you and for me when our status as sinners required nothing short of a miracle.
===
Acknowledging inquiries about an entire season's devotionals for your study group's planning purposes, Seminary Gal's prior seasons' Advent devotionals can be accessed via the archives to the right and are as follows: