I'd say it's hard to believe we're only a month away from Advent 2019, but I just finished shoveling Halloween snow here in Illinois so I'm not stuck with more leftover candy than I should eat.  Therefore, it's time to plan for Advent devotionals and announce this year's theme: "God's Christmas List."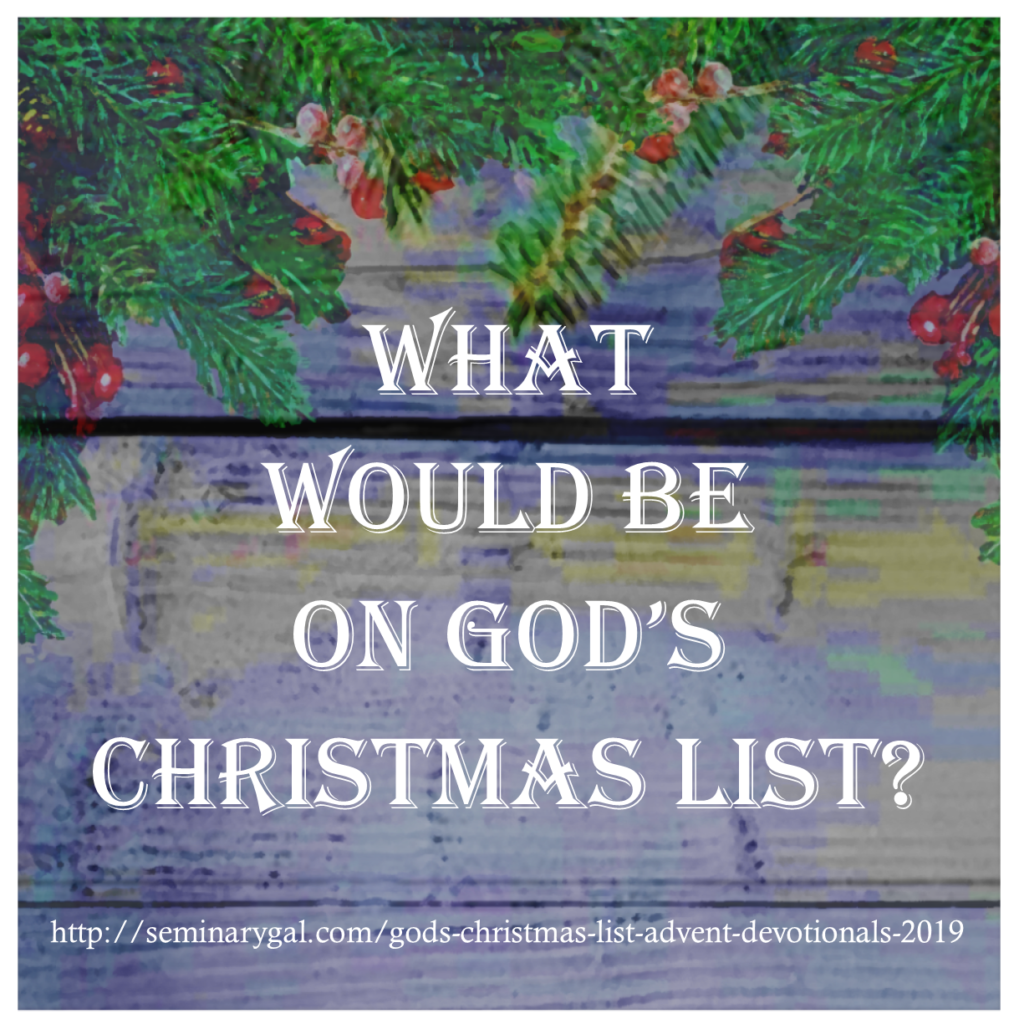 "Aw, come'on," you protest, "God doesn't need a Christmas List!"
Granted, God has no needs for Himself.  He'd be the ultimate hard-to-buy-for if He was on our gift-giving list.  But the good news is this list does not indicate what He wants for Himself, but what He wants for us.  In Christ, we are on His gift-giving list.
I came to this theme in an odd way this year, and of course, it gets harder every year I do these.  (After all, how do you tell the same story without being repetitive?) All the prior years' series are linked below so you can see, it's been a few different ways.  This year, I was thinking about a song that gets me choked up every time.  Maybe it's because I have grown children and young grandchildren.  Maybe it's because the world we're living in right now is so tumultuous.  But maybe the best reason is my heart longs for the childlike innocence missing in so much of life these days.
What is the name of the song that gets me choked up?  Grown-Up Christmas List. Perhaps you know it, too.  If you'd like to hear it, here is Michael Bublé whose golden voice is clear as a Christmas bell.
While David Foster's version with Natalie Cole was the original, it never rose on the charts the way it did with other artists, notably Kelly Clarkson and Amy Grant.
Listening to it anew this year, it occurred to me how many of the things in this song's lyrics God would wish for us. Peace, love, and joy that God wants for our benefit. How? As we receive through Him, His inexplicable gift: Jesus Christ, His Son and our Savior born in Bethlehem that Christmas Day!  He wants us to come to Him in innocence as a small child. But with faith–faith enough to know that material things of this world will never satisfy the way He can by giving us His peace.  That's the message of these secular lyrics (written by Linda Thompson-Jenner) reflectively sung to Santa, but as a grown-up Christmas list. The second verse goes like this:
As children we believed
The grandest sight to see
Was something lovely wrapped beneath the tree
Well heaven surely knows
That packages and bows
Can never heal a hurting human soul.
No more lives torn apart,
Then wars would never start
and time would heal the heart
And everyone would have a friend
And right would always win
And love would never end, oh
This is my grown-up Christmas List
Join me beginning December 1, 2019 by signing up on the sidebar of my Home Page to receive these daily devotionals. Let's enjoy exploring what might be on God's Christmas list.
Acknowledging inquiries about an entire season's devotionals for your study group's planning purposes, Seminary Gal's prior seasons' Advent devotionals can be accessed via the archives to the right and are as follows:  
Last year's Advent Devotional Series (2018) Storyteller began December 2, 2018 and entered into the Christmas story through its telling.
The 2017 series Still Christmas, began December 3, 2017 and was the Advent complement to the Lenten series, Be Still and Know that I AM God.
The 2016 season devotionals were called "Timeless: The Message of Christmas for All Ages" and explored how the message of Christmas is timeless truth, for all ages of people, and for all ages at all times.  Timeless hope, encouragement, grace, peace, and love as we looked into the Word, saw the face of our Lord Jesus, and experienced restoration in His presence.  His goodness and His Gospel are truly Timeless. The 2016 devotionals began November 27, 2016.
The 2015 season devotionals were titled Incarnation and involved digging deep–and yes, I mean deep– in this important mystery of Christian theology.  They began November 29, 2015.
Carol Me, Christmas! remains one of my most popular offerings and tells the Christmas story through our most beloved Christmas hymns and carols.  You can access all of the numbered devotionals from 2014 via the archives.  They began November 30, 2014.
The 2013 series was Emmanuel: When LOVE Showed Up in Person and examined the Prologue to the Gospel of John.  It began December 1, 2013.
The 2012 series focused on Expecting the Unexpected…the unexpected, unlikely, and uniquely divine qualities of God's perfect plan outlined in Luke's account of the Christmas story.  It began December 1, 2012.