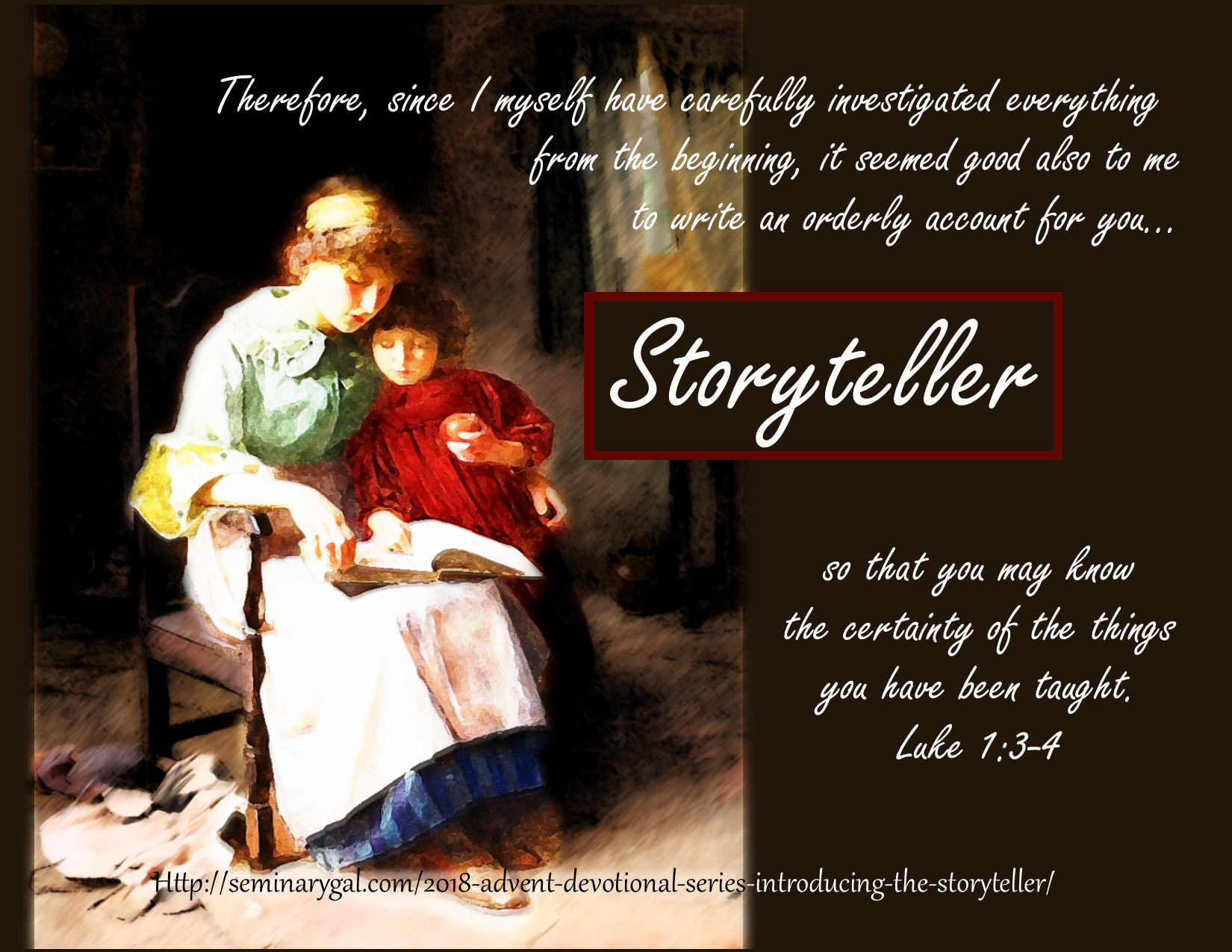 Every story begins with the Storyteller. You might be thinking I'm the Storyteller, but I'm not. The Scriptures in this particular Story come from Gospel-writer Luke and also include occasional additions from Gospel-writer Matthew.
Luke and Matthew answer the question "Who?" But why does the Storyteller offer to tell us a Story?
Stories captivate us. They communicate truth in a very real, personal, and compelling way. We can relate to stories in our own time, yet they can transport us to places we've never been … to observe times we've never experienced, except through the story. In this case, our Storyteller is about to share the truest of stories with the most powerful, most carefully researched characters ever presented.
Luke begins by saying, Luke 1:1 Many have undertaken to draw up an account of the things that have been fulfilled among us, 2 just as they were handed down to us by those who from the first were eyewitnesses and servants of the word.
Do you see? He's passing along the Story in the finest of oral tradition, from the eyewitnesses themselves. Better yet, he's putting it to ink. He's not just telling us a Story, he's recording it, so others can hear the Story long after Storyteller Luke is gone.
He wants you to know it's reliable from start-to-finish: Luke 1:3 Therefore, since I myself have carefully investigated everything from the beginning, it seemed good also to me to write an orderly account for you, most excellent Theophilus, 4 so that you may know the certainty of the things you have been taught.
Theophilus. His name means "God-lover" but is it just a man's name? We don't know. We aren't told. But of this we can be sure: The Story is told so we might be certain of the truth, carefully passed down from eyewitness of the events to earwitness of the telling, to the eyewitness of the reading to evangelistic witness of the retelling…as a cherished Story through the ages.
But this is no fictional account, no matter how many theologians, pastors, teachers, and unbelievers try to tell us it's just words from dejected disciples, made-up myths, or wishful thinking for people who need the crutch of fairy tales.
This is no fictional account, no matter how many historians try to discredit it.
This is no fictional account, no matter how unlikely the events seem to us in a scientific world.
***
Each day's devotionals will conclude with Story-Application, a Self-Reflection Topic, and a Prayer
This Story, His Story, Your Story: Tomorrow, our Storyteller begins, but he wanted you first to know why. He wants you to be more than captivated—he wants you to enter in, both to the Story and to the family of faith. "So that you may know the certainty of the things you have been taught." He wants you to know it's all true. From the beginning (not "Once upon a time") to the final words which are "The End" of a chapter, but fail to adequately capture the new beginning of eternal life.
Self-Reflection topic: How do you know something is true?
Prayer: Lord God, thank You for the miraculous Story we're about to hear of the birth of Your Son Jesus Christ. May our hearts acknowledge the truth of this Story, passed down through the generations. Surround us with awe at the miracle of Your love. May we know the peace Jesus alone can bring, a peace with You because the Story doesn't begin and end at Christmas. It began before time in Your will, Lord; continued to a climax of history, on the Cross, at the empty tomb; and continues to this day in the person Jesus Christ, our Risen Lord of Easter Sunday. May each of us find ourselves in this Story and know the love You have for us, that You would send Jesus not just to be a good teacher, or a good man, but to be good news of great joy for all the people: A Savior is born.
===
By way of reminder, if you haven't signed up yet, you can receive these Storyteller devotional studies in your email throughout Advent 2018 by entering your email address on the SeminaryGal.com home page in the space provided in the sidebar. Or "Like" the SeminaryGal Facebook page to access them there. If you like these devotionals, I'd really appreciate your letting others know so I can continue to spread the Good News far and wide. Blessings to you, in Christ always, Barbara <><
===
Acknowledging inquiries about the entire season's devotionals for your study group's planning purposes, Seminary Gal's prior seasons' Advent devotionals can be accessed via the archives to the right and are as follows:
Last year's Advent Devotional Series (2017), Still Christmas, began December 3, 2017 and was the Advent complement to the Lenten series, Be Still and Know that I AM God.
The 2016 season devotionals were called "Timeless: The Message of Christmas for All Ages" and explored how the message of Christmas is timeless truth, for all ages of people, and for all ages at all times. Timeless hope, encouragement, grace, peace, and love as we looked into the Word, saw the face of our Lord Jesus, and experienced restoration in His presence. His goodness and His Gospel are truly Timeless. The 2016 devotionals began November 27, 2016.
The 2015 season devotionals were titled Incarnation and involved digging deep–and yes, I mean deep– in this important mystery of Christian theology. They began November 29, 2015.
Carol Me, Christmas! remains one of my most popular offerings and tells the Christmas story through our most beloved Christmas hymns and carols. You can access all of the numbered devotionals from 2014 via the archives. They began November 30, 2014.
The 2013 series was Emmanuel: When LOVE Showed Up in Person and examined the Prologue to the Gospel of John. It began December 1, 2013.
The 2012 series focused on Expecting the Unexpected…the unexpected, unlikely, and uniquely divine qualities of God's perfect plan outlined in Luke's account of the Christmas story. It began December 1, 2012.