When it seems like the impossible clouds all earthly possibilities, hang on.
When it feels like the troubles of this life will never change, don't give up.
When hope is a distant thought and despair pummels us from every angle, keep hoping!
When the struggle is real and our strength fails us, take heart!
When we're weary from running on empty, and it's beginning to look like we can't get there from here… God does something remarkable!
He reminds us that He's with us.
All this took place to fulfill what the Lord had said through the prophet: "The virgin will conceive and give birth to a son, and they will call him Immanuel" (which means "God with us"). Matthew 1:22-23
God's actions convey that He sees our faith and hears our prayers.  He acts with great power on our behalf.  Sometimes it's as simple as an answer to prayer or a reassuring voice, "Be still and wait upon the Lord." Or the steadfast awareness that the battle is not ours.  It's His.  Sometimes it's encouragement out of the blue from a godly friend who was inspired to offer a hand of assistance to persevere through the tough stuff. 
But sometimes it's more. It's all this … on steroids. 
It's Divine Intervention: When Only a Miracle Will Do.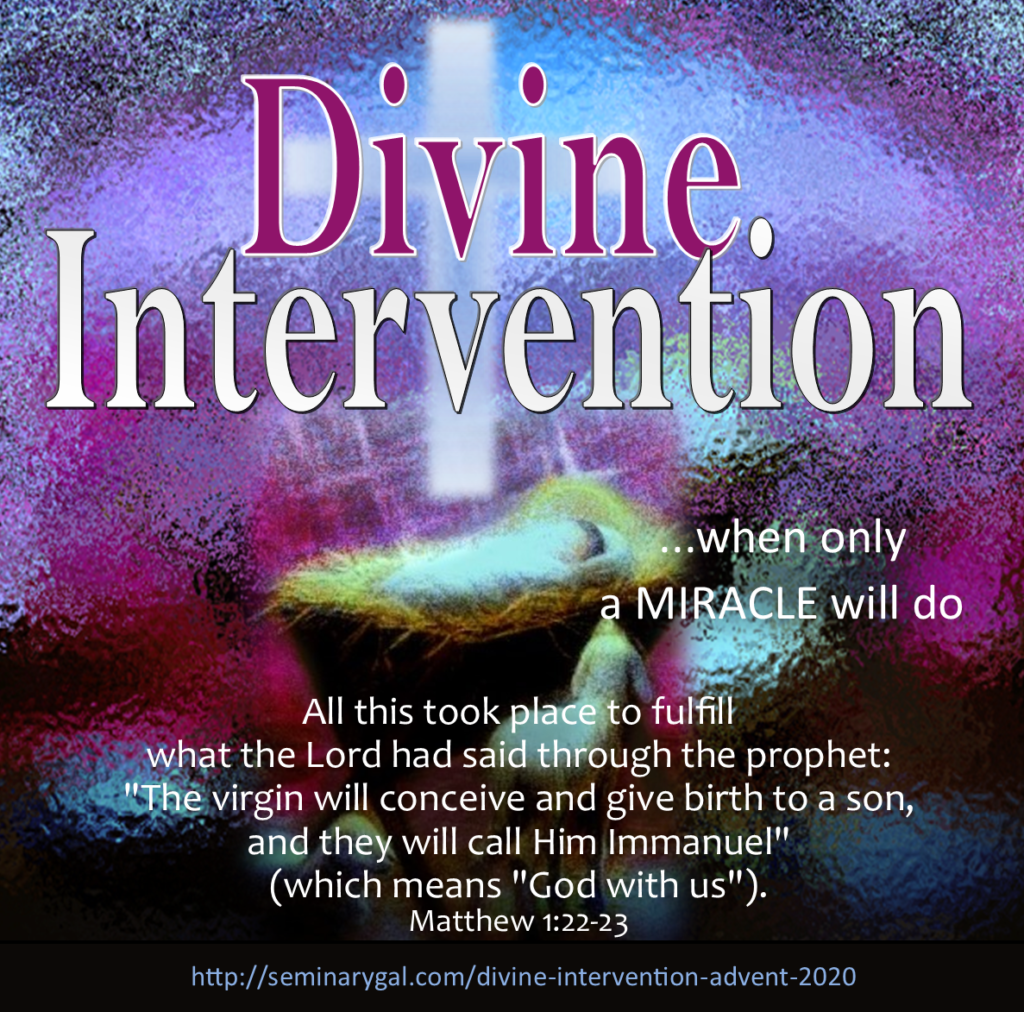 Throughout Biblical history, God has displayed that He's very much engaged with what is going on here on Earth. Never more plainly than at Christmas with the birth of His Son Jesus to be our Savior.
Join me this Advent beginning on Sunday, November 29th and continuing to Thursday, December 24th as we celebrate the first coming of our Lord Jesus Christ and look forward to His Second Coming.  By signing up on the sidebar of my Home Page you can receive these daily devotionals. Or they will be reposted on SeminaryGal's Facebook page as well.

Together we will see how God has been actively involved all along as Divine Intervention for a hurting world and nations in tumult– Intervention for you and for me when our status as sinners required nothing short of a miracle.
===
Acknowledging inquiries about an entire season's devotionals for your study group's planning purposes, Seminary Gal's prior seasons' Advent devotionals can be accessed via the archives to the right and are as follows: