Jesus saw them returning in pairs and could hardly contain His smile when each pair arrived. It was the smile of a parent who sees his child do something for the first time, that smile of accomplishment because He knew they could do it, and the smile of a man who loved His disciples! He was gratified that they'd learned.
Luke 10: 17 The seventy-two returned with joy and said, "Lord, even the demons submit to us in your name." But He didn't want them to get the wrong idea so He replied first with encouragement, 18″I saw Satan fall like lightning from heaven."
Jesus saw their triumphant faces and so He emphasized where the power truly came from and the matters truly worth rejoicing over. It'd be way too easy for them to think that it was their accomplishment alone, but "simply humans" can't do that kind of thing. It'd be easy for them to get big heads and turn arrogant which leads to unloving behavior…which of course, would ruin their whole ministry so Jesus said,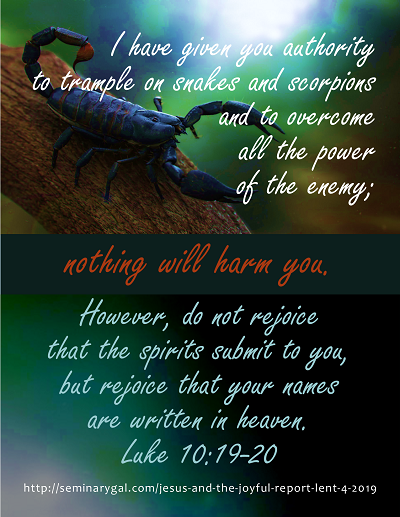 Luke 10:19 I have given you authority to trample on snakes and scorpions and to overcome all the power of the enemy; nothing will harm you. 20 However, do not rejoice that the spirits submit to you, but rejoice that your names are written in heaven."
Correction aside, Jesus was really pleased. It was a joyful report! They'd been tested, and they passed.
So Jesus prayed aloud 21 At that time Jesus, full of joy through the Holy Spirit, said, "I praise you, Father, Lord of heaven and earth, because you have hidden these things from the wise and learned, and revealed them to little children. Yes, Father, for this is what you were pleased to do.
22 "All things have been committed to me by my Father. No one knows who the Son is except the Father, and no one knows who the Father is except the Son and those to whom the Son chooses to reveal him." 23 Then he turned to his disciples and said privately, "Blessed are the eyes that see what you see. 24 For I tell you that many prophets and kings wanted to see what you see but did not see it, and to hear what you hear but did not hear it."
Think about it:
When you think about Jesus, do you picture Him as smiling and laughing, or only profoundly serious?
Why do you think Jesus praised the Father in front of the disciples, letting them hear His prayer?
In what way did that reinforce where the power for ministry comes from?
Verse 23 suggests that the larger group of 72 (Luke 10:17) were not the audience for the blessing, only the Twelve. Why do you think that is?
Thank You, Father, for the wisdom in giving blessing where blessing will be received with open hearts and bear fruit for the Kingdom. Thank You, Lord, for joy and pleasure and knowing You experience those things too. Thank You, Lord Jesus, for revealing things about Yourself to Your disciples then, and through the power of the Holy Spirit, revealing and teaching things about Yourself to us today. We praise You that we are generations entrusted with the precious Gospel and given power to proclaim it faithfully so we can bring glory to You. Keep us mindful from where both the power to proclaim and the gift of salvation arise! Amen.
If you're already signed up on my Home Page sidebar to receive posts, you'll get the 2019 Lent Devotionals automatically. Or you can "Like" Seminary Gal on Facebook and they'll be delivered to your Facebook news feed. If you haven't signed up, today is a great day to do so. Advent and Lenten devotionals remain among my most popular offerings. You don't want to miss this great look at the Easter story to prepare your heart for Easter! Understanding that prior years' devotionals remain popular,