Mark Lowry's lyrics in Mary Did You Know ask many questions, each stanza concluding with a confidence-inspiring statement about what the birth of Christ actually means. The Christmas story is more than just a baby in a manger. A pregnant Mary and a believing Joseph not finding a place at the inn. Giving birth in a stable.
It set in motion the most confidence-inspiring event of all human hope in history to-date.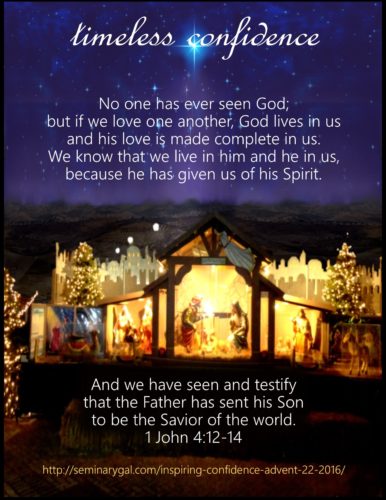 1 John 4:12 No one has ever seen God; but if we love one another, God lives in us and his love is made complete in us. 13 We know that we live in him and he in us, because he has given us of his Spirit. 14 And we have seen and testify that the Father has sent his Son to be the Savior of the world. 15 If anyone acknowledges that Jesus is the Son of God, God lives in him and he in God. 16 And so we know and rely on the love God has for us. God is love. Whoever lives in love lives in God, and God in him. 17 In this way, love is made complete among us so that we will have confidence on the day of judgment, because in this world we are like him. 18 There is no fear in love. But perfect love drives out fear, because fear has to do with punishment. The one who fears is not made perfect in love. 19 We love because he first loved us.
Justice is coming, but it will be God's kind. Because of the birth of Jesus, we have witnessed God's perfect love and have no need to fear.
The angels even said so: Luke 2:9 An angel of the Lord appeared to them, and the glory of the Lord shone around them, and they were terrified. 10 But the angel said to them, "Do not be afraid. I bring you good news of great joy that will be for all the people. 11 Today in the town of David a Savior has been born to you; he is Christ the Lord. 12 This will be a sign to you: You will find a baby wrapped in cloths and lying in a manger." 13 Suddenly a great company of the heavenly host appeared with the angel, praising God and saying, 14 "Glory to God in the highest, and on earth peace to men on whom his favor rests."
For further reflection, read the lyrics to Mary Did You Know and listen to this version by Pentatonix
Mary, did you know
that your Baby Boy would one day walk on water?
Mary, did you know
that your Baby Boy would save our sons and daughters?
Did you know
that your Baby Boy has come to make you new?
This Child that you delivered will soon deliver you.
Mary, did you know
that your Baby Boy will give sight to a blind man?
Mary, did you know
that your Baby Boy will calm the storm with His hand?
Did you know
that your Baby Boy has walked where angels trod?
When you kiss your little Baby you kissed the face of God.

The blind will see.
The deaf will hear.
The dead will live again.
The lame will leap.
The dumb will speak
The praises of The Lamb.

Mary, did you know
that your Baby Boy is Lord of all creation?
Mary, did you know
that your Baby Boy would one day rule the nations?
Did you know
that your Baby Boy is heaven's perfect Lamb?
The sleeping Child you're holding is the great "I am"
===
Join me for Advent 2016 Devotionals called Timeless: the Message of Christmas for All Ages beginning November 27, 2106. Timeless hope, encouragement, grace, peace, and love will be ours as we look into the Word, see the face of our Lord Jesus, and experience restoration in His presence. His goodness and His Gospel are truly Timeless.
Advent began November 27, 2016. If you're already signed up on my Home Page sidebar to receive posts, you'll get the Advent devotionals automatically. If you haven't signed up, today is a great day to do so. Advent and Lenten devotionals remain among my most popular offerings. You don't want to miss this great way to prepare your heart for the true meaning of Christmas!