A Promised Land means nothing if the Israelites move in and pollute it by sinning instead of displaying behavior becoming of Chosen People. So God issues Ten Commandments beginning with Exodus 20:1 And God spoke all these words: 2 "I am the LORD your God, who brought you out of Egypt, out of the land of slavery. 3 "You shall have no other gods before me…"
Now they'd been tested in the desert and found wanting. Faithlessly fearing man when God had already displayed His Divine Intervention many times. God was very displeased—angry even—and said, "For forty years– one year for each of the forty days you explored the land– you will suffer for your sins and know what it is like to have Me against you.' I, the LORD, have spoken, and I will surely do these things to this whole wicked community, which has banded together against Me. They will meet their end in this wilderness; here they will die." (Numbers 14:34-35)
All this…amazingly… after "The LORD said to Moses, "Tell the Israelites this: 'You have seen for yourselves that I have spoken to you from heaven." (Read Exodus 20:1-22)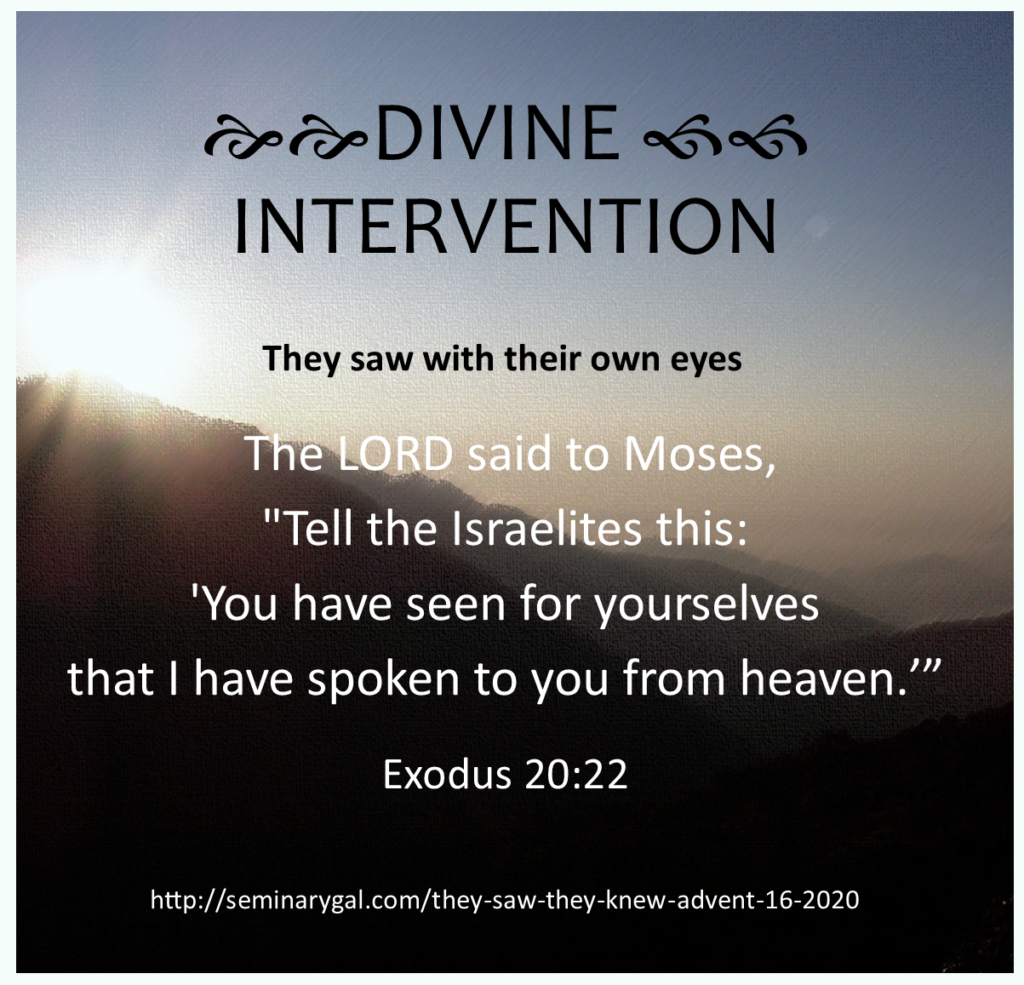 They'd seen it. They'd known it. They'd been shown it by Divine Intervention at the giving of the Ten Commandments. And still sin has a tight grip, even on the Chosen People who had been eyewitnesses to God's goodness and been given ample preparation for them to flourish in a land flowing with milk and honey He wanted them to enter.
Questions for further thought:
What causes people who have been shown the truth to still reject it?
What does it say about the person/people rejecting it?
What hope is there for those who have seen the truth and rejected it?
Does God just overlook it or are there natural consequences for such behavior?
Are there any truths you're being shown that you are refusing to accept?
Forgive us, Father, for the many ways that we reject and displease You, making You angry with us. Forgive us for how we look askance at the blessings that You have in store for us in the future, and instead we look at human abilities and power structures—all the while denying You! Looking in fear at our fellow man, Oh Lord. Forgive us! Open our eyes, remove the scales that keep us from seeing the truth, scales put there by the evil one who desires to deceive us and kill us, to lead us astray, and to lead us away from You, Lord. We do not want You against us; we want You for us, and so help us to be people who obey You, who love You, who cherish You, who are willing to follow obediently, Lord. You are righteous in all Your judgments. You are all wise and all-knowing. Your timing is perfect. Help us to have faith to do what You require. Help us to have that faith that is of great value to life now and our hope for the future. We thank You for our Lord and Savior Jesus Christ. We thank You for the Holy Spirit to guide us and help us. We ask, Father, that You would protect our hearts. We've seen Your power on our behalf. Clearly show us what is true and give us obedient hearts to follow You in all things, at all times, and in all ways. Be glorified in us today, Lord. Amen.
===
Advent 2020 began Sunday, November 29th and continues to Thursday, December 24th as we celebrate the first coming of our Lord Jesus Christ and look forward to His Second Coming. "Divine Intervention" is this year's devotional study. By signing up on the sidebar of my Home Page you can receive these daily devotionals. Or they will be reposted on SeminaryGal's Facebook page as well.
Together we will see how God has been actively involved all along as Divine Intervention for a hurting world and nations in tumult– Intervention for you and for me when our status as sinners required nothing short of a miracle.
===
Acknowledging inquiries about an entire season's devotionals for your study group's planning purposes, Seminary Gal's prior seasons' Advent devotionals can be accessed via the archives to the right and are as follows: