What does it take for you to believe something?  Just reading it in print, or someone you regard saying that it's so?  Maybe having it pass the "fact-checker" test or someone on Twitter telling you that it's true?  Or sometimes, do you need to know it by someone showing you…in order to see it with your own eyes, experience it, and walk through it before you'll wake up and fully believe? 
The Israelites and the Egyptians were about to get that and more.
Two problems though: The Israelites began to doubt and in their impatience, thought Moses was bringing nothing but trouble instead of rescue, and second, the Israelites had to look stupid to others before they'd finally get out.

This is the Exodus equivalent of God choosing "the foolish things of the world to shame the wise … the weak things of the world to shame the strong… so that no one may boast before Him." (1 Corinthians 1:27-29)  But no one likes to look weak or foolish even when it serves God's purpose.
Exodus 14:1 Then the LORD said to Moses, 2 "Tell the Israelites to turn back and encamp near Pi Hahiroth, between Migdol and the sea. They are to encamp by the sea, directly opposite Baal Zephon. 3 Pharaoh will think, 'The Israelites are wandering around the land in confusion, hemmed in by the desert.' 4 And I will harden Pharaoh's heart, and he will pursue them. But I will gain glory for myself through Pharaoh and all his army, and the Egyptians will know that I am the LORD." So the Israelites did this. (Exodus 14:1-4)
Isn't it interesting that the most arrogant among us–in their conceit–will pass judgment on others, and fail to see the map (or the trap) laid before them?  Even showing them, their arrogance causes them to misinterpret.
Pharaoh concludes the Israelites are lesser beings, that they're stupid and confused…instead of his thinking, "I'd better watch out.  These people are Chosen.  Their God has already done some pretty powerful stuff.  Don't mess with their God.  Just let them go and be done with it." 
But no, the arrogant are self-deluded.  Power does that to people.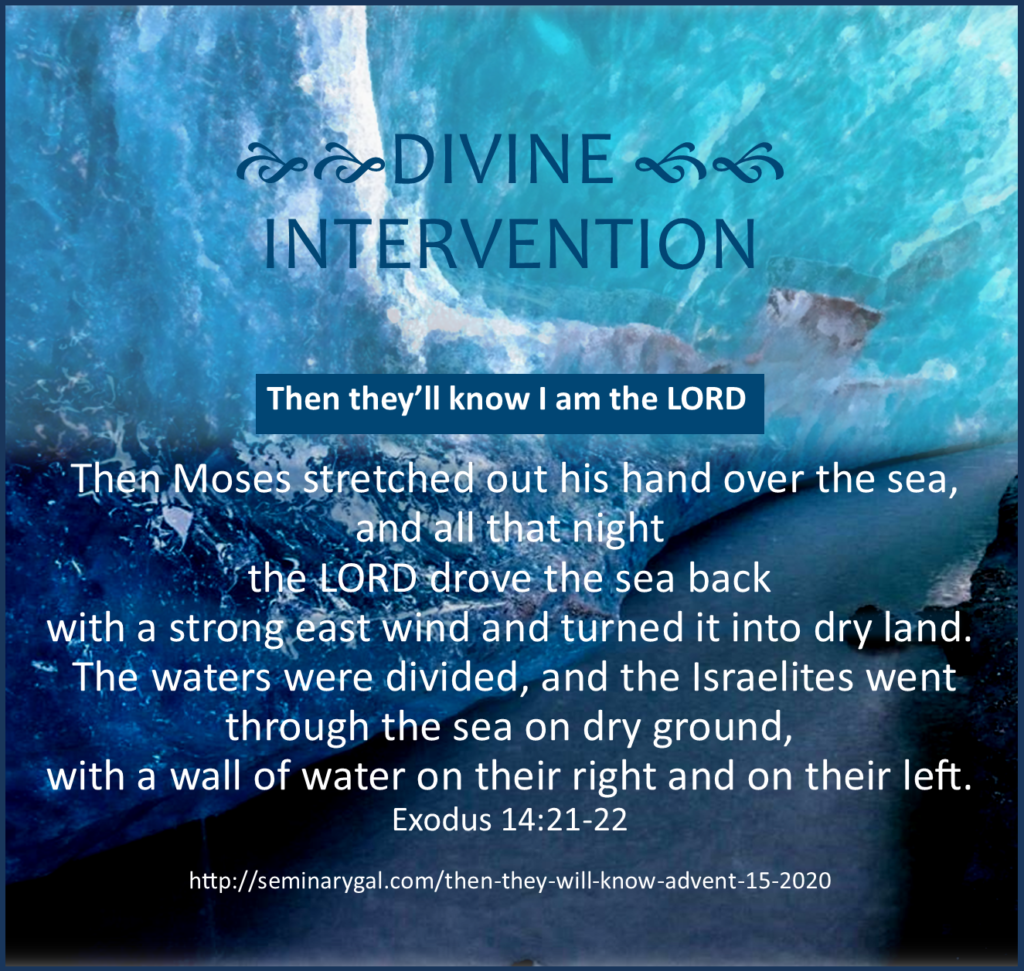 Here comes Divine Intervention of a most awesome kind because God was going to glorify Himself.  Moses stands there with his staff.  The waters of the Red Sea part.  The presumed to be confused march through on dry land, not at all hemmed in by desert and sea. 
Still not getting it that the Chosen People were on their way out to worship God in the desert, the Egyptians rush in. "During the last watch of the night the LORD looked down from the pillar of fire and cloud at the Egyptian army and threw it into confusion. He jammed the wheels of their chariots so that they had difficulty driving. And the Egyptians said, 'Let's get away from the Israelites! The LORD is fighting for them against Egypt.'" (Exodus 14:24-25)
Questions for further thought:
Read Exodus 14:10-31.  How did God thoroughly glorify Himself? 
In what way is there poetic justice in Pharaoh thinking the Israelites were confused when they weren't but in verse 24 the LORD threw the whole Egyptian army into confusion? 
Without Divine Intervention, the Israelites had no hope.  What does this teach us about prayer and trusting God for deliverance by His intervention at the perfect moment?
Lord Jesus, be glorified in our prayers and in our faith as we trust in You for Your perfect timing, Your perfect plan, and Your perfect intervention in our lives.  Father God, we praise You for the plan that You have for our deliverance, for the promised return of Your Son, our Lord Jesus in the Last Day to bring those who have faith in You through disaster and calamity and into Your glorious presence.  We ask, Father, that You would be glorified in us now and always as we exercise our trust in You.  We humbly ask Your mercy upon our lives, our families, our nation, and our world.  Please show mercy where mercy can be shown, deliver—by the power of Your Holy Spirit–poetic justice where it is deserved.  Help us to see You clearly as the only true God.  We offer these prayers in the mighty Name of our Lord and Savior Jesus Christ. Amen.
===
Advent 2020 began Sunday, November 29th and continues to Thursday, December 24th as we celebrate the first coming of our Lord Jesus Christ and look forward to His Second Coming. "Divine Intervention" is this year's devotional study. By signing up on the sidebar of my Home Page you can receive these daily devotionals. Or they will be reposted on SeminaryGal's Facebook page as well.
Together we will see how God has been actively involved all along as Divine Intervention for a hurting world and nations in tumult– Intervention for you and for me when our status as sinners required nothing short of a miracle.
===
Acknowledging inquiries about an entire season's devotionals for your study group's planning purposes, Seminary Gal's prior seasons' Advent devotionals can be accessed via the archives to the right and are as follows: