Do you ever see a pattern in your circumstances and think, "Okay, God is trying to tell me something?"  A car bearing its name "Judge" on a truck carrying damaged cars headed for the junkyard…except this one which was a cool "muscle car" (a red-orange 1969 Chevy Camaro) maybe headed for the shop for a little clean-up or an engine rebuild before going to a car show.  A few miles down the road, a billboard for lawyers who will get you money when you've been wrecked.  "Judge" was the firm's name.  A trucking company named "Judge" with a parade of 18-wheelers.  And then the Jesus billboards one after the other proclaiming, "I am returning to judge!"
My mind immediately went to the Scriptures, "Then I saw a great white throne and him who was seated on it. The earth and the heavens fled from his presence, and there was no place for them. And I saw the dead, great and small, standing before the throne, and books were opened. Another book was opened, which is the book of life. The dead were judged according to what they had done as recorded in the books. The sea gave up the dead that were in it, and death and Hades gave up the dead that were in them, and each person was judged according to what they had done" (Revelation 20:11-13).
It's a frightening thought unless we've been in the habit of honoring God's Christmas List item of executing pure justice in our God-given role on earth.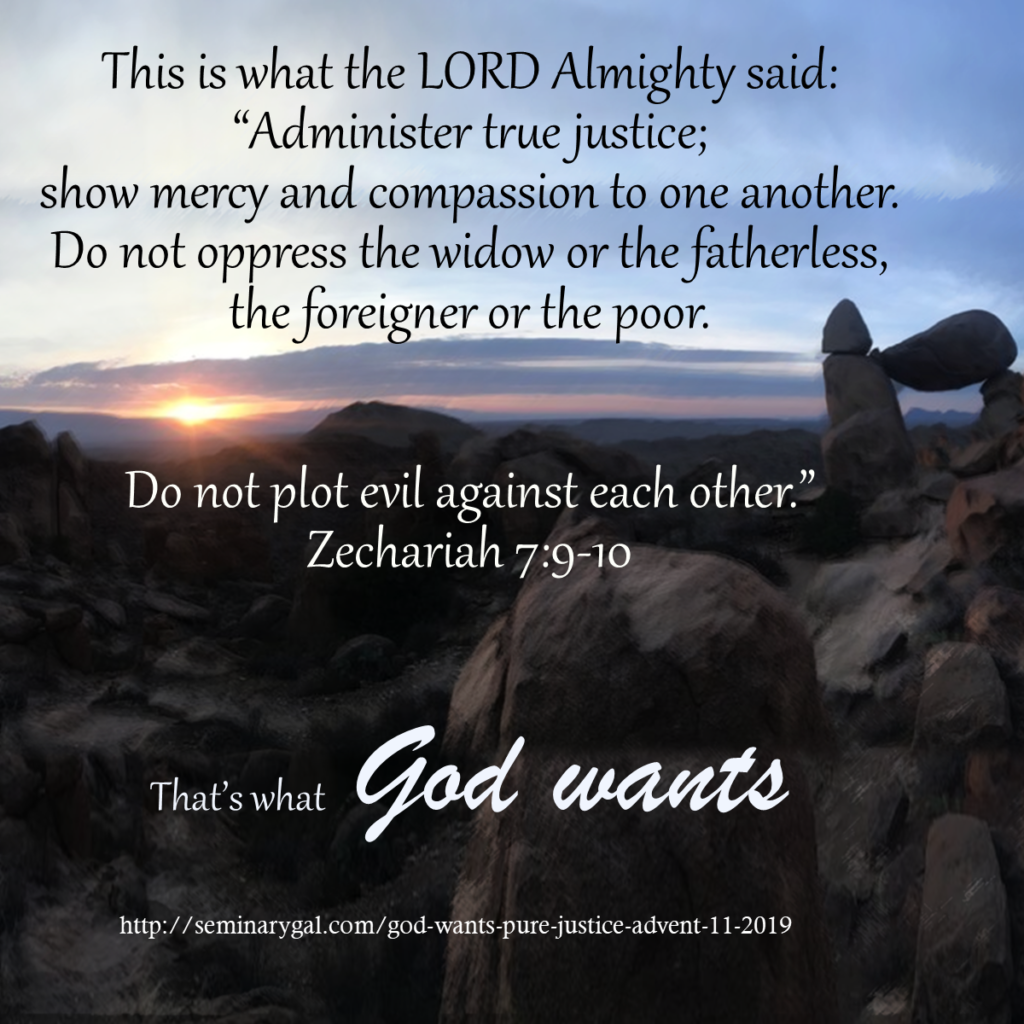 "This is what the LORD Almighty said: 'Administer true justice; show mercy and compassion to one another. Do not oppress the widow or the fatherless, the foreigner or the poor. Do not plot evil against each other.' (Zechariah 7:9-10)
Think about it:
It was hard not to contrast these admonitions with what was news on the radio.  What do you think God thinks of what we're doing as a culture with His truth and His justice toward our fellow man especially in the arena of politics?
In Revelation 19:11-13 Jesus is the rider named "Faithful and True" and Scripture tells us that "with justice He judges and wages war." How does Jesus fully administer pure justice?  What is His war against?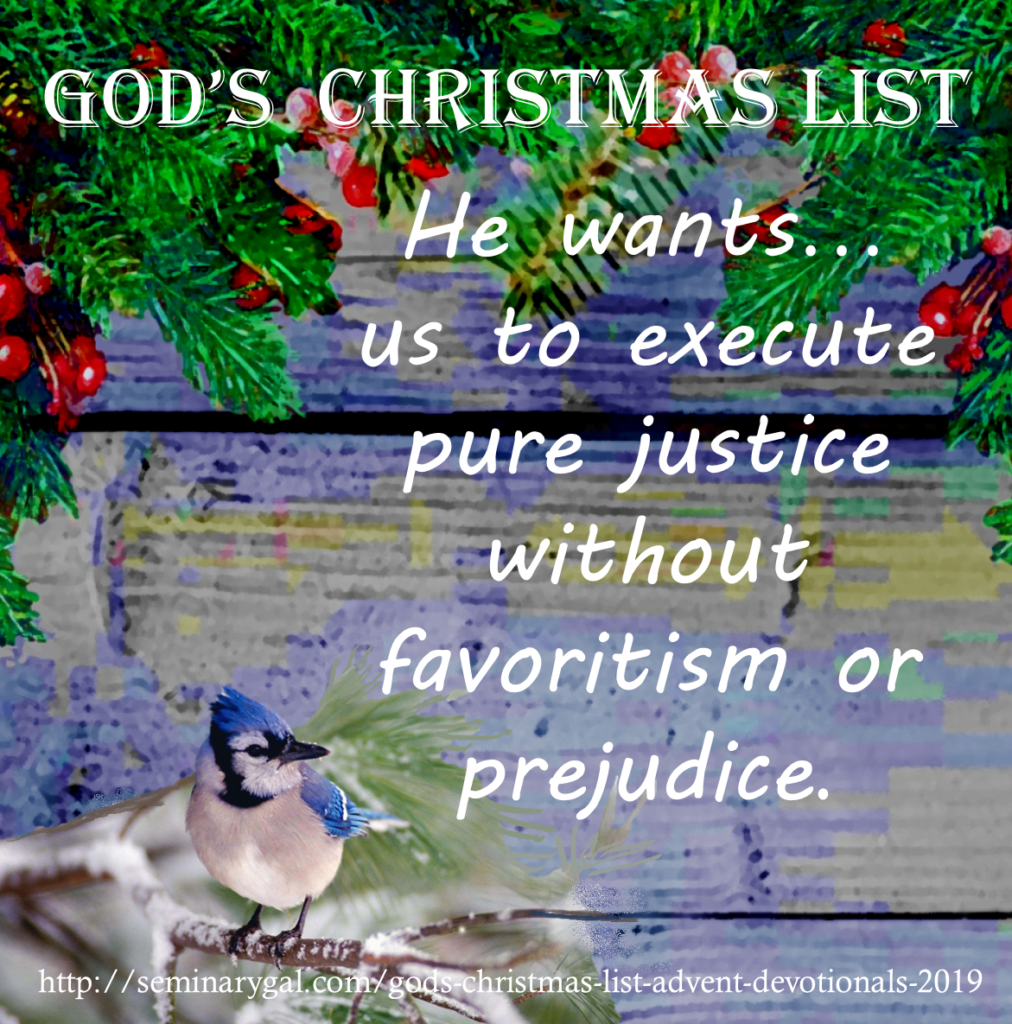 What God wants for Christmas is…for us to execute pure justice without favoritism or prejudice.
Dear Lord, forgive us.  In America and in our world, we have turned our backs on You.  Rushing stubbornly from Your ideas of pure justice, we have pursued selfish gain, offered deception after deception, and have oppressed and plotted evil against each other.  We confess our national and global sin and ask for Your mercy.  Not because we are good because we are not.  Because of Your great love shown to us in a Savior born in Bethlehem and Who lived a sinless life and yet was crucified because men hated You and Your truth.  Forgive us, Lord.  We thank You for Jesus' perfect life and His perfect Word.  Remind us always that He will return to judge with true and pure justice.  Cultivate in us a holy fear that You are watching and someday we will stand before You to make an account of our lives.  Thank You for Jesus and the forgiveness He bought with His blood.  Thank You, Lord Jesus!  Amen.
=====
Join me beginning December 1, 2019 by signing up on the sidebar of my Home Page to receive these daily devotionals. Let's enjoy exploring what might be on God's Christmas list.
Acknowledging inquiries about an entire season's devotionals for your study group's planning purposes, Seminary Gal's prior seasons' Advent devotionals can be accessed via the archives to the right and are as follows: