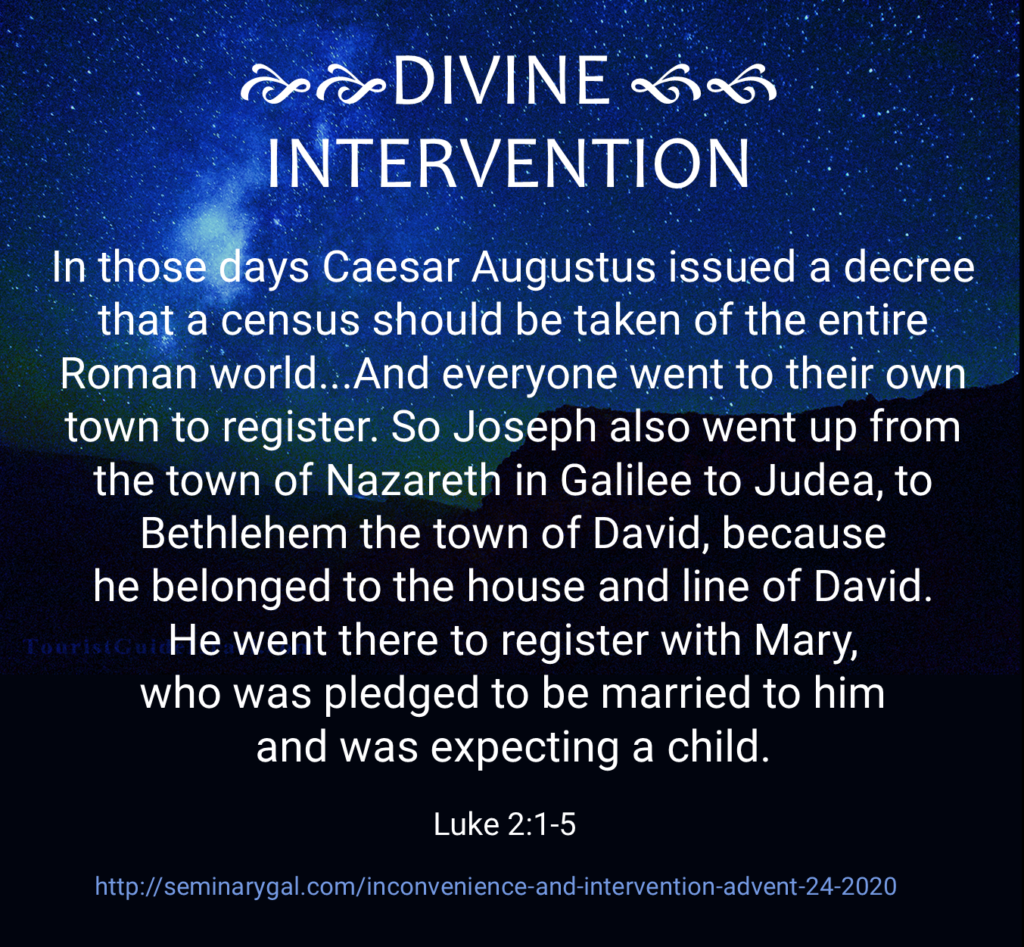 Luke 2:1 In those days Caesar Augustus issued a decree that a census should be taken of the entire Roman world. 2 (This was the first census that took place while Quirinius was governor of Syria.) 3 And everyone went to their own town to register. 4 So Joseph also went up from the town of Nazareth in Galilee to Judea, to Bethlehem the town of David, because he belonged to the house and line of David. 5 He went there to register with Mary, who was pledged to be married to him and was expecting a child.
Could anything be less convenient than a journey of several days when you're about to give birth? Oh, but the good old government mandated it.
Chances are good that Caesar Augustus had absolutely no idea that the Christ Child needed to be born in Bethlehem to fulfill Scripture or that the time was ripe…when he issued that decree. The Christ Child was probably the farthest thing from his mind and certainly a poor young woman who was pregnant would cause him no concern. No threat. No problem.
Oh, Caesar Augustus issued the decree alright, but it was Divine Intervention by the Almighty! In a mysterious way that only God knows, the events of this earth are like a watercourse God directs even as humans exercise their normal behaviors and use their own free will. Even so, it was Divine Intervention because Scripture needed to be fulfilled and the inconveniences upon Mary and Joseph were necessary in order for Mary to give birth while they were there in the precise place at the exact time.
Questions for further thought:
Read Proverbs 16:9 "In their hearts humans plan their course, but the LORD establishes their steps" and Proverbs 21:1 "In the LORD's hand the king's heart is a stream of water that he channels toward all who please him." In what way do people's actions work in concert with God's will?
When something is inconvenient, is it automatic evidence that it's not God's will?
In what ways do Divine Interventions and events requiring patience act to test and to reward our faith?
Read Hebrews 11:1 Now faith is confidence in what we hope for and assurance about what we do not see 2 This is what the ancients were commended for… 13 All these people were still living by faith when they died. They did not receive the things promised; they only saw them and welcomed them from a distance, admitting that they were foreigners and strangers on earth….the world was not worthy of them. They wandered in deserts and mountains, living in caves and in holes in the ground. 39 These were all commended for their faith, yet none of them received what had been promised, 40 since God had planned something better for us so that only together with us would they be made perfect. Hebrews 12:1 Therefore, since we are surrounded by such a great cloud of witnesses, let us throw off everything that hinders and the sin that so easily entangles. And let us run with perseverance the race marked out for us, 2 fixing our eyes on Jesus, the pioneer and perfecter of faith. For the joy set before him he endured the cross, scorning its shame, and sat down at the right hand of the throne of God.
Are you struck by their not receiving the things promised (vs. 13, 39)? What does this passage tell us about who the promise was ultimately for?
Father God, You are a rewarder of faith. During these times when we feel like we are not receiving what was promised, that we are not receiving the fruit of our faith, that we are not seeing righteousness triumph, and all we see in front of our noses is evil running amok, Lord, help us to understand the promise that You have made for rescue still stands. Salvation, yes for the world, but also for witness so that the world will avail itself of this gift of salvation, a gift of grace, a gift of faith! Help Christians to react wisely in these times so that we may be commended for living by our faith even if we do not personally receive what was promised in our lifetimes. Help us to submit to Your will, to understand that Your plan is perfect, Your timing is perfect, Your return will be absolutely perfect and so we ask, Lord, that we will have confidence in You to hold tightly to Your promises. May every person who is elected to the Kingdom be touched by grace and gifted with faith to hasten Your return. We pray, Lord, that every one of those people will come to faith in You and will experience promptness in doing so. Father God, we can't bear to see evil triumph. It breaks our hearts and we know that You hate it, too. Give us open eyes, spiritual eyes, to be able to see what it is You're doing! Help us to have that clear vision of a larger picture, a wider perspective that is not just a nation or a world in 2020 or even 2021, but rather Lord, You have eternity in mind. You have an entire cosmos at Your disposal and in Your frame. You are divinely patient to bring every person You have called to the point of repentance and to the point of salvation. We ask that You would keep us faithful until that final moment at the end. When Jesus asks "Will He find faith on the earth?", Oh Lord, let Him find it with me! Each of us should commit to this ourselves. Furthermore may each of us pray fervently, to be found faithful when Jesus returns…even if not receiving what we feel You have promised, and moreover what we know Your Word has promised. Help us to take off our human blinders so we can see with Your eyes, have Your heart, and display the patience and faith of a true Christian. We submit our will to Yours, for Christ's sake. Amen.
===
Advent 2020 began Sunday, November 29th and continues to Thursday, December 24th as we celebrate the first coming of our Lord Jesus Christ and look forward to His Second Coming. "Divine Intervention" is this year's devotional study. By signing up on the sidebar of my Home Page you can receive these daily devotionals. Or they will be reposted on SeminaryGal's Facebook page as well.
Together we will see how God has been actively involved all along as Divine Intervention for a hurting world and nations in tumult– Intervention for you and for me when our status as sinners required nothing short of a miracle.
===
Acknowledging inquiries about an entire season's devotionals for your study group's planning purposes, Seminary Gal's prior seasons' Advent devotionals can be accessed via the archives to the right and are as follows: