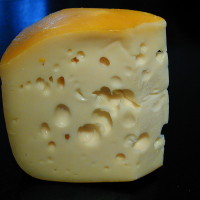 The cheese stands alone, the Christian does not.
It's easy to be countercultural and come across as holier-than-thou.  Taking a stand on your principles sometimes means you need to stand alone (and is the result, but it should not be the goal).
Unlike the child's game, "The Farmer in the Dell," it's not the goal to finish the game with the cheese standing alone.  Christians stand in community.
There's a way to be biblically countercultural and a way not to do it.  Today's passage talks about both.  These are instructions for wise community living:
Romans 12: 14 Bless those who persecute you; bless and do not curse. 15 Rejoice with those who rejoice; mourn with those who mourn.  16 Live in harmony with one another. Do not be proud, but be willing to associate with people of low position. Do not be conceited. 17 Do not repay anyone evil for evil. Be careful to do what is right in the eyes of everybody. 18 If it is possible, as far as it depends on you, live at peace with everyone. 19 Do not take revenge, my friends, but leave room for God's wrath, for it is written: "It is mine to avenge; I will repay," says the Lord. 20 On the contrary: "If your enemy is hungry, feed him; if he is thirsty, give him something to drink. In doing this, you will heap burning coals on his head." 21 Do not be overcome by evil, but overcome evil with good.  (NIV)
We aspire to live by principles, love our neighbors and therefore rejoice and mourn right alongside them.  We turn the other cheek.  We are blessed peacemakers.  We love our enemies.  We leave the judging to God and invest ourselves in doing what is right. That is how to be countercultural in a world that doesn't value it.
* * *
Give it up for Lent: Holier-than-thou attitudes
* * *
For further study:
This is Passion Week (also known as Holy Week) in the Church.  Jesus was, in fact, holier than any of us.  Yet, how did Jesus act during the days prior to His crucifixion?  Read the account of Jesus in Luke 22:47-23:43.  How did He model what He expects of us?

Look at how many times in our passage today, it talks about our attitudes toward others and our view of ourselves.  To what extent are you willing to associate with people who are not like you?

In what ways can standing on principles lead to judging others?  What advice does our passage give to counter that?

What does it mean to heap burning coals on someone's head?  The Message paraphrase records Romans 12:20-21 as saying, "

Our Scriptures tell us that if you see your enemy hungry, go buy that person lunch, or if he's thirsty, get him a drink. Your generosity will surprise him with goodness. Don't let evil get the best of you; get the best of evil by doing good

."  How might a guilty conscience also play a role?