The crowds were more than happy to acknowledge the Pharisees were hypocrites. But it made people wonder, if they're hypocrites, could they effectively sit in the seat of Moses to judge matters regarding the Law? What about to settle disputes? To teach what the Law says about things?
One thing was unmistakable, even to the crowds: Jesus spoke and taught with authority. Maybe He was the person to ask. Luke 12:13 Someone in the crowd said to him, "Teacher, tell my brother to divide the inheritance with me." 14 Jesus replied, "Man, who appointed me a judge or an arbiter between you?"
They clearly weren't catching on. This isn't about settling disputes between men or intervening in human-to-human affairs. It wasn't Jesus' role for intervention between Martha and Mary back in Bethany, and it isn't with this guy and his brother now. It isn't about the temporal. It isn't about the material. It isn't even about the earthly. It's about the eternal, the spiritual, and the heavenly. It's about understanding true life and where it comes from.
Luke 12:15 Then he said to them, "Watch out! Be on your guard against all kinds of greed; life does not consist in an abundance of possessions."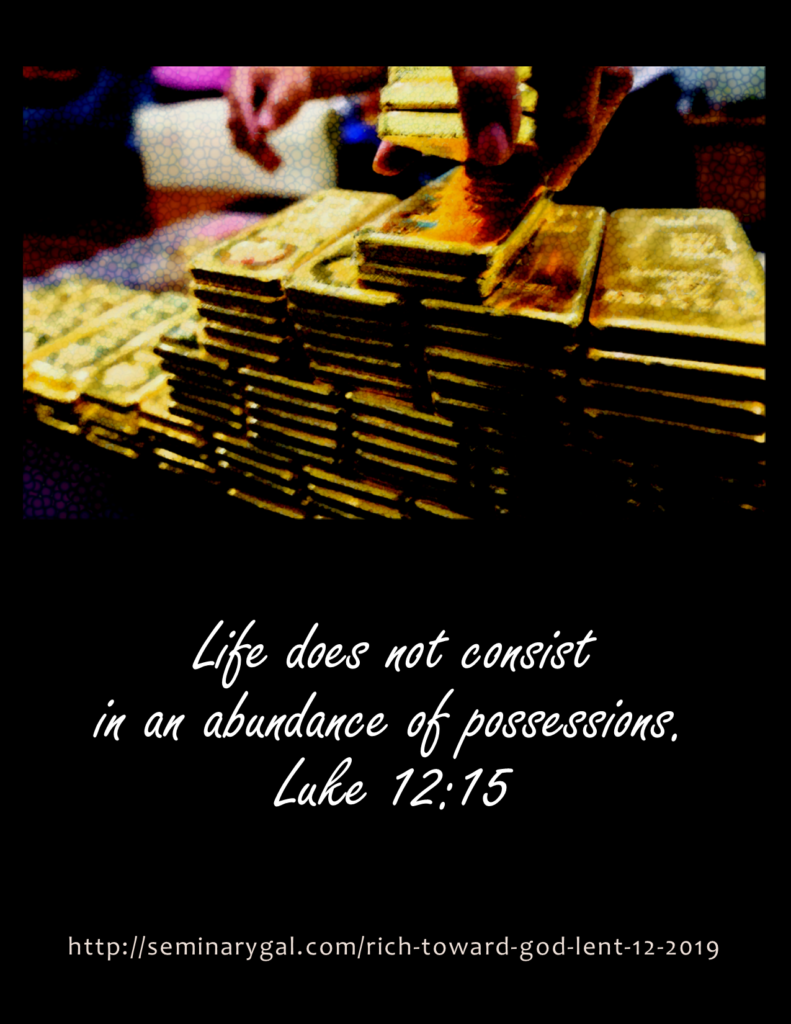 "All kinds of greed," thought the person with the inheritance question, "I'm glad He isn't singling me out. What does He mean that life doesn't consist in an abundance of possessions? Isn't being rich a God-given sign of God's blessing?"
Jesus looked at him with compassion since that's such a common misunderstanding! It's true that all good things come from God whether rich or poor. Life–true life–however, isn't about what you acquire or how rich you become! It's about your being and character. It's hard for rich people to enter the Kingdom, and about the poor…don't they inherit the earth? Hadn't He preached on that already? Hadn't they learned?
Luke 12:16 He told them this parable: "The ground of a certain rich man yielded an abundant harvest. 17 He thought to himself, 'What shall I do? I have no place to store my crops.' 18 "Then he said, 'This is what I'll do. I will tear down my barns and build bigger ones, and there I will store my surplus grain. 19 And I'll say to myself, "You have plenty of grain laid up for many years. Take life easy; eat, drink and be merry."' 20 "But God said to him, 'You fool! This very night your life will be demanded from you. Then who will get what you have prepared for yourself?' 21 "This is how it will be with whoever stores up things for themselves but is not rich toward God."
Think about it: 
In verses 16-21 above, look at the words himself, I, my, and myself. To whom did the man credit his good fortune?
Let's look at our lives today. In America, we pride ourselves on being highly independent and want to believe we are self-made people. What would God say to that?
When you hear people say someone is set up for life, or they've really made it, what does that mean?
If a person was being "rich toward God" how would that reveal itself?
Thank You, Lord Jesus, for reassuring us that "no one who has left home or brothers or sisters or mother or father or children or fields for Me and the gospel will fail to receive a hundred times as much in this present age: homes, brothers, sisters, mothers, children and fields– along with persecutions– and in the age to come eternal life. But many who are first will be last, and the last first." (Mark 10:29-31). Thank You for being with us in persecutions and good times. Help us to see You as the Giver of all good things, Creator, Sustainer, Redeemer, and that as the psalmist said, "the earth is the LORD's, and everything in it, the world, and all who live in it; for He founded it on the seas and established it on the waters. Who may ascend the mountain of the LORD? Who may stand in His holy place? The one who has clean hands and a pure heart, who does not trust in an idol or swear by a false god. They will receive blessing from the LORD and vindication from God their Savior. Such is the generation of those who seek Him, who seek Your face" (Psalm 24:1-6). Amen.
If you're already signed up on my Home Page sidebar to receive posts, you'll get the 2019 Lent Devotionals automatically. Or you can "Like" Seminary Gal on Facebook and they'll be delivered to your Facebook news feed. If you haven't signed up, today is a great day to do so. Advent and Lenten devotionals remain among my most popular offerings. You don't want to miss this great look at the Easter story to prepare your heart for Easter! Understanding that prior years' devotionals remain popular,