Jesus could tell that certain topics were unsettling to His disciples … likely His unwillingness to get into another person's inheritance dispute or His teachings about rejecting dependence upon possessions. For many people, inheritance of property and fields for farming were a source of economic security, and people depended on this kind of income. Jesus knew that. But there's a deeper and distinct difference between depending on and trusting in. It was a different mindset altogether, and not just a matter of degrees.
After His mission on earth was done, Jesus would return to the Father, but those left behind would be living in a world that required resources. That was a physical reality of human existence in a material world.
But there was a danger, too. They would be living in a spiritual reality of temptation to all kinds of greed, trusting in anything and everything but God. It was a chronic temptation for two reasons. First, every "simply human" person could exert some level of control over his own life by choosing his actions. But second, this drive for autonomy from God runs deep in the sin fabric of any man, ever since Adam.
Jesus, in His humanity, resonated with the temptations He knew as a result of the Incarnation.  He was being tempted in every way, just as His disciples were, but overcame every temptation that arose.  That was in His humanity, but simultaneously as the divine Son of God, He looked at His disciples with a gentle compassion because of their simply human sin disposition. They needed added reassurance of God's love and care and provision in order to keep depending on Him, trusting in Him, especially when every temptation was calling each man to be depending on his own circumstances or what he was able—as an independent individual—to acquire. They worried about the next thing whether the next meal, the next crisis, or the next day.
Luke 12: 22 Then Jesus said to his disciples: "Therefore I tell you, do not worry about your life, what you will eat; or about your body, what you will wear. 23 For life is more than food, and the body more than clothes. 24 Consider the ravens: They do not sow or reap, they have no storeroom or barn; yet God feeds them. And how much more valuable you are than birds!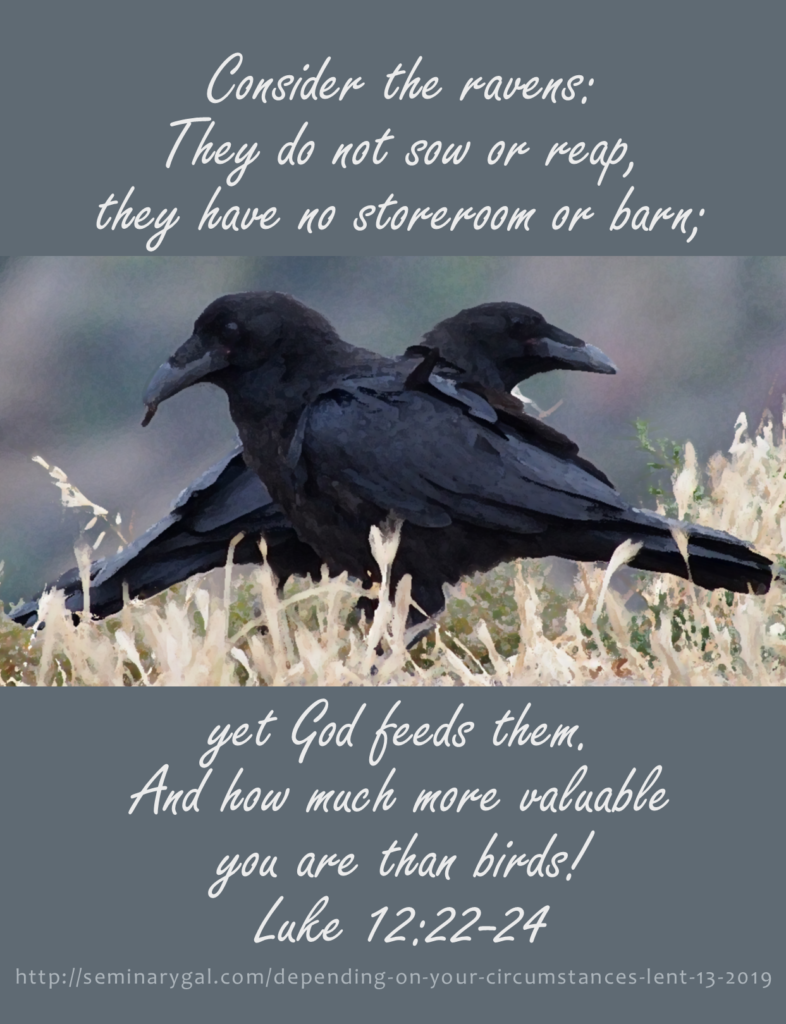 The disciples looked at Jesus who didn't seem to have a care in the world. They admired Him. Indeed, they wished they could be so trusting. The truth is they were jealous of that kind of freedom. They'd heard Jesus say that externals such as food and clothes don't matter so much as what's behind it: one's life and body. That's what God cares about. But worry is second nature to mankind and it's tough to live day-to-day feeling like you're at the mercy of God or your circumstances. It's a mindset that needs overhaul, but the disciples wondered, "How does one even begin to trust in that way?" Jesus' expression melted from exhortation to gladness. He smiled reassuringly about the progress being made.
Think about it:
To depend on God and not upon our own efforts, we can feel like we're at the mercy of God.  Viewed correctly, that can be a good thing.  Why is falling on the mercy of God a good thing?
Do you think it's a different mindset between "depending on" versus "trusting in"?  Why or why not?
What lie does the world sell us about depending on ourselves or our circumstances? 
In what way does that lie promote a culture of victimhood? 
What does victimhood say about one's trust in God?
We praise You, Lord, that You have mercy on those You to whom You choose to be merciful, and compassion upon those to whom You have compassion.  May we accept this so that we will see the truth of Your Word and know the freedom stated in Your Word, "It does not, therefore, depend on human desire or effort, but on God's mercy" (Rom. 9:15-16).  Teach us, Lord Jesus, that Your grace and Your mercy purchased our lives from darkness, if only we'll see it depended on You, not on ourselves. Teach us to cast all our cares on You because You care for us (1 Peter 5:7).  Holy Spirit, please guide our lives to dependence upon You and strengthen us to resist temptations to believe that if we just acquire enough things, we can insulate ourselves against calamity.  Father, give us the faith of Abraham and credit our faith—our dependence upon Your mercy—as righteousness, we pray.  Amen.
If you're already signed up on my Home Page sidebar to receive posts, you'll get the 2019 Lent Devotionals automatically. Or you can "Like" Seminary Gal on Facebook and they'll be delivered to your Facebook news feed. If you haven't signed up, today is a great day to do so. Advent and Lenten devotionals remain among my most popular offerings. You don't want to miss this great look at the Easter story to prepare your heart for Easter! Understanding that prior years' devotionals remain popular,