Jesus knew this issue of trust was a struggle for His disciples, so He pressed on with His healing words,
Who of you by worrying can add a single hour to your life?" (Luke 12:25)
They knew He was right.  No one can do that!  Why was worry such a perpetual torment?  Why was trusting God so hard for them?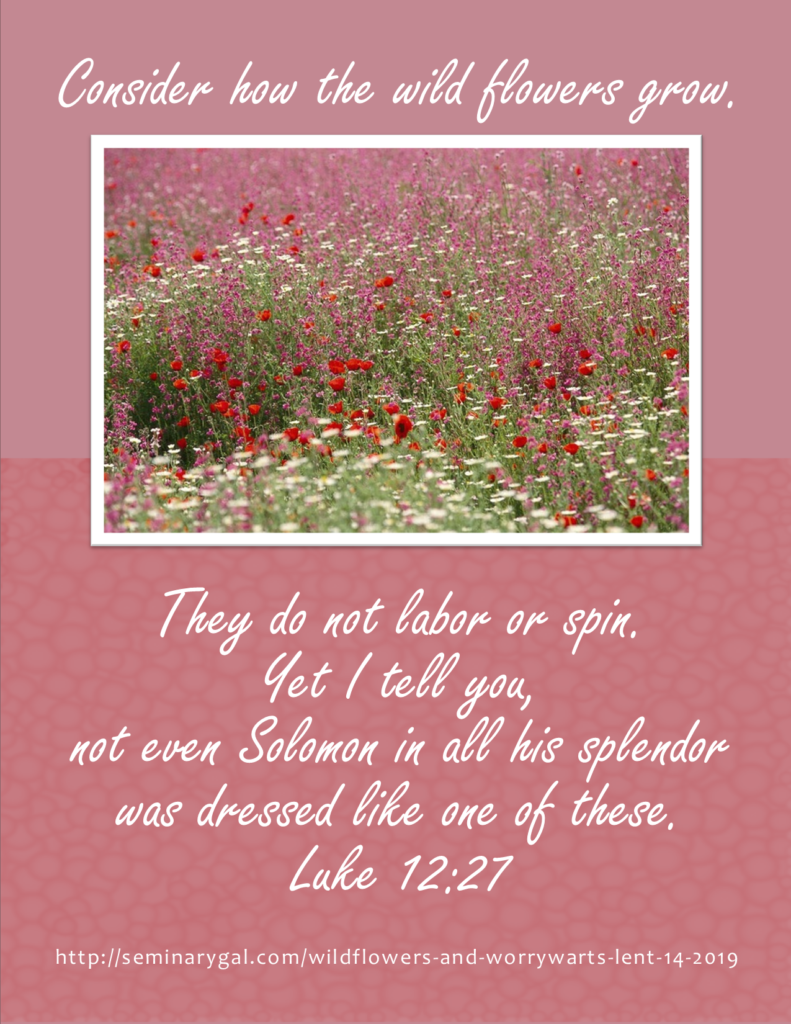 Jesus smiled reassuringly and continued, 26 "Since you cannot do this very little thing, why do you worry about the rest? 27 "Consider how the wild flowers grow. They do not labor or spin. Yet I tell you, not even Solomon in all his splendor was dressed like one of these. 28 If that is how God clothes the grass of the field, which is here today, and tomorrow is thrown into the fire, how much more will he clothe you– you of little faith! 29 And do not set your heart on what you will eat or drink; do not worry about it.
His words nailed it. They knew they didn't have enough faith–well, not yet at least. Jesus knew they'd need plenty of reassurance between now and His homegoing to develop it. The Crucifixion which was soon to come would challenge the disciples' faith in ways they could not comprehend and for which they were presently unprepared to handle. For now, He'd touched the open wound with His healing hand, and He had identified the problem. That was enough for now.
Think about it:
What types of things grow a person's faith?
Do you perpetually worry or are there specific instances in which you are more likely to worry?
Sometimes Jesus touches open wounds in our lives by circumstances, by His Word, or in prayer. When He does that, what is your reaction?
How might seeing it as Jesus' identifying a problem help you to grow in your faith?
Father God, please help us not to worry about things which are firmly in Your control. Help us to remember as did the psalmist, "I lift up my eyes to the mountains– where does my help come from? My help comes from the LORD, the Maker of heaven and earth. He will not let your foot slip– he who watches over you will not slumber; indeed, he who watches over Israel will neither slumber nor sleep. The LORD watches over you– the LORD is your shade at your right hand; the sun will not harm you by day, nor the moon by night. The LORD will keep you from all harm– he will watch over your life; the LORD will watch over your coming and going both now and forevermore" (Psalm 121:1-8). We praise You, Lord! Amen.
If you're already signed up on my Home Page sidebar to receive posts, you'll get the 2019 Lent Devotionals automatically. Or you can "Like" Seminary Gal on Facebook and they'll be delivered to your Facebook news feed. If you haven't signed up, today is a great day to do so. Advent and Lenten devotionals remain among my most popular offerings. You don't want to miss this great look at the Easter story to prepare your heart for Easter! Understanding that prior years' devotionals remain popular,