Do you ever wish God would just show you the storyboard? That organizing visual which identifies what's going to happen and the timing so you could just follow along? Like Cliff Notes that you could study in advance to keep track of the plot unfolding.
The truth is I often read the plot of a movie I'm planning to see before I watch it (usually to know if there are places I'll have to cover my eyes due to the Braveheart-Saving-Private-Ryan-Effect which resulted from having made the mistake of watching those back-to-back on one frigid February Saturday. Oh, and from taking movie advice from some men I know whose own impassive reaction to violence left them only proclaiming the movies "excellent." Without mansplaining, excellence and violence are equal but separate features. I didn't see the whole picture at the time since my eyes were covered through much.)
Even the disciples must have wondered,
Why Can't We See the Whole Picture?" With Jesus' answer being the equivalent of "Because it's not time yet."
When Jesus walked the earth, He didn't know and when He was asked, He said Matthew 24:36 "No one knows about that day or hour, not even the angels in heaven, nor the Son, but only the Father."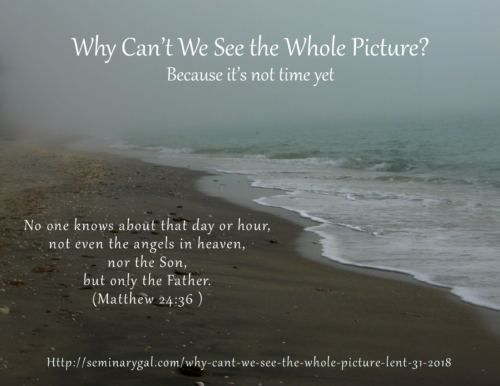 ***
But you know what? We know enough to watch it unfold and to understand. The disciples knew enough to follow Jesus, even if not enough to predict the Cross of Christ. Had they known Jesus was going to be crucified, would they have just gotten in the way? If we knew exactly when Jesus was returning, would we grow complacent in our everyday, set our alarm clocks and rebel right down to the wire?
Sometimes we just need to accept that we don't have the whole picture. 1 Corinthians 13:12 For now we see in a mirror dimly, but then face to face; now I know in part, but then I shall know fully just as I also have been fully known. Someday we will know fully and I look forward to that day.
Food for thought:
Why do we want to know the full story? What do we think would change by knowing it?

In the movie Life of Pi that we've been using for our Lent 2018 devotional series, Pi offers this closing monologue: "You know, I've left so much behind. My family, the zoo, Anandi, India-I suppose in the end the whole of life becomes an act of letting go. But what always hurts the most is not taking the moment to say goodbye. I was never able to thank my father for all I learned from him, to tell him that without his lessons I would never have survived…And I know he's a tiger, but I wish I'd said: 'It's over. We've survived. Thank you for saving my life. I love you, Richard Parker. You will always be with me. May God be with you.'

What do you think of that? Would knowing the full story keep us from having regrets or would our regrets be even greater because we had the opportunity to know?
Join me tomorrow for "Why Do the Rich Have Such a Hard Time?"
==
For Lent 2018, we'll explore the questions of Pi and Chi (the Greek letter beginning the word Christos, which means Christ, Messiah, the Anointed One). We'll ask and answer the question "Why?" as we discover the uniqueness of Jesus Christ. Join me for the 40 days of Lent which began February 14, 2018 by liking Seminary Gal on Facebook or having these devotionals sent to your email box which you can do via the sign-up on my Home page. Thank you for blessing me with this opportunity to study together the Word of God.
===
Acknowledging that former years' devotional series remain popular: