Jesus' disciples were shocked. Jesus' boldness in confronting the hypocritical leaders is something they'd only dreamed of doing. They just never felt like they could. Jesus, however, knew that He was different. He knew where He'd come from and He knew what people thought of Him. He knew that when people who are doing wrong things are challenged, they will go haywire and begin plotting and opposing. He was ruminating over the sheer audacity of blindness and the necessity of light.
Luke 12:1 Meanwhile, when a crowd of many thousands had gathered, so that they were trampling on one another, Jesus began to speak first to his disciples, saying: "Be on your guard against the yeast of the Pharisees, which is hypocrisy.
He'd just seen it with all its ugliness on display. He was wise to warn the disciples about the hypocrisy of leaders who have expectations of others that they will not honor themselves. Living by two sets of rules, having a higher standard for the conduct of others than one holds for himself. Of course, the leaders were careful to keep their double standard and evildoings as secret. Jesus continued,
Luke 12:2 There is nothing concealed that will not be disclosed, or hidden that will not be made known. 3 What you have said in the dark will be heard in the daylight, and what you have whispered in the ear in the inner rooms will be proclaimed from the roofs.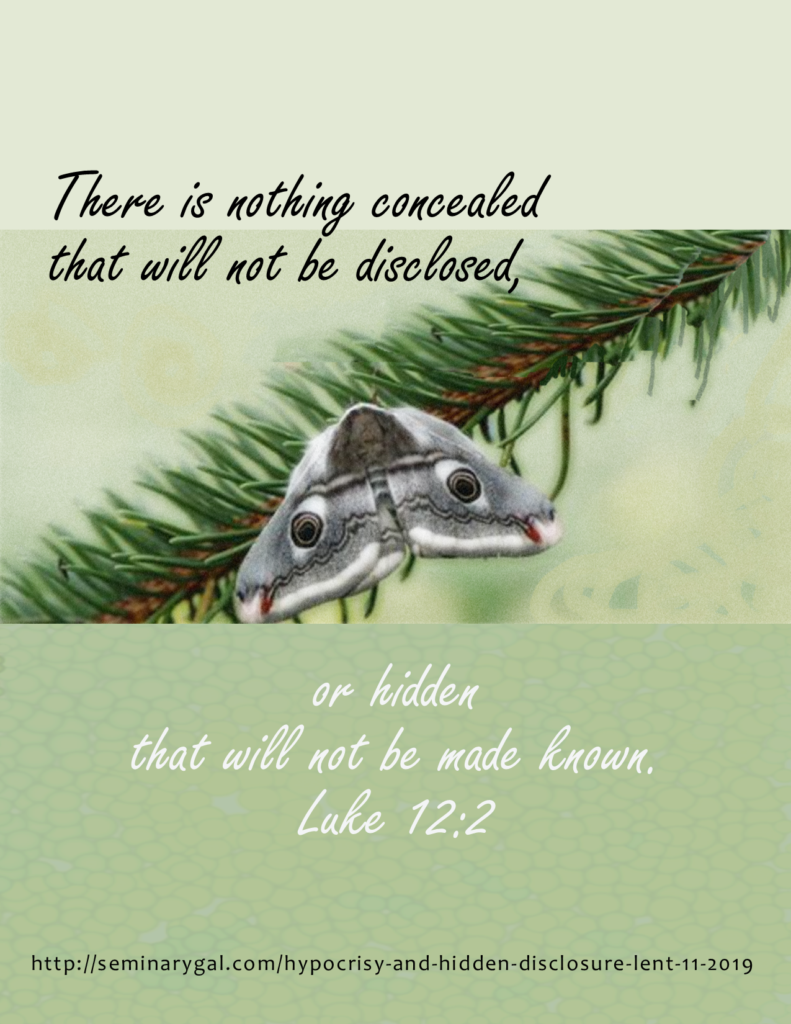 Eventually the chickens come home to roost. They always do. Sin will be always be exposed and Jesus knew of the judgment to come and His role in the final judgment. He wanted to reassure His disciples who feared He was making life difficult for Him (and for them)!
Luke 12:4 "I tell you, my friends, do not be afraid of those who kill the body and after that can do no more. 5 But I will show you whom you should fear: Fear him who, after your body has been killed, has authority to throw you into hell. Yes, I tell you, fear him. 6 Are not five sparrows sold for two pennies? Yet not one of them is forgotten by God. 7 Indeed, the very hairs of your head are all numbered. Don't be afraid; you are worth more than many sparrows."
The disciples looked at one another gravely, silently acknowledging their shared fear. Sparrows or not, Jesus was not making friends. Jesus was not making His kingship an easy sell. Now He's got all the Pharisees and experts of the law—the entrenched elite—mad at Him. And not just mad at Him, but at them too, for hanging out with Him!
Luke 12:8 "I tell you, whoever publicly acknowledges me before others, the Son of Man will also acknowledge before the angels of God. 9 But whoever disowns me before others will be disowned before the angels of God. 10 And everyone who speaks a word against the Son of Man will be forgiven, but anyone who blasphemes against the Holy Spirit will not be forgiven. 11 "When you are brought before synagogues, rulers and authorities, do not worry about how you will defend yourselves or what you will say, 12 for the Holy Spirit will teach you at that time what you should say."
This wasn't just palling around with Jesus anymore, this was getting seriously scary.
Think about it:
Why do most people do their sinning in secret?
What are some of the ways people keep things hidden?
Does God see what's done in secret?
Given that God knows all about it, who are they really hiding it from?
What does that say about their faith? Whom do they actually fear? What might they be worried about in terms of consequences, reputation, etc.?
Psalm 139:1 You have searched me, LORD, and you know me. 2 You know when I sit and when I rise; you perceive my thoughts from afar. 3 You discern my going out and my lying down; you are familiar with all my ways. 4 Before a word is on my tongue you, LORD, know it completely. 5 You hem me in behind and before, and you lay your hand upon me. 6 Such knowledge is too wonderful for me, too lofty for me to attain. 7 Where can I go from your Spirit? Where can I flee from your presence? 8 If I go up to the heavens, you are there; if I make my bed in the depths, you are there. 9 If I rise on the wings of the dawn, if I settle on the far side of the sea, 10 even there your hand will guide me, your right hand will hold me fast. 11 If I say, "Surely the darkness will hide me and the light become night around me," 12 even the darkness will not be dark to you; the night will shine like the day, for darkness is as light to you. (Psalm 139:1-12 NIV) For this we praise You. Amen.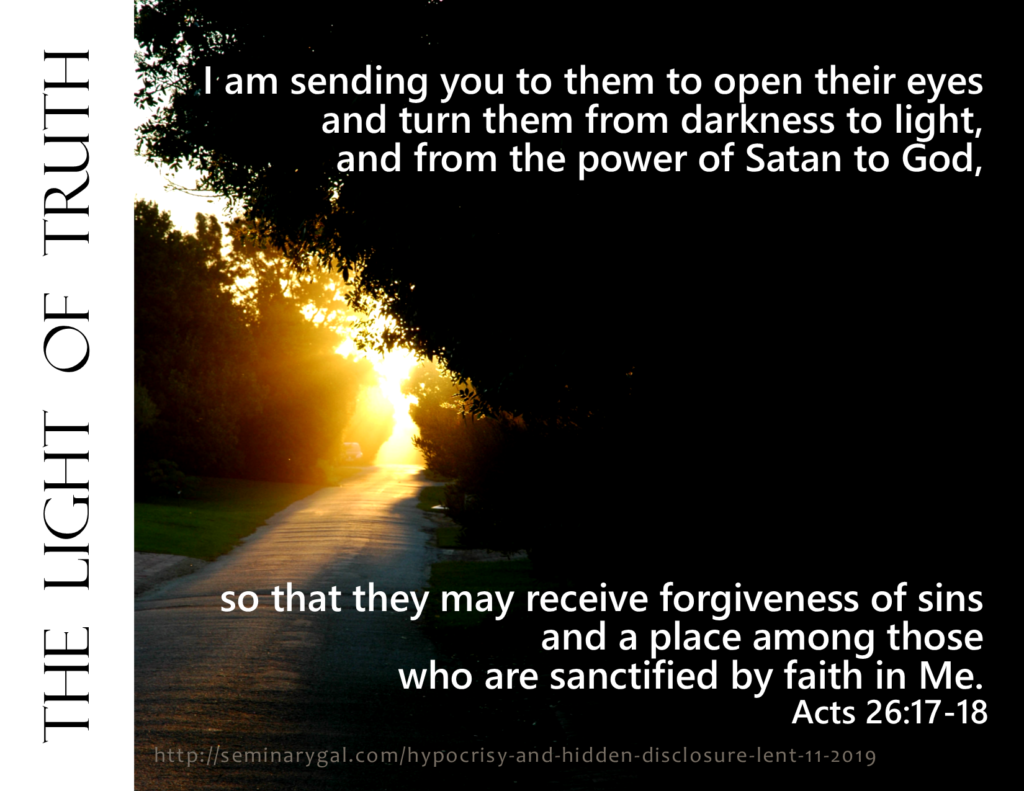 If you're already signed up on my Home Page sidebar to receive posts, you'll get the 2019 Lent Devotionals automatically. Or you can "Like" Seminary Gal on Facebook and they'll be delivered to your Facebook news feed. If you haven't signed up, today is a great day to do so. Advent and Lenten devotionals remain among my most popular offerings. You don't want to miss this great look at the Easter story to prepare your heart for Easter! Understanding that prior years' devotionals remain popular,