1 Peter 2:23 When they hurled their insults at him, he did not retaliate;
This week, we will begin talking about the Kingdom Time Frame as we continue our look at the 5 Kingdom Principles for the Overcomer found in 1 Peter 2:21-23.
From what I can tell, there are no hymns written specifically for this verse.  It's a shame because there are amazing truths contained here which would be particularly helpful for the culture in which we live.
In an age known for flaming emails of anger, tweets that bite, Facebook status updates that give instant life to something best left silent, verse 23 of our passage whispers a gentle admonition to let it go.  Adopt a Kingdom Time Frame.  Press on in the way Jesus did.
One hymn that expresses this well is I'm Pressing on the Upward Way.  You can listen here on the cyberhymnal  or watch a segment from the University of Cincinnati Conservatory of Music concert (a medley for strings and piano beginning and ending with I'm Pressing on the Upward Way).
Suite 101 describes the hymn writer Johnson Oatman, Jr. this way:
American hymn writer Johnson Oatman, Jr. was born near Medford, New Jersey, on April 21, 1856. He became a member of the Methodist Episcopal Church when he was 19 years of age. Although he never pastored a church, he was licensed to preach and was ordained by his denomination. Early on in life, he was involved in the family's mercantile business, but when his father died, he entered the insurance business.
In 1892, he was 36 years old, he started writing gospel songs, and, from then until his death in 1922, he wrote about 3,000 gospel hymn texts. Reportedly, he generally averaged 4 to 5 new texts each week, all through his life from this period. Notably, he received no more than a dollar for each of his songs. His texts were always in great demand by the leading gospel musicians of his day, including Charles Gabriel, William James Kirkpatrick and Edwin Excell.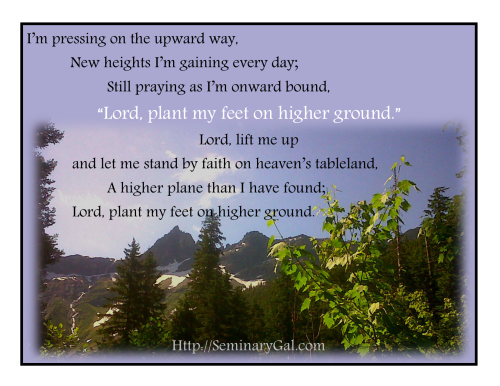 I'm Pressing on the Upward Way (Higher Ground)
I'm pressing on the upward way,
New heights I'm gaining every day;
Still praying as I'm onward bound,
"Lord, plant my feet on higher ground."
Refrain
Lord, lift me up and let me stand,
By faith, on Heaven's table land,
A higher plane than I have found;
Lord, plant my feet on higher ground.
My heart has no desire to stay
Where doubts arise and fears dismay;
Though some may dwell where those abound,
My prayer, my aim, is higher ground.
Refrain
I want to live above the world,
Though Satan's darts at me are hurled;
For faith has caught the joyful sound,
The song of saints on higher ground.
Refrain
I want to scale the utmost height
And catch a gleam of glory bright;
But still I'll pray till Heav'n I've found,
"Lord, plant my feet on higher ground."