In the musical The Sound of Music Fraulein Maria sings Do Re Mi which starts with "Let's start at the very beginning. A very good place to start." Which is really kind of a no-brainer even if it does make for a cute song with 7 children dressed in drapes.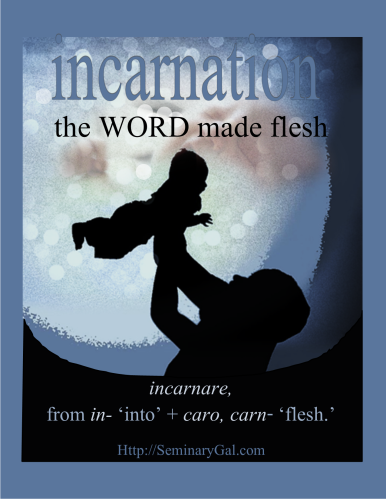 Let us start at the very beginning:
What is the Incarnation?
The word itself is derived from the late Middle English: from ecclesiastical Latin incarnat– 'made flesh,' from the verb incarnare, from in– 'into' + caro, carn– 'flesh.' "Embody or represent (a deity or spirit) in human form." That's what the Oxford dictionary says which hardly does the concept justice!
If that was the case, the sea witch in Disney's The Little Mermaid movie would have been "incarnated" as Ursula the adversary of Ariel—a witch who first bargains for Ariel's voice and then sends her speechless to the prince before Ursula's becoming human herself as she competes against Ariel to be the prince's bride.
Incarnation? This is not just a spirit taking human form…a witch or a mermaid getting some legs.
Some people refer to the Incarnation as "God with flesh on"…which also misses the point to some extent with respect to the miraculous nature of it. Jesus was incarnated as more than God's coat, skin deep.
Throughout the centuries, the church fathers have tried to nail down what the Incarnation was and how that whole Triune Godhead-thing works. They had an easier time identifying what it was NOT.
They concluded that Jesus did not go into a different phase like H20 can be steam, water, and ice depending on the environment and circumstances.
They concluded that Jesus did not simply enter a different season (i.e. pre-flesh, flesh, and post-flesh) on a timeline where He ceased to be God during that flesh season when He was somehow a created being and not God.
They concluded that Jesus didn't morph like an egg becomes a caterpillar, makes a chrysalis, and becomes a butterfly. His divinity never developed. He didn't become God as a function of maturation.
They concluded the Incarnation wasn't a mirage, a magic trick, a hologram, or other masquerade of just pretending to be a real man.
Theologian Robert Reymond describes the Incarnation this way: Without ceasing to be all that he was and is as the Second Person of the Holy Trinity, the eternal Son of God took into union with himself in the one divine Person that which he had not possessed before—even a full complex of human attributes—and became fully and truly man for us men and for our salvation. Jesus of Nazareth was and is that God-man.
Yeah. Theologians write that way. All this to say: Jesus is, was, will be, and always has been God. During the time frame of His earthly ministry, He added (to His already full divinity) a full humanity —a perfect humanity by which He would save us and a perfect humanity that He would retain after His death and resurrection. All the while being fully God.
If you're like "Wow! That's amazing!" yes, it is. And we're just getting started. For now, ponder this thought and reflect on the questions below.
Thought for the day: The Gospel writer John says it this way: John 1:1 In the beginning was the Word, and the Word was with God, and the Word was God. 2 He was with God in the beginning.
Questions for reflection:
Consider each part of John 1:1-2. Why is each phrase important?
Look back over what the Incarnation is NOT and ponder why it's an important distinction.