Do you ever find it interesting that the genealogies of Jesus of Nazareth–our Lord and Savior, the Messiah, the Christ–are different in Matthew's and Luke's versions?
Luke's goes all the way back to Adam to display the foundational level is humanity's dire need for salvation since the Garden of Eden and the consequence of sin.
Matthew's is different. His description of Jesus' lineage is to focus upon Jesus' Jewish background, all the way back through the patriarchs and the promise made to Abraham with the child of promise: Isaac. This child of promise was Divine Intervention in the lives of two very old people, as fertile as dead ones according to Scripture (Romans 4:19, Hebrews 11:11-12). Divine Intervention happened as a function of faith.
Genesis 21:1 Now the LORD was gracious to Sarah as He had said, and the LORD did for Sarah what He had promised. 2 Sarah became pregnant and bore a son to Abraham in his old age, at the very time God had promised him. 3 Abraham gave the name Isaac to the son Sarah bore him.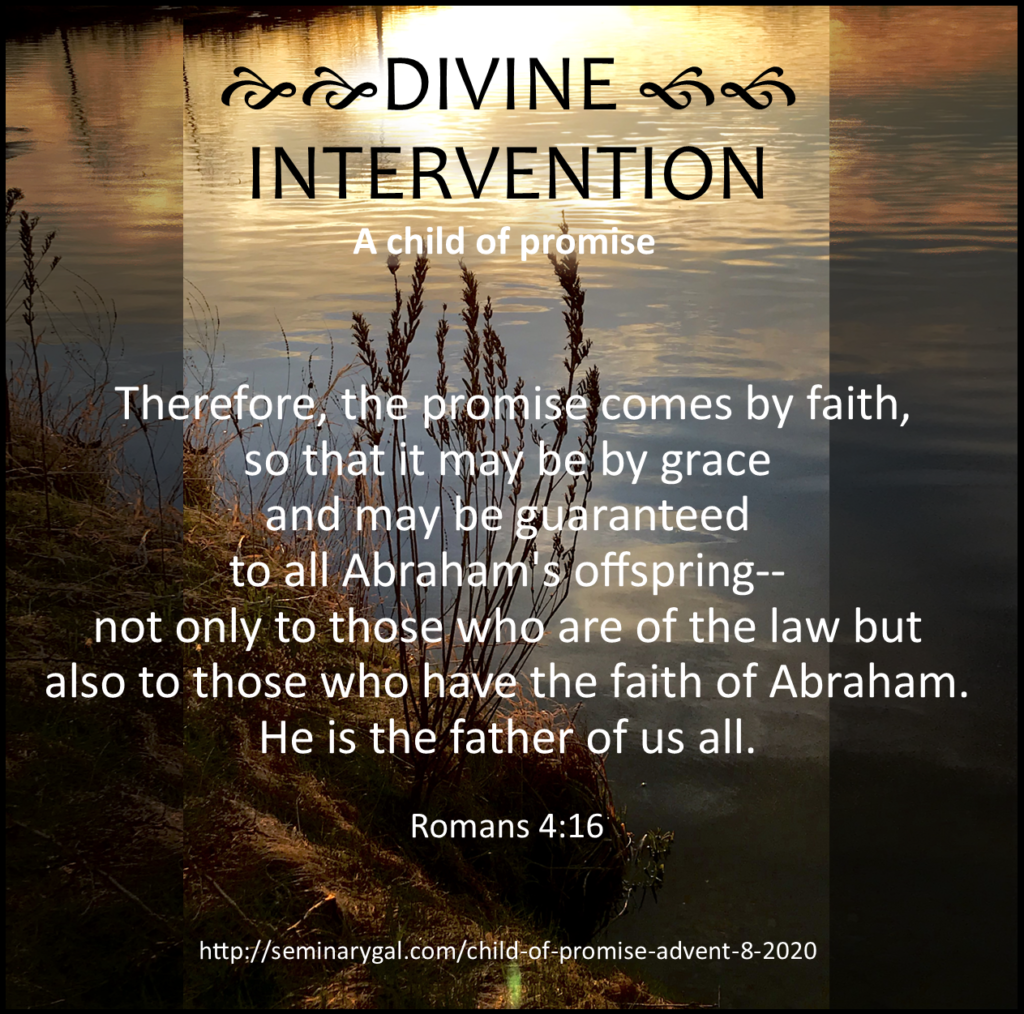 Questions for further thought:
Matthew was a Jew. Why would it be important to him to document that salvation is from the Jews (Jesus' words in John 4:22) as Matthew begins his Gospel for a Jewish audience?
Why is fulfilling of prophecy important?
In what way do the events of Advent fulfill Scripture?
Luke was a Gentile (a non-Jew). Why would it be important to him to document that salvation goes all the way back to Adam, is for the world, and not restricted to Jews alone? Luke recorded his Gospel and the book of Acts with the early Church. It was written for a largely Gentile audience.
How do both Gospels work together binding the two in unity of faith? Read Zechariah 2:10-13 and note the references to the Jews and the nations. "'Shout and be glad, Daughter Zion. For I am coming, and I will live among you,' declares the LORD. 11 'Many nations will be joined with the LORD in that day and will become my people. I will live among you and you will know that the LORD Almighty has sent me to you. 12 The LORD will inherit Judah as his portion in the holy land and will again choose Jerusalem. 13 Be still before the LORD, all mankind, because he has roused himself from his holy dwelling.'"
Father God, thank You for Your divine plan of coming to dwell among us here on earth. How amazing that Jesus Christ would lay aside everything from heaven to be born, to enter mankind–not as a ruler but as a servant of Yours! His mission was powerful, yet simple: to do Your will, to bind together the entire world as a people of faith, to be the Messiah You promised to the Jews as a blessing to the whole world, including Gentiles.

We thank You for the way the two gospels of Matthew and Luke work together to point out the very Jewish nature of our Lord and Savior Jesus Christ. His lineage and that salvation is from the Jews and yet the salvation He brings is for the entire world of those who come to You by faith.

We ask Lord that in these last days You would once again open the hearts of the Jewish people to see their Messiah, to see Him as their Savior, and many would come to faith in Him as the remaining remnant of the natural olive tree Your word speaks about.

We thank You, Lord, for this time during which the Gentile community has been grafted in. We thank You that You have not forgotten about the world in Your love for the Jewish people, and You have not forgotten about the Jewish people–Your Chosen People– in Your love for the world, too. We praise You for Divine Intervention in Your joining us together in unity of faith. Bring glory to Yourself by making us one in Christ, one in faith, worshipping You alone. We pray this through our Savior Jesus Christ whose birth we celebrate at Advent. Amen.
===
Advent 2020 began Sunday, November 29th and continues to Thursday, December 24th as we celebrate the first coming of our Lord Jesus Christ and look forward to His Second Coming. "Divine Intervention" is this year's devotional study. By signing up on the sidebar of my Home Page you can receive these daily devotionals. Or they will be reposted on SeminaryGal's Facebook page as well.
Together we will see how God has been actively involved all along as Divine Intervention for a hurting world and nations in tumult– Intervention for you and for me when our status as sinners required nothing short of a miracle.
===
Acknowledging inquiries about an entire season's devotionals for your study group's planning purposes, Seminary Gal's prior seasons' Advent devotionals can be accessed via the archives to the right and are as follows: