God doesn't like it when we take a "Maybe God will change His mind about it" approach.  Ranks right up there with the "A little bit won't be a problem"
nibbling at the boundaries of sin. 
God isn't lukewarm about important matters and if He says it, He means it. 
A guy named Balaam learned it the hard way. He was internationally renowned as a "diviner," a spiritual guru whose prophetic services were sought when someone wanted to hear from a god and didn't really care which god was speaking to him. Yeah, we're in the Old Testament today but don't let that scare you.
Our God wanted to make it plain He had chosen to bless Israel. The king of Moab, named Balak (not a God-fan) wanted Balaam to curse Israel out of fear. What happens in Numbers 22-24 results in Balaam being the poster-boy for being a moral, ethical, and religious reprobate.
Balaam starts off okay (even though he doesn't believe God is God, but only A god).
Numbers 22:12 "But God said to Balaam, "Do not go with them. You must not put a curse on those people, because they are blessed." 13 The next morning Balaam got up and said to Balak's officials, "Go back to your own country, for the LORD has refused to let me go with you."
But then he begins to waver when outnumbered and outranked…and "incentivized".
"14 So the Moabite officials returned to Balak and said, "Balaam refused to come with us." 15 Then Balak sent other officials, more numerous and more distinguished than the first. 16 They came to Balaam and said: "This is what Balak son of Zippor says: Do not let anything keep you from coming to me, 17 because I will reward you handsomely and do whatever you say. Come and put a curse on these people for me." 18 But Balaam answered them, "Even if Balak gave me all the silver and gold in his palace, I could not do anything great or small to go beyond the command of the LORD my God. 19 Now spend the night here so that I can find out what else the LORD will tell me."
What??? Read that last line again. What else? Seriously, like God wasn't clear enough? Balaam knew he wasn't supposed to go curse those whom God had blessed. And he's supposed to be a seer, a diviner, someone who can see spiritual things, but is blind as a bat. God then permits him to go to prove the point…that even a donkey (whose liver would be read by such a diviner) is more of a seer of spiritual things. Read Numbers 22:20-34 for the bizarre story of a talking donkey saving the life of this diviner by turning aside.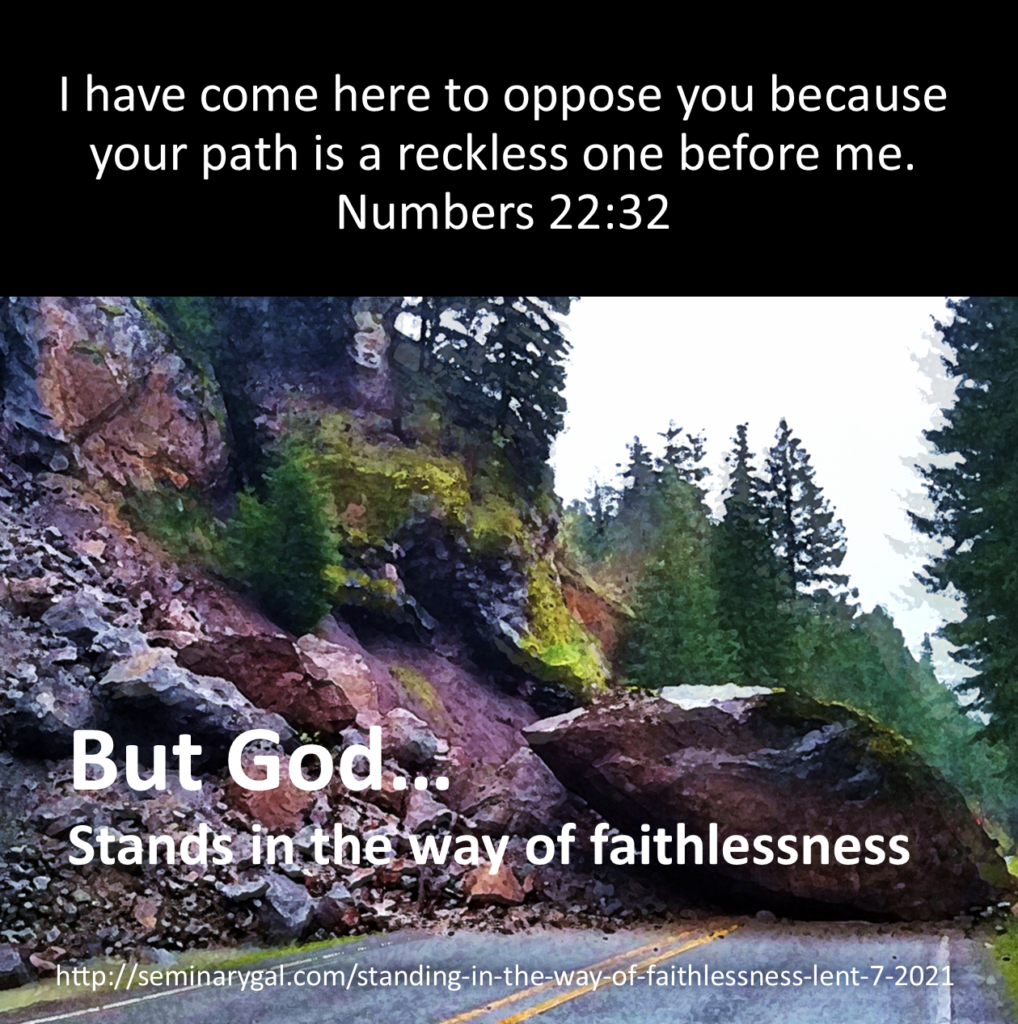 31 Then the LORD opened Balaam's eyes, and he saw the angel of the LORD standing in the road with his sword drawn. So he bowed low and fell facedown. 32 The angel of the LORD asked him, "Why have you beaten your donkey these three times? I have come here to oppose you because your path is a reckless one before me. 33 The donkey saw me and turned away from me these three times. If it had not turned away, I would certainly have killed you by now, but I would have spared it." 34 Balaam said to the angel of the LORD, "I have sinned. I did not realize you were standing in the road to oppose me. Now if you are displeased, I will go back." (Numbers 22:12-34)
The path of ignoring and rebelling against God is a reckless one whether you're an internationally renowned diviner, a Congressman, a Hollywood celebrity, the CEO of Twitter, or anyone with a pulse. Sometimes we are on a reckless path, displeasing God, hellbent on evildoing, but God, who is both merciful and just, may choose to stand in our way of self-destruction.
Let's pray.  Lord Jesus sometimes it seems like the last ones to catch on are the ones who are the most blatantly reckless.  Those in their vicinity can point out that they are rebelling, but their eyes are so blind, their ears are so closed, that they will not accept any kind of insight that points to something other than what they want.   We praise You and thank You for the times You stand in the way of wickedness.  You stand in the way of reckless actions that would be self-destructive whether we see it or not.  You stand in the way of faithlessness which You do for our benefit.  Thank You for this weird story in the Bible to remind us that You do not change Your mind on critical matters of righteous living.  You are indeed sovereign, indeed holy, and indeed the only true God. Amen.
===
If you're already signed up on my Home Page sidebar to receive posts, you'll get the 2021 Lent Devotionals automatically. Or you can "Like" Seminary Gal on Facebook and they'll be delivered to your Facebook news feed. If you haven't signed up, today is a great day to do so. Advent and Lenten devotionals remain among my most popular offerings. You don't want to miss this encounter with God to prepare your heart for Easter! Understanding that prior years' devotionals continue to minister, you may want to have access to a full series ahead of time: