Here's your sneak peek at the 2017 Advent Devotional Series: Still Christmas. Christmas always has its share of hustle-bustle, but this year, it seems more than that. More of a global angst mixed with frenzied activity like squirrels preparing for a long winter, or yellow jackets stinging everything in sight because the end is near. To that panicked pace and fear, God would remind us to "Be still, and know that I am God; I will be exalted among the nations, I will be exalted in the earth." (Psalm 46:10)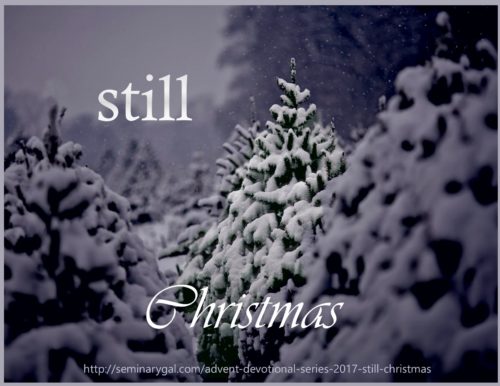 This year's Advent Devotional Series, Still Christmas, is the Advent complement to the Lenten series, Be Still and Know that I AM God.
Every day through Advent, we will look at the birth narrative of Christ and find ways to have a Still Christmas, taking time for appreciating what an amazing and transformative event the birth of our Savior was.
We will allow ourselves to take refuge in God's Word and under His mighty hand.
By doing so, we will learn to relinquish our desire to control our surroundings and in the stillness, find comfort and hope.
Finally, there will be questions for personal reflection designed to carve away all our self-imposed stresses and refocus our pure attention upward.
Be Still and Know that I AM God.
* * *
Advent Devotionals begin December 3, 2017. If you're already signed up on my Home Page sidebar to receive posts, you'll get the Advent devotionals automatically. If you haven't signed up, today is a great day to do so. Advent and Lenten devotionals remain among my most popular offerings. You don't want to miss this great way to prepare your heart for the true meaning of Christmas! See you in a few weeks!
== ==
Acknowledging inquiries about the entire season's devotionals for your study group's planning purposes, Seminary Gal's prior seasons' Advent devotionals can be accessed via the archives to the right and are as follows: