Have you ever heard "Once saved; always saved?" Have you ever struggled to reconcile that with warnings against falling away? The Bible is filled—every bit as much—with reassurance as it is with warning. What is a Christian to make of that tension?
We all have worries about wayward children, a drifting spouse or parent, siblings or friends who once walked with God who don't anymore. As we continue looking at 3 Words for Day-to-Day Christian Living, let us consider God Preserves Saints as 3 Words in Tension.
Imagine a tightrope as an escape plan. One end is held by God and He's not letting go. That's a given, as Jesus says, John 10: 28 I give them eternal life, and they shall never perish; no one can snatch them out of my hand.
But are we in His hand? Hmmm.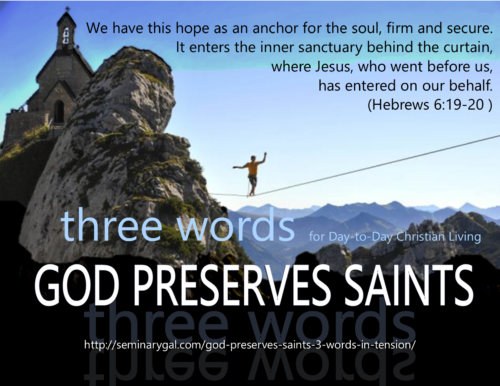 Let's look at the other end. The other end is held by faith. Our faith can hold our end of the rope held tightly but we are also free to set it down or reject it entirely. Only if faith anchors our end, can its tension provide a legitimate escape.
Here's the harder part. Our faith anchors our end, but we're not doing it.
If you think about it, we cannot hold a tightrope in place and walk across it… at the same time. Likewise, faith in anything other than God Himself is ineffective. God alone preserves us by taking our faith in Christ and anchoring it … in Himself.
God preserves us.
Faith—always a gift of God to believe—changes the redeemed sinner. In some mysterious way at a time of His choosing, God's Holy Spirit comes to dwell in the heart of a forgiven sinner and we become as Scripture says, "marked with a seal." (Ephesians 1: 13-14).
Think of it like tubes of epoxy glue that once you mix it, or expose it to sunlight, it hardens rock-solid. Our tube of faith is mere liquid and couldn't hold a thing, apart from God gifting faith in Him and making it sure. That's preservation! The Holy Spirit enters our picture and He solidifies our faith. The tightrope is held in constant, perfect tension and Christ is our escape when the time comes. He keeps us from falling when He anchors our escape at both ends.
I offer this picture of a tightrope because, generally speaking, I think people don't like unresolved items to be held in tension, particularly if we're not in control of it. We struggle to understand passages like John 10:25-30 that speak of sheep that are His and ones that aren't. Belief yet unbelief, perfect security in tension with falling away.
Acknowledging this tension helps us to understand how God's security and preservation are perfectly anchored in a rock-solid faith in Christ. He is faithful!
Hebrews 6:19 We have this hope as an anchor for the soul, firm and secure. It enters the inner sanctuary behind the curtain, 20 where Jesus, who went before us, has entered on our behalf.
===
This "three word" series is archived beginning July 22, 2017.