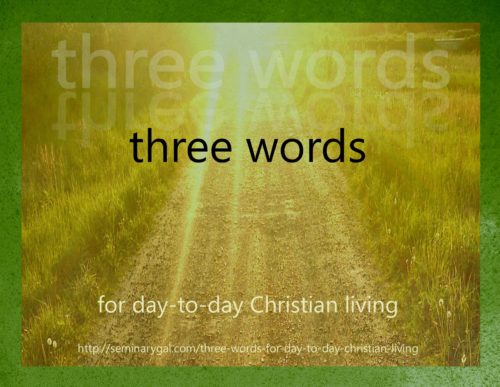 Do you ever feel like everything is falling to pieces all around you? The flood waters are rising and it's all you can do to bring your life to higher ground? For those of us in Chicagoland, it has certainly felt that way. We've been experiencing floods of not-quite-biblical proportions and have found ourselves clinging to the promises and character of God. Our prayers perhaps limited in number to three words, but they're three words of great power, three words of incredible promise, and three words of life-sustaining hope. Today we begin a series of those three-word reminders to help us face life as Christians in a very fallen world.
Do you need help? Encouragement? A reminder that you've not been forgotten?

Do you need a friend?

Do you need to know you're not alone?

Do you need to know your God is real, present, and powerful?
God has answers for your questions straight out of Scripture, and He reminds us today: He is able.
"A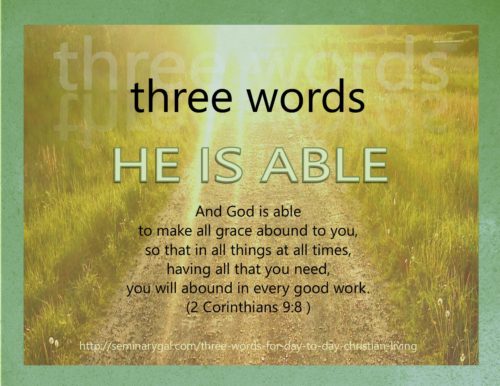 nd God is able to make all grace abound to you, so that in all things at all times, having all that you need, you will abound in every good work." (2 Corinthians 9:8).
Just look how expansive and all-inclusive that is! All grace. Abound. All things. All times. All you need to abound. Every good work!
When we feel unequal to the task, our task is no match for God. Three little words as an excellent reminder: He is able!
===
This "three word" series is archived beginning July 22, 2017. For further study on how God is able, read Mark 9:21 Jesus asked the boy's father, "How long has he been like this?" "From childhood," he answered. 22 "It has often thrown him into fire or water to kill him. But if you can do anything, take pity on us and help us." 23 "'If you can'?" said Jesus. "Everything is possible for him who believes." 24 Immediately the boy's father exclaimed, "I do believe; help me overcome my unbelief!"
Believe today that He is able.