I have piles of papers on every flat surface in my home, work that I've been up to my ears in doing instead of writing devotionals. Both are God's calling, so balancing them is a daily art form. Then suddenly, Las Vegas. Like many of you, there's an unspeakable shock, a deep abiding grief, and maybe you're like me with a desire to understand, an almost insatiable appetite for information and press conferences, a strange and grim interest in motive as what happened to make a person do something so horrible, and an equally morbid desire to know about the victims as if to give them one last moment on the stage of the human drama visible in the afterglow as they depart the stage in dark silence. Like many of you, I pray and pray some more. Pray a lot actually, and the repeated thought I have is that God Told Us. These are 3 Words of Preparation that Christians can use in their Day-to-Day Christian Living.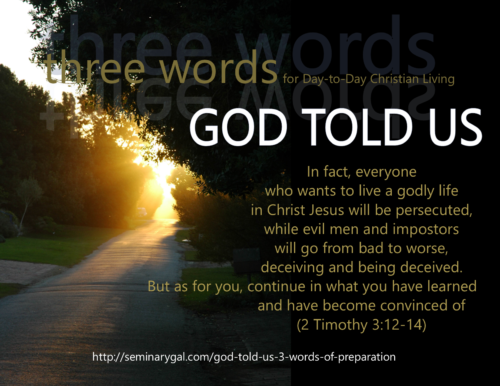 What difference does it make that God Told Us?
When God tells us what it will be like in the last days, (for example 2 Timothy 3:1-9) He's not doing it to depress us. He's doing it as preparation. To make us situationally aware so we can respond as Christians, with level heads and helping hands. To reach out with the Gospel which alone can save our neighbors.
In the last days, some people dig deep into depravity and seemingly snap or worse, plot to do horrific things to their fellow man. Reality is that mankind, totally apart from God, knows no end to the evil we can conceive and commit. Just prior to the visiting of God's judgment in the Flood, Genesis 6:5 The LORD saw how great man's wickedness on the earth had become, and that every inclination of the thoughts of his heart was only evil all the time.
Because of the rise of wickedness, we're approaching another Judgment, but not through another flood. The wise among us live in preparation for that Judgment.
Everyday man's solutions involve gun control and metal detectors and TSA and withdrawing from gathering. God's solutions are different. God wants us to be situationally aware…to see God's gracious offer of salvation in the midst of it, and to press on. Continue. Rely upon God to rescue us in the near term, if it is His will, but if not near term, the greater rescue into eternity for those who have faith in Jesus Christ. Situational awareness in both prepares us and comforts us.
The end times bring bad stuff, evil stuff, depraved stuff. But the man or woman of God pays attention to the preparation God gives us in His Word:
2 Timothy 3: 10 You, however, know all about my teaching, my way of life, my purpose, faith, patience, love, endurance, 11 persecutions, sufferings– what kinds of things happened to me in Antioch, Iconium and Lystra, the persecutions I endured. Yet the Lord rescued me from all of them. 12 In fact, everyone who wants to live a godly life in Christ Jesus will be persecuted, 13 while evil men and impostors will go from bad to worse, deceiving and being deceived. 14 But as for you, continue in what you have learned and have become convinced of, because you know those from whom you learned it, 15 and how from infancy you have known the holy Scriptures, which are able to make you wise for salvation through faith in Christ Jesus. 16 All Scripture is God-breathed and is useful for teaching, rebuking, correcting and training in righteousness, 17 so that the man of God may be thoroughly equipped for every good work.
Believe. Know. Live. Accept. Continue. Teach. Rebuke. Correct. Train. Equip. Prepare.
It's a new normal out there in a depraved world. You, however, can be situationally aware, prepared for the end times, armed with the Gospel, and shielded by the love of Jesus Christ now and forever.
Surely I am with you always, to the very end of the age." (Matthew 28:20b )
===
This "three word" series is archived beginning July 22, 2017.