We sure live in anxious times, don't we? I know I haven't been as routine about writing lately and it's because being "a Neighbor" has meant ministering locally, doing my best to alleviate others' anxiety through working hard, thinking hard, and yes, praying hard. How do I keep from letting anxiety get the better of me? Two pieces of truth: Sometimes I don't. And I always try to keep today's 3 Words for Day-to-Day Christian Living in mind: God Offers Peace.
God doesn't want His people to live in chronic anxiety. He doesn't want us worrying over North Korea's missile tests, Iran's broken promises in developing nuclear technologies, terrorism, Zika, Ebola, West Nile, hurricanes, tornadoes, or earthquakes. He doesn't even want us worrying about what we're going to wear. So obviously not anything in between either.
Matthew 6: 25 "Therefore I tell you, do not worry about your life, what you will eat or drink; or about your body, what you will wear. Is not life more important than food, and the body more important than clothes? 26 Look at the birds of the air; they do not sow or reap or store away in barns, and yet your heavenly Father feeds them. Are you not much more valuable than they? 27 Who of you by worrying can add a single hour to his life? 28 "And why do you worry about clothes? See how the lilies of the field grow. They do not labor or spin. 29 Yet I tell you that not even Solomon in all his splendor was dressed like one of these. 30 If that is how God clothes the grass of the field, which is here today and tomorrow is thrown into the fire, will he not much more clothe you, O you of little faith? 31 So do not worry, saying, 'What shall we eat?' or 'What shall we drink?' or 'What shall we wear?' 32 For the pagans run after all these things, and your heavenly Father knows that you need them. 33 But seek first his kingdom and his righteousness, and all these things will be given to you as well. 34 Therefore do not worry about tomorrow, for tomorrow will worry about itself. Each day has enough trouble of its own.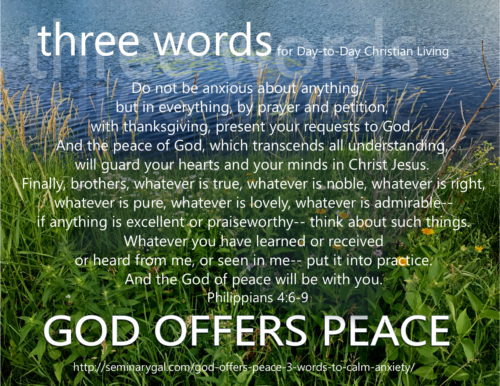 God's response to our anxiety is to remind us to seek Him and there find relief from our burdens (Matthew 11:28-30). To know His peace.
Philippians 4:6 Do not be anxious about anything, but in everything, by prayer and petition, with thanksgiving, present your requests to God. 7 And the peace of God, which transcends all understanding, will guard your hearts and your minds in Christ Jesus. 8 Finally, brothers, whatever is true, whatever is noble, whatever is right, whatever is pure, whatever is lovely, whatever is admirable– if anything is excellent or praiseworthy– think about such things. 9 Whatever you have learned or received or heard from me, or seen in me– put it into practice. And the God of peace will be with you.
God offers peace in place of worry and anxiety.
We only need to set our minds on God and His Kingdom, delivering in the categories of faith and dependence and God fills in the rest by being with us…which is the safest place to be from an eternal perspective.
===
This "three word" series is archived beginning July 22, 2017.