Psalm 124:1 A song of ascents. Of David. If the LORD had not been on our side– let Israel say– 2 if the LORD had not been on our side when men attacked us, 3 when their anger flared against us, they would have swallowed us alive; 4 the flood would have engulfed us, the torrent would have swept over us, 5 the raging waters would have swept us away. 6 Praise be to the LORD, who has not let us be torn by their teeth. 7 We have escaped like a bird out of the fowler's snare; the snare has been broken, and we have escaped. 8 Our help is in the name of the LORD, the Maker of heaven and earth.
Our discipleship lessons in the Songs of Ascents so far have been:
Expect opposition
Gaze Beyond the Hills
Seek God's presence and Know His Peace
Cry out, Have Mercy on Us!
Today we come to the fifth Song of Ascents and the lesson might be called: God's Ways of Escape.  The poetry in this song is easily apparent.  If the Lord had not been on our side, we would have been swallowed alive, swept under, torn apart, or captured.  But "Praise be to the LORD!"  We have escaped.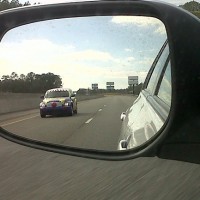 Interestingly, this is a pilgrim's song looking back at the spiritual and physical journey.  The pilgrims offer praise to God for their safe arrival in Jerusalem.   
Looking ahead through the windshield, they don't forget to check their mirrors for what they've journeyed through.
In some respects, we live in a very thankless culture. 
Sure, there might be a superficial "Thank You" said at the checkout in some store's cashier lane, or stamped on the plastic bag containing our purchases.  We might hear praise from a friend or receive a "Thank You" note for a good deed done.  That's not the kind of praise and thanksgiving I'm talking about, though.
I'm talking about giving thanks to God. "Praise be to the LORD."
How much of our prayer life is focused on asking God for help rather than praising Him for who He is and thanking Him for the help He has already provided?   When we only look ahead through the windshield, we don't gain the perspective of checking the mirrors. 
When we check the mirrors of our spiritual journey, we see:
The very constancy of God is praiseworthy instead of common, routine, or mundane.
God's ways of escape are not always obvious, but they are the complex and mysterious workings of our perfect God.
God's ways of escape, of help, and provision may require our suffering injustice or self-denial.  Deliverance always involves being delivered from something. His way of escape for us involved the Messiah, Jesus Christ, who suffered and died for us.
Take time today—while looking forward to Easter Sunday—to remember the rich history of your discipleship journey and be refreshed in this moment through praising and thanking Him for His help.
Give thanks to the LORD, call on his name;

make known among the nations what he has done.

Sing to him, sing praise to him; tell of all his wonderful acts.

Glory in his holy name; let the hearts of those who seek the LORD rejoice. Look to the LORD and his strength; seek his face always.

Remember the wonders he has done, his miracles, and the judgments he pronounced, O descendants of Israel his servant, O sons of Jacob, his chosen ones.  He is the LORD our God; his judgments are in all the earth (1 Chronicles 16:8-14)