Changing the status of the status quo requires no mere tweaking.  Especially when it's the religious status quo.  No simplistic tinkering will do: It's overhaul time!
Jeremiah 20:1 When the priest Pashhur son of Immer, the chief officer in the temple of the LORD, heard Jeremiah prophesying these things, 2 he had Jeremiah the prophet beaten and put in the stocks at the Upper Gate of Benjamin at the LORD's temple. 3 The next day, when Pashhur released him from the stocks, Jeremiah said to him, "The LORD's name for you is not Pashhur, but Magor-Missabib. 4 For this is what the LORD says: 'I will make you a terror to yourself and to all your friends; with your own eyes you will see them fall by the sword of their enemies. I will hand all Judah over to the king of Babylon, who will carry them away to Babylon or put them to the sword. 5 I will hand over to their enemies all the wealth of this city– all its products, all its valuables and all the treasures of the kings of Judah. They will take it away as plunder and carry it off to Babylon. 6 And you, Pashhur, and all who live in your house will go into exile to Babylon. There you will die and be buried, you and all your friends to whom you have prophesied lies.'"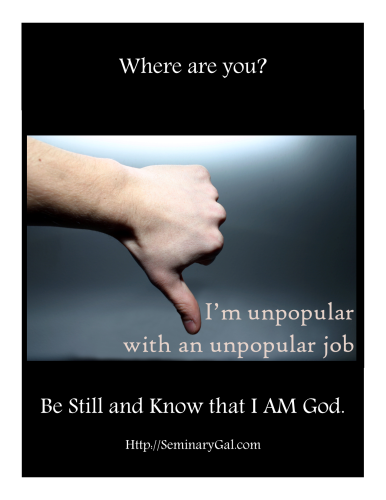 Ouch.  Not exactly the way to make friends.  But prophets must accept they will be unpopular dudes.  God cares more about our obedience than our popularity and Jeremiah knew that better than many.
It doesn't mean it didn't matter to him.  Sometimes being an unpopular man with an unpopular job can get under your skin.  This instance broke Jeremiah's spirit and silence.  So he continues with a lament to God,
Jeremiah 20:7 O LORD, you deceived me, and I was deceived; you overpowered me and prevailed. I am ridiculed all day long; everyone mocks me. 8 Whenever I speak, I cry out proclaiming violence and destruction. So the word of the LORD has brought me insult and reproach all day long. 9 But if I say, "I will not mention him or speak any more in his name," his word is in my heart like a fire, a fire shut up in my bones. I am weary of holding it in; indeed, I cannot. 10 I hear many whispering, "Terror on every side! Report him! Let's report him!" All my friends are waiting for me to slip, saying, "Perhaps he will be deceived; then we will prevail over him and take our revenge on him." 11 But the LORD is with me like a mighty warrior; so my persecutors will stumble and not prevail. They will fail and be thoroughly disgraced; their dishonor will never be forgotten. 12 O LORD Almighty, you who examine the righteous and probe the heart and mind, let me see your vengeance upon them, for to you I have committed my cause. 13 Sing to the LORD! Give praise to the LORD! He rescues the life of the needy from the hands of the wicked. 14 Cursed be the day I was born! May the day my mother bore me not be blessed! 15 Cursed be the man who brought my father the news, who made him very glad, saying, "A child is born to you– a son!" 16 May that man be like the towns the LORD overthrew without pity. May he hear wailing in the morning, a battle cry at noon. 17 For he did not kill me in the womb, with my mother as my grave, her womb enlarged forever. 18 Why did I ever come out of the womb to see trouble and sorrow and to end my days in shame?
I'm unpopular with an unpopular job.  I wish I'd never been born. 
This stinks.  I hate confrontation.
 Have you ever felt that way?
Be Still.  I know I didn't give you a choice in calling, but I do reward the obedient.
Be Still.  Popularity is less important than faithfulness.  Keep your eyes on Me.
Be Still and Know that I AM God.  Revelation 2:9 "I know your afflictions and your poverty– yet you are rich! I know the slander of those who say they are Jews and are not, but are a synagogue of Satan. 10 Do not be afraid of what you are about to suffer. I tell you, the devil will put some of you in prison to test you, and you will suffer persecution for ten days. Be faithful, even to the point of death, and I will give you the crown of life. 11 He who has an ear, let him hear what the Spirit says to the churches. He who overcomes will not be hurt at all by the second death."
Be Still and Know that I AM God.  Revelation 3: 7 "These are the words of him who is holy and true, who holds the key of David. What he opens no one can shut, and what he shuts no one can open. 8 I know your deeds. See, I have placed before you an open door that no one can shut. I know that you have little strength, yet you have kept my word and have not denied my name. 9 I will make those who are of the synagogue of Satan, who claim to be Jews though they are not, but are liars– I will make them come and fall down at your feet and acknowledge that I have loved you. 10 Since you have kept my command to endure patiently, I will also keep you from the hour of trial that is going to come upon the whole world to test those who live on the earth. 11 I am coming soon. Hold on to what you have, so that no one will take your crown. 12 Him who overcomes I will make a pillar in the temple of my God. Never again will he leave it. I will write on him the name of my God and the name of the city of my God, the new Jerusalem, which is coming down out of heaven from my God; and I will also write on him my new name."
Questions for reflection:
How good are you at dealing with confrontation?  What kinds of feelings accompany confrontation and conflict for you?
Have you ever wallowed in self-pity?  Read back over Jeremiah's complaint (Jeremiah 20:7-13) and notice what initially turned the tide for Jeremiah.
How can remembering God's faithfulness call us out of fearing confrontation and indulging self-pity…and into praise?
Even Jeremiah, the great prophet who saw God's work throughout his life, returned to pity after praising God (Jeremiah 20:14-18).  What does that say about the tenacity of negative thinking?