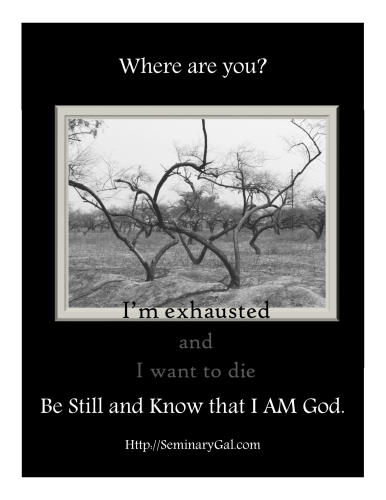 Exhaustion.  Have you ever experienced it? 
Many of us know what it's like to be physically exhausted after doing strenuous activity for an extended period of time.  Our legs can feel like rubber and our arms may ache.  We may be out of breath and want to collapse in a chair or a bed and just sleep.
Spiritual exhaustion can happen easily to those of us exercising powerful faith on a regular basis.  It can even happen to those who are simply holding on, standing still, and facing the storm for a bit too long. 
Spiritual exhaustion ought not to be underestimated.  In many regards, it is more difficult to endure, can only be spiritually resolved, and can take longer to heal.
Elijah was spiritually exhausted.  Having faced the years of drought, then finally the rain, and his killing of Jezebel's prophets, now Elijah had Jezebel on his heels trying to take his life.
Elijah was spiritually and emotionally spent.  He wished he was dead.
1 Kings 19:1 Now Ahab told Jezebel everything Elijah had done and how he had killed all the prophets with the sword. 2 So Jezebel sent a messenger to Elijah to say, "May the gods deal with me, be it ever so severely, if by this time tomorrow I do not make your life like that of one of them." 3 Elijah was afraid and ran for his life. When he came to Beersheba in Judah, he left his servant there, 4 while he himself went a day's journey into the desert. He came to a broom tree, sat down under it and prayed that he might die. "I have had enough, LORD," he said. "Take my life; I am no better than my ancestors."
There's no shame in admitting that we feel this way from time to time.  Elijah, among the greatest of the OT prophets who was taken up into a whirlwind alive, wasn't ashamed to admit to God, "I've had enough, LORD."
Depression and exhaustion go hand in hand. 
Those of us who know spiritual exhaustion well also know that depression is the shadow that follows behind exhaustion. 
It isn't a loud boisterous killer of the spirit, but it's there—insidiously so.  It tags along, leeching off the life of the godly man or woman who is weakened by fighting the fight.  Depression is parasitic and it sucks the life and the joy and the peace out of a person.  Elijah felt that painfully.
What happened then?  God provided help in a variety of ways (1 Kings 19:5-21):
Rest (1 Kings 19:5)
Sustenance (1 Kings 19:5-6)
Compassion in the form of acknowledging that the journey is hard (1 Kings 19:7)
Strength to forge ahead (1 Kings 19:8)
God's reassuring presence (1 Kings 19:11-13)
Information that God only knew–information that would encourage Elijah

Direction (1 Kings 19:15)
Succession plan (1 Kings 19:16-17)
Divine perspective (1 Kings 19:18)
Strengthened by God's provision, Elijah was able to pass the baton to Elisha, whom God provided to be Elijah's attendant and successor with the mantle of prophet (1 Kings 19:-21)
Be Still.  I know you are weary.  I AM here to help you.
Be Still.  I know that the human spirit can withstand only so much.  I will refresh you.
Be Still and Know that I AM God.  Matthew 11:29 "Take My yoke upon you, and learn from Me, for I am gentle and humble in heart; and you shall find rest for your souls."
Be Still and Know that I AM God.  Remind yourself of who I AM.  Psalm 23:1 "A psalm of David. The LORD is my shepherd, I shall not be in want. 2 He makes me lie down in green pastures, he leads me beside quiet waters, 3 he restores my soul. He guides me in paths of righteousness for his name's sake. 4 Even though I walk through the valley of the shadow of death, I will fear no evil, for you are with me; your rod and your staff, they comfort me. 5 You prepare a table before me in the presence of my enemies. You anoint my head with oil; my cup overflows. 6 Surely goodness and love will follow me all the days of my life, and I will dwell in the house of the LORD forever."
Questions for reflection:
How often have you thought it was a sign of weakness to admit that you've had enough?  Does it seem unchristian or like a lack of faith?
Where do you turn when depression hits?
In the stillness, remind yourself of who God is and then look for how He provides for you.
Elijah reached his limit and wanted to die.  What did God do, give Elijah the death he wanted as relief or something better?  Read 

2 Kings 2:11 As they were walking along and talking together, suddenly a chariot of fire and horses of fire appeared and separated the two of them, and Elijah went up to heaven in a whirlwind.
SG 32     Where are you?  I'm unpopular with an unpopular job.  Jeremiah.
SG 33     Where are you? Running for our lives.  Joseph, Mary, and Jesus.
SG 34     Where are you? Preparing the way and getting disillusioned.  John the Baptist
PALM SUNDAY  Where are you?  I'm celebrating the Messiah and getting my hopes up.
SG 35     Where are you?  I'm at the well and I'm an outcast among women.
SG 36     Where are you?  I'm in Your boat on a stormy sea.  The discples.
SG 37     Where are you? I'm on the hillside and I have nothing to share but my lunch.  Little boy.
SG 38     Where are you? I'm at the Last Supper and You're washing my feet. Peter.
SG 39     Where are you?  I'm at the foot of the Cross and I don't understand.  Mary.
SG 40     Where are you?  I'm hiding because I was a disciple of Jesus.
EASTER SUNDAY               Where are you?  I'm at the empty tomb.  Mary Magdalene.