How He'd looked forward to this so many times! Going home! He thought back to just a few days earlier when He'd had a mountaintop moment in the presence of His disciples Peter, John, and James (Luke 9:28-36). It refreshed Him endlessly to have been speaking with Moses and Elijah about His departure which He was about to bring to fulfillment in Jerusalem. Sure, He'd been at this work since before He was born, but now 30 years into the Incarnation, He was overjoyed at the prospect of being reunified … in the eternal realm … with His Father. He missed dwelling there away from the earthly realm with all the problems caused by human sin. But that was the reason He was sent and the reason He came.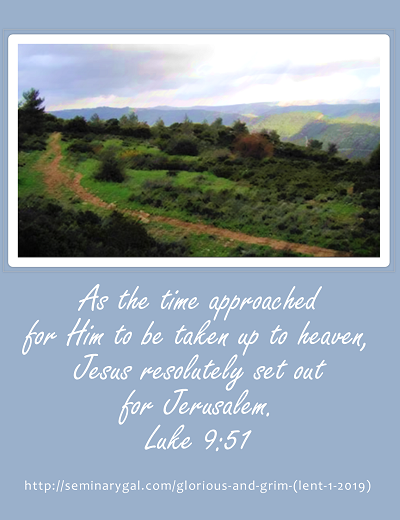 Luke 9:51 As the time approached for him to be taken up to heaven, Jesus resolutely set out for Jerusalem. 52 And he sent messengers on ahead, who went into a Samaritan village to get things ready for him; 53 but the people there did not welcome him, because he was heading for Jerusalem.
Jerusalem! It is there He'd find the one last and pivotal piece of work to finish: The Cross. It loomed ahead of Him like a glorious and grim finish line. Glorious, because the moment of reunification in the heavenly realm …but grim also, because there was plenty of rejection between here and there and the battle to be won in His death.
Think about it:
Do we often view earth as being so good we wouldn't want to leave it?
Are there any things about the earthly realm you'd miss (e.g. marriage, childbirth, etc.)?
What do you think heaven offers that makes those things irrelevant?
Lord Jesus, we praise You and thank You for being sent to earth to teach us and redeem us. Thank You, Father, for the sacrifice You also made to show us what love truly looks like. Thank You, Holy Spirit, for teaching us by taking from what belongs to Christ Jesus and making it known to us. Help us, Lord, to anticipate Your return and our homecoming with great joy and watchful obedience. Amen.
= = =
Beginning with the time that Jesus set out resolutely for Jerusalem until the empty tomb, there's so much more to Jesus' story at the time we call Easter, for Him the Passover. Let's listen in His own words from the Gospel of Luke (with a few of mine for painting the scene) to let His Word shine.
If you're already signed up on my Home Page sidebar to receive posts, you'll get the 2019 Lent Devotionals automatically. Or you can "Like" Seminary Gal on Facebook and they'll be delivered to your Facebook news feed. If you haven't signed up, today is a great day to do so. Advent and Lenten devotionals remain among my most popular offerings. You don't want to miss this great look at the Easter story to prepare your heart for Easter! Understanding that prior years' devotionals remain popular,
===
Acknowledging that former years' devotional series remain popular: