He was heading to Jerusalem and already had plenty of disciples. He'd gain and lose quite a few more before it's all said and done. He had the Twelve, that more-or-less faithful band (individually and as a group) who stuck by His side over many miles of the journey. Even when they were arguing about who was the greatest, Jesus loved them. They didn't get it that He was the greatest. (After all, He was leading and they were following.) But Jesus just chalked it up to "simply human" and let it go.
There were so many people–all of whom were simply human. They were sometimes hangers-on, wannabes, gapers or yes, critics. He knew He was a tough act to follow.
And it would get tougher. Some people would hate Him and His disciples simply because they were Jews (religious hatred). Some would hate Him because He was headed for Jerusalem (hatred for a place). Others would find His teachings too controversial (hating what He stands for). And then there were the people jumping on Jesus' demon-driving-bandwagon. They wanted to be part of good things, but for all the wrong reasons. His disciples pointing out that some are "of us" and some of them "are not" didn't contribute to unity. In fact, it undermined the cause of discipleship. To that "you're not part of our club" mentality, Jesus said to them firmly,

"Don't stop him, for whoever is not against you is for you."
They'd need to remember that advice because going to Jerusalem meant that following would get even harder to do. Discipleship would have enough obstacles there without creating them. Crowds come, some maybe wanting to be a part of the next big thing, but crowds also go. And serving the King of Heaven is always easier desired than accomplished.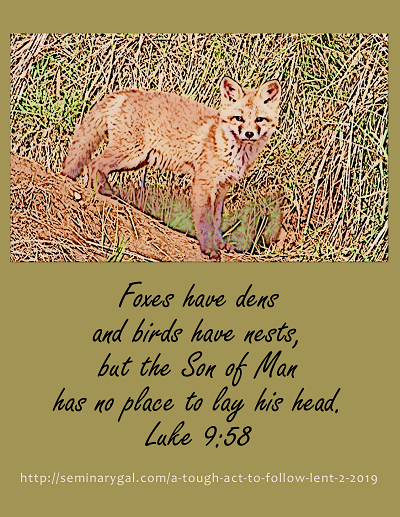 52 And he sent messengers on ahead, who went into a Samaritan village to get things ready for him; 53 but the people there did not welcome him, because he was heading for Jerusalem. 54 When the disciples James and John saw this, they asked, "Lord, do you want us to call fire down from heaven to destroy them?" 55 But Jesus turned and rebuked them. 56 Then he and his disciples went to another village. 57 As they were walking along the road, a man said to him, "I will follow you wherever you go." 58 Jesus replied, "Foxes have dens and birds have nests, but the Son of Man has no place to lay his head."
59 He said to another man, "Follow me." But he replied, "Lord, first let me go and bury my father." 60 Jesus said to him, "Let the dead bury their own dead, but you go and proclaim the kingdom of God." 61 Still another said, "I will follow you, Lord; but first let me go back and say goodbye to my family." 62 Jesus replied, "No one who puts a hand to the plow and looks back is fit for service in the kingdom of God."
Think about it:
In what ways is Jesus still a tough act to follow?
Is it getting easier or harder? Why?
What kinds of excuses do you see in your life or in the lives of those you know for an unwillingness to follow Jesus?
Father God, please grant us the courage for these last days, that we might bring glory to You by our faithful endurance. Lord Jesus, thank You for being the author and perfecter of our faith and for paving the way ahead of us, showing us by Your example what overcoming looks like. Holy Spirit, embolden us with Your truth and Your righteousness so we may bear fruit for the Kingdom. Make us fit for service to the King of Kings and the Lord of Lords. Amen.
= = =
Beginning with the time that Jesus set out resolutely for Jerusalem until the empty tomb, there's so much more to Jesus' story at the time we call Easter, for Him the Passover. Let's listen in His own words from the Gospel of Luke (with a few of mine for painting the scene) to let His Word shine.
If you're already signed up on my Home Page sidebar to receive posts, you'll get the 2019 Lent Devotionals automatically. Or you can "Like" Seminary Gal on Facebook and they'll be delivered to your Facebook news feed. If you haven't signed up, today is a great day to do so. Advent and Lenten devotionals remain among my most popular offerings. You don't want to miss this great look at the Easter story to prepare your heart for Easter!
===
Acknowledging that former years' devotional series remain popular: