Every year I pray for enlightenment, that God will give me a vision of a devotional series for Advent. Please don't misunderstand: I'm not complaining when I say that it's difficult to find topics that are suitable. Even when God makes a theme plain and it's beautiful, it's not always easy to package something perfectly, and put a nice ribbon on the top.
I know I'm not the only person in ministry who feels this way. If you were to ask your pastor which message series are the hardest ones to preach, they'd probably say Advent and Passion Week. The passages of Scripture are familiar, and the storyline known by many, even outside the church.
How do you make it fresh for those who have been coming to church for 30 years?
The pressure builds on pastors because if there are two weeks that C&E Christians go to church, it's Christmas and Easter, although perhaps a tradition that's disappearing. Pastors want to make the sermons seem less like sermons and more like invitations to receive the Gospel, after all they probably will have their biggest audience all year! Some desperately want to do an altar call but it's just not the style of their denomination so they miss opportunities and feel guilty about it. Some put the Gospel front-and-center thinking, "This is one of two shots a year and I'm gonna make them count!" And then they wonder if they reached enough or pushed anyone away.
Yet the challenge exists on how to take a story that has grown too familiar, a little worn, maybe pushed to the back of the spiritual closet as so much yada-yada-yada…oh, it's nice but doesn't really speak to me anymore. Like a favorite stuffed animal that has lost its functional squeaker.
When I was in seminary, one of my favorite professors told me, "There are no Academy Awards in heaven, Barb, for the most creative presentation of God's Word, only REWARD in heaven for the most faithful presentation of it."
For that reason, this year I'm a bit nervous.
Announcing the 2018 Advent Devotional Series: Storyteller.
As I was praying over the list of various themes, God said, "This one. Tell My Story. To the person for whom the characters have become little more than cardboard cutouts, familiar nativity statues, or names on a page, I'm going to give them flesh, beating hearts, and all the joys and troubles of this world, thoughts and emotions common to mankind. I'm going to remind My people of their reality in a real place in a real time. My Son was born to be Savior of the world! His Story should never grow old in the heart of My people. Tell My Story."
Join me beginning December 2, 2018 by signing up on the sidebar of my Home Page to receive these daily devotionals. Pull up a chair and prepare to be captivated once again by the miracle of Jesus' birth. I know I have been as He has given me words to be His Storyteller for Luke 1-2.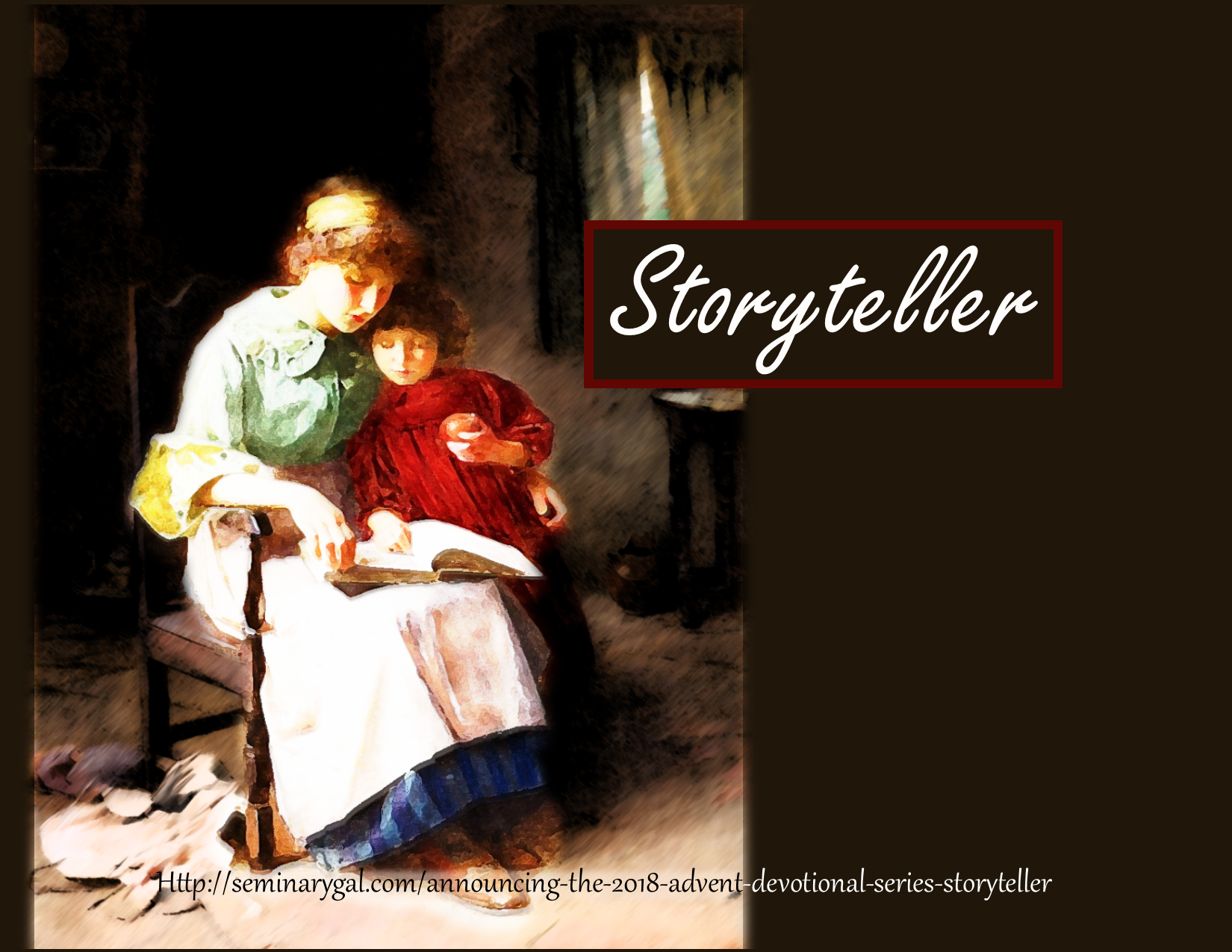 Acknowledging inquiries about the entire season's devotionals for your study group's planning purposes, Seminary Gal's prior seasons' Advent devotionals can be accessed via the archives to the right and are as follows:
Last year's Advent Devotional Series (2017), Still Christmas, began December 3, 2017 and was the Advent complement to the Lenten series, Be Still and Know that I AM God.
The 2016 season devotionals were called "Timeless: The Message of Christmas for All Ages" and explored how the message of Christmas is timeless truth, for all ages of people, and for all ages at all times. Timeless hope, encouragement, grace, peace, and love as we looked into the Word, saw the face of our Lord Jesus, and experienced restoration in His presence. His goodness and His Gospel are truly Timeless. The 2016 devotionals began November 27, 2016.
The 2015 season devotionals were titled Incarnation and involved digging deep–and yes, I mean deep– in this important mystery of Christian theology. They began November 29, 2015.
Carol Me, Christmas! remains one of my most popular offerings and tells the Christmas story through our most beloved Christmas hymns and carols. You can access all of the numbered devotionals from 2014 via the archives. They began November 30, 2014.
The 2013 series was Emmanuel: When LOVE Showed Up in Person and examined the Prologue to the Gospel of John. It began December 1, 2013.
The 2012 series focused on Expecting the Unexpected…the unexpected, unlikely, and uniquely divine qualities of God's perfect plan outlined in Luke's account of the Christmas story. It began December 1, 2012.
===
By way of reminder, if you haven't signed up yet, you can receive these devotional studies in your email throughout Advent 2018 by entering your email address on the SeminaryGal.com home page in the space provided in the sidebar. Or "Like" the SeminaryGal Facebook page to access them there. If you like these devotionals, I'd really appreciate your letting others know so I can continue to spread the Good News far and wide. Blessings to you, in Christ always, Barbara <><