Luke 12:22 Then Jesus said to his disciples: "Therefore I tell you, do not worry about your life, what you will eat; or about your body, what you will wear. 23 Life is more than food, and the body more than clothes. 24 Consider the ravens: They do not sow or reap, they have no storeroom or barn; yet God feeds them. And how much more valuable you are than birds! 25 Who of you by worrying can add a single hour to his life? 26 Since you cannot do this very little thing, why do you worry about the rest? 27 "Consider how the lilies grow. They do not labor or spin. Yet I tell you, not even Solomon in all his splendor was dressed like one of these. 28 If that is how God clothes the grass of the field, which is here today, and tomorrow is thrown into the fire, how much more will he clothe you, O you of little faith! 29 And do not set your heart on what you will eat or drink; do not worry about it. 30 For the pagan world runs after all such things, and your Father knows that you need them. 31 But seek his kingdom, and these things will be given to you as well. (NIV)
The Garden of Eden was a place of grace and mercy.
It yielded all kinds of wonderful fruits because God Himself was there, walking in the midst of it.
Ever since Adam and Eve traded God's presence in His beautiful garden for sin-scorched earth and hard toil, we've been preoccupied with work and worry.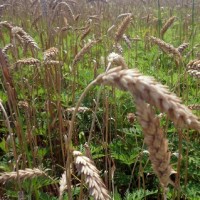 Outside of Eden, we have to work by the sweat of our brow to try to obtain things that ultimately still come to us by God's grace and mercy.
Stop and think about that last sentence for a second. 
We no longer have a garden in which we automatically experience God's intimate relationship and appreciate His ongoing presence.  Human sin put an end to that.  Outside of Eden, we sweat and toil.  We put in long hours at the office for a mixture of wheat and weeds.  We gaze upon a mountain of work and are opposed by winds of doubt that can churn any calm sea into an ocean of worry.  Our river of peace gets polluted by a flood of tears that accompany each day.
Why?  To gain what God stands prepared to give us—if only we will abide in His presence by faith?
If Jesus' journey "Up to Jerusalem" put an end to the big obstacle for our enjoying God's ongoing presence; if this occurred by His death on the Cross for our sin, then Jesus' statement in verse 31 is crystal clear:
 But seek his kingdom, and these things will be given to you as well."
If God already stands prepared to give grace and mercy—providing everything we truly need for living—why are we trying to gain by human effort and worry what God will simply give us if we seek Him first?  God's presence, His grace, and His mercy are available to us in Jesus Christ.  He is all we need.  It's why Jesus said in verse 28, "O you of little faith!"
Expect Opposition when it comes to exercising faith.  Gaze Beyond the mountain of work and worry.  Seek God's Presence and Know His Peace.  Have Mercy on Us!  Praise God from whom all blessings flow!  Seek first the Kingdom…
John 1:16 "From the fullness of his grace we have all received one blessing after another."
For further study and meditation: