Luke 11:29 As the crowds increased, Jesus said, "This is a wicked generation. It asks for a miraculous sign, but none will be given it except the sign of Jonah. 30 For as Jonah was a sign to the Ninevites, so also will the Son of Man be to this generation. 31 The Queen of the South will rise at the judgment with the men of this generation and condemn them; for she came from the ends of the earth to listen to Solomon's wisdom, and now one greater than Solomon is here. 32 The men of Nineveh will stand up at the judgment with this generation and condemn it; for they repented at the preaching of Jonah, and now one greater than Jonah is here. (NIV)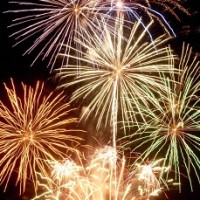 A crowd is growing behind Him as Jesus makes His way "Up to Jerusalem."  Show us a sign, they ask. 
Let's see you do some tricks with your powers!
Dazzle us with your miracles!
Impress us with who you are!
Jesus is no carnival sideshow act with disciples as gospel barkers.  He doesn't need to perform in order to prove to anyone that He's the Messiah.  He knows who He is. 
He is the sign of Jonah to this wicked generation.
Many people seek to be popular, to gain a following, to be well respected, admired, and sought after.  Plenty of folks want to have well-established blue-chip résumés, showing many exemplary accomplishments in a short period of time.
Jesus wants none of that for the purpose of impressing people.  He is the Son of God.  He is the Son of Man.  He is the one and only Messiah.  The miracles He's done in His 3 year ministry already affirm that He is who He says He is.  He doesn't need to perform for people like He's a circus dog—on demand, for their viewing pleasure.
The Songs of Ascents echo in the background…listen to Jesus:
• Expect Opposition from a wicked generation
• Gaze Beyond the Hills of earthly reputations and human approval
• Seek God's Presence and Know His Peace–peace that is possible only for repentant sinners
• Cry out to God, "Have Mercy on Us!"  That's what the Ninevites did.
One greater than Jonah is here among you!  I'm here, Jesus says.  If the Ninevites listened to a one line sermon from a reluctant prophet named Jonah and yet they repented, how much more should you all repent?  One greater than King Solomon is among you!  Rather than asking for a sign, seek Him and His wisdom:
Gaze beyond the miracles to the God who does them.
Seek His presence and experience peace with God.
Cry out, not for a sign, but for mercy.
Repent, the Kingdom of heaven is near!
For further meditation and study: 
Read  Jonah 3:1-10 .  How did the Ninevites respond to Jonah's preaching?