"It was just before the Passover Feast.
Jesus knew that the time had come for him to leave this world and go to the Father.
Having loved his own who were in the world, he now showed them the full extent of his love." (John 13:1)
In our 2015 Lenten devotional series, we're looking at Jesus' final words to us before He goes to the Cross.  If the words "light" and "life" characterize the early chapters of the Gospel of John, there is one word that reigns supreme With Christ in the Upper Room (John 13-17).  That word is "love."
What does it mean that Jesus now showed His disciples the full extent of His love?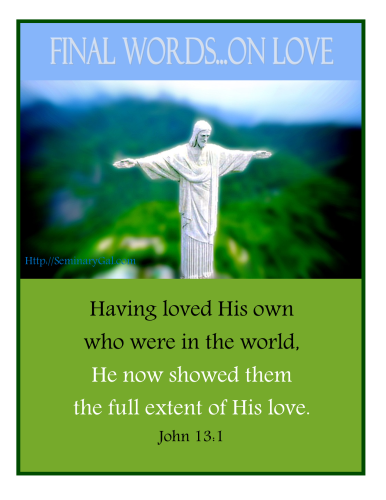 In the Greek language, it has a double meaning.  It means both that He loved them to the very end of His days as well as He loved them to the fullest extent possible, which for Jesus, the Son of God, is a lot.
He showed the full extent of His love as final preparation.
Love can be modeled.  Love can be shown.  Love can be seen.  And love can be learned by experience.  But I wonder, can a person be taught how to love? Or do we just remember?
We come into this world as lovers made in Love's image.  For God is love.  But the assaults of sin in this world cause us to build walls of protection around our hearts to keep us from being hurt.  We are taught—by sin—to resist being vulnerable in love.  Fear of being hurt is a powerful teacher…and a mighty obstacle to knowing how to love others.
1 John 4:18 There is no fear in love. But perfect love drives out fear, because fear has to do with punishment. The one who fears is not made perfect in love.
So Jesus came and showed us the Father.  He showed us what Love looks like.  When we see Jesus, we see the Father in whom all Love is perfectly displayed.  Jesus models the beauty of dependence upon the Father, complete with all vulnerability, unafraid of being hurt by sin, and totally trusting in God's goodness and eternal providence.
Jesus didn't learn to love.  He is God and God is Love.
* * *
Give it up for Lent: Fear of vulnerability
Put it on for Lent: Love for God and neighbor
For further thought:
Can a person be taught how to love, or only regarding depth, to love more?  Can a person be taught to hate?
If yes, how do these things happen?
Why was it important (as Jesus was preparing His disciples for His death) that they would know the full extent of His love?  See John 3:16-17
What do love and hate have to do with the manner of the Gospel's advance against the forces of this world?
* * *
You can receive these devotional studies in your email (Monday through Saturday during Lent) by entering your email address on the SeminaryGal.com home page in the space provided in the sidebar.  Let's meet With Christ in the Upper Room.