Shepherds and Angels, Heaven and Earth Rejoice!!
In the moment, Mary is giving birth, deep in the throes of labor. If we had a split screen or Zoom array like Hollywood Squares, we'd also see Joseph helping, the animals watching, perhaps oddly silent, or as the song says, "lowing". We'd see shepherds busy at work out in the fields and sheep doing their thing by wandering around, thinking of nothing other than getting lost in search of greener pastures. Everything on earth would be completely normal.
If anyone had told them ahead time what was really happening
in heaven and on earth
and that the pivot point of all history that was now happening in their midst,
it'd be cause for calling them crazy.
Luke 2:6 While they were there, the time came for the baby to be born, 7 and she gave birth to her firstborn, a son. She wrapped him in cloths and placed him in a manger, because there was no guest room available for them.
That's the earth, but there's a spiritual realm in which we'd see angels hanging on with great anticipation because they didn't know the plan either but had been waiting for it. They're watching Mary intently to see what happens. She gives birth to … a baby. Wait… (the angels are puzzled and pause for God's explanation and then hearing the Good News, they rejoice!)…
In the spiritual realm, though, we'd also see dark angels, those demons out to destroy the work of God, and they'd be looking on in confusion as to why the hullabaloo in the spiritual realm.  After all, it's just a baby.  The demons reason to each other, we can derail him with sin or kill him off even into adulthood like Moses or David or Noah, or Adam. But this isn't an adult.  It's just a baby.  Easy enough to kill.  No worries, the demons think, millions of babies are ours to kill every year.  It's just a baby.
The demons would think there's nothing to worry about. Just a poor baby born to a poor family. But wait…that's not how the heavenly angels are reacting!
The angels in heaven are messengers who had been watching and suddenly they see the beauty, even if yet they do not know the full, sheer genius! They have been given a message from God Himself to proclaim about this birth and Good News of this baby, the Christ Child!!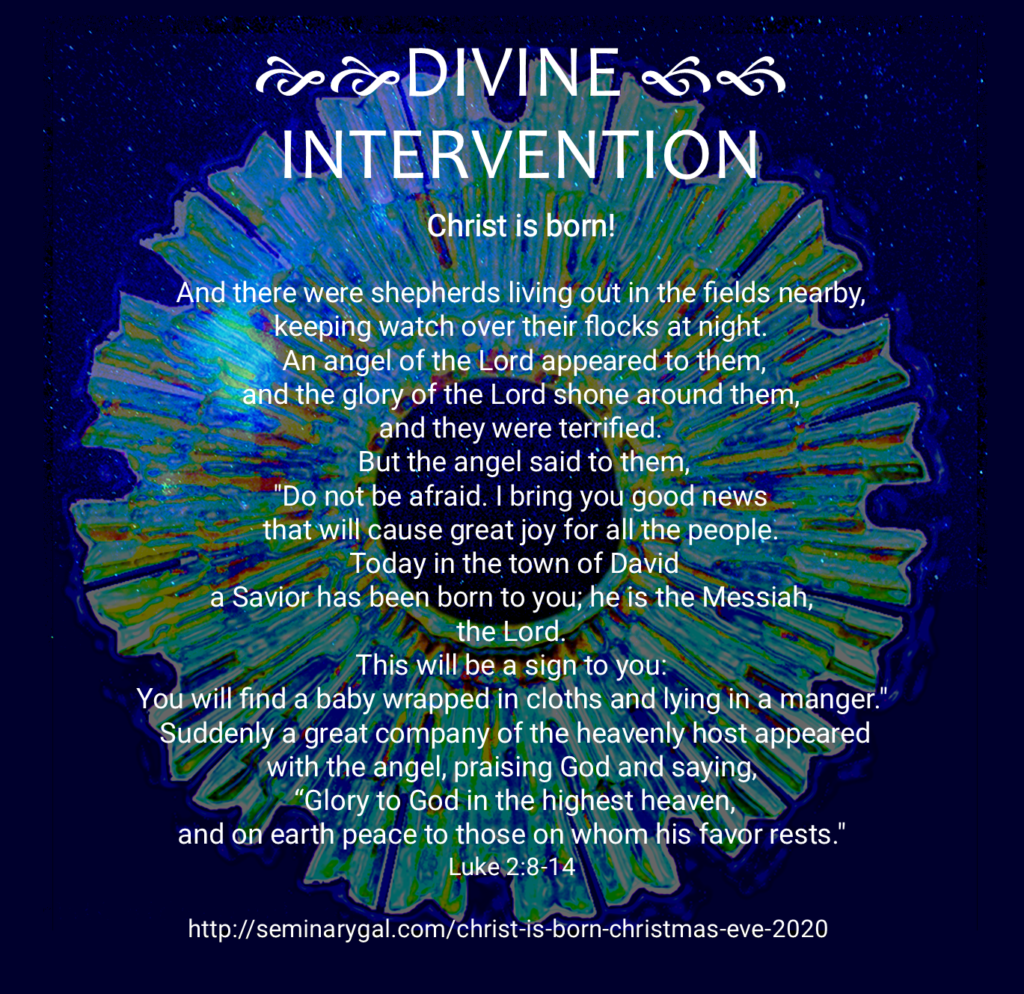 Luke 2:8 And there were shepherds living out in the fields nearby, keeping watch over their flocks at night. 9 An angel of the Lord appeared to them, and the glory of the Lord shone around them, and they were terrified. 10 But the angel said to them, "Do not be afraid. I bring you good news that will cause great joy for all the people. 11 Today in the town of David a Savior has been born to you; he is the Messiah, the Lord. 12 This will be a sign to you: You will find a baby wrapped in cloths and lying in a manger." 13 Suddenly a great company of the heavenly host appeared with the angel, praising God and saying, 14 "Glory to God in the highest heaven, and on earth peace to those on whom his favor rests."
No wonder that Heaven and Earth rejoice!!! No wonder they give glory to God!!! No wonder they praise Him. How it all works, they do not question. God's plan won't unfold in earthly time for 33 years. But for now, the message is enough for Shepherds and Angels, Heaven and Earth to rejoice!
Questions for thought:
"Conventional wisdom" would have seen just a baby, birthed by a poor woman who had gotten pregnant out of wedlock. In what way does our culture disregard the divinity of Jesus, make fun of Him or His followers, or treat Him like a joke?
What does God think of that attitude?
In what ways was "conventional wisdom" wrong then? Herod would be among the first of the worldly ones to consider this Child to be a genuine threat. So much that he'd kill all the innocent males under age 2 (Matthew 2:1-16). Whose side was Herod on: God's or those from the dark forces of evil?
Do worldly forces of evil consider Christmas and Christians to be a threat?
What does God think about mere mortals shutting down Christmas like a governmental Grinch?
Why did it take no time at all for the heavenly host to praise God for the Christ Child, but it took around 2 years for the forces of evil to marshal ways to try to kill Jesus off?
What about God's plan threw evil for a loop? Read Matthew 1:20-23 for insight.
As we conclude this year's devotional series on Divine Intervention with this climax, this pivot point of all history, when the Christ Child was born, let's pray,
Father God our hearts are filled with wonder at the genius of Your plan of salvation, that You Yourself– the Eternal Word–would come to mankind!  God in the flesh, God with us, Emmanuel!  We praise You and thank You for the faithfulness of Mary and Joseph. We thank You that Jesus was born exactly how Scripture outlined. We praise You for the sinless life that He led during His 33 years on this earth.  Thank You that He was faithful all the way to the end on Good Friday's Cross, in the tomb on Saturday, only to be Risen on Easter Sunday.  We thank You that because He lives, we also can live in Him.  We thank You that He came to save us.  We thank You that Your plan was not to leave us to die in our sins but while we were still sinners, Christ died for us.  We ask that during this holy season of Advent even as COVID attempts to steal our joy, to steal our peace, to steal our hope, steal our Christmas, yet we would be called to rejoice in the birth of our Savior Jesus Christ. Oh, that we would join with the angels and give Glory to God in the Highest because You are good, You are loving, You are merciful, and Your grace abounds where our hope is dimmest. We thank You Lord Jesus for coming to show us the way to the Father and to show us who the Father is. May we never have cause to doubt and always be the kind of faithful people who will bring glory to You at Your return. We praise You on this Christmas Eve.  We thank You for this most amazing Gift.  We pray this to Your eternal glory. Amen.