One of the things I really like about movies based upon books by John Grisham (like The Pelican Brief and The Firm) is the skilled way a compelling hero is uncertain to succeed until the very end. There's a suspense that builds until the conclusion finally resolves the conflict and sets one's heart and confidence at rest.
The Bible has a different author and our Hero already won.
There's no confusion about it whatsoever. No uncertainty.
God Remains Victorious from beginning to end–all the way through the suspenseful climax of the Cross, from the devastation of the grave to a hope-filled and confident future beyond. In our series Three Words for Day-to-Day Christian Living, the fact that God Remains Victorious encourages us and gives us confidence today. Now we're just waiting for the Resurrection after-party where Jesus arrives– just on time– to reclaim His people!
Most of us, if we're honest, would believe that the power required to overcome death (which was impossible until Christ) far exceeds any power needed to return to the Earth. As an analogy, consider the enormous power required to overcome Earth's gravitational pull, and the propulsion necessary in a rocket's launch, versus the manned capsule that falls to Earth with parachutes and lands as a splashdown in the ocean. The pull of gravity makes one exceedingly difficult and the other comparatively easy.
If it was a far greater event for Jesus to overcome death than for Him to return to judge the quick and the dead, then why do so many people live as though He won't return?
How should believing in His victory and having confidence in His return affect how you live your life?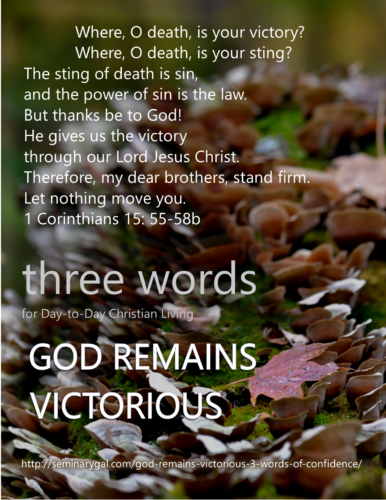 1 Corinthians 15: 55 "Where, O death, is your victory? Where, O death, is your sting?" 56 The sting of death is sin, and the power of sin is the law. 57 But thanks be to God! He gives us the victory through our Lord Jesus Christ. 58 Therefore, my dear brothers, stand firm. Let nothing move you. Always give yourselves fully to the work of the Lord, because you know that your labor in the Lord is not in vain.
===
This "three word" series is archived beginning July 22, 2017.