While other people are buying costumes to wear and going door-to-door in search of candy for Halloween, I think about other things when October 31st rolls around. For me, Killjoy Barbara, it's Reformation Day. (Seriously?) Yup. (Zealot.) Yeah, it's complicated.
I'm back at the door giving out candy on the outside, but on the door of my heart, I'm thinking about a different door entirely. I'm thinking about the one on a castle church in Wittenberg, Germany and how on October 31, 1517, a remarkable and remarkably flawed man, Martin Luther was revealed as something of a man for his time. A man whose life and work demonstrate the power of media and the Natural Law of Unintended Consequences.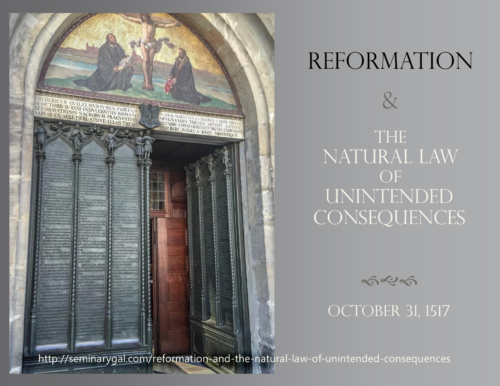 It's amazing how the purifying work of God- when it meets with a world of sin- becomes both a powerful force for good and the double-edged sword of truth which cuts both ways.
Something Jesus told us: Matthew 10: 32 "Whoever acknowledges me before men, I will also acknowledge him before my Father in heaven. 33 But whoever disowns me before men, I will disown him before my Father in heaven. 34 "Do not suppose that I have come to bring peace to the earth. I did not come to bring peace, but a sword. 35 For I have come to turn "'a man against his father, a daughter against her mother, a daughter-in-law against her mother-in-law– 36 a man's enemies will be the members of his own household.' 37 "Anyone who loves his father or mother more than me is not worthy of me; anyone who loves his son or daughter more than me is not worthy of me; 38 and anyone who does not take his cross and follow me is not worthy of me".
Ouch.
Jesus, that one hurts. Well, the truth does sometimes. And it's worth our understanding exactly what truth does, and precisely who Truth is (John 14:6), and then resolutely decide to let God cut away all that is false in our lives as a response.
Over the next few days, I'd like to take a look at what are called the 5 Solas of the Reformation.
Sola Scriptura (Scripture Alone);
Sola Gratia (Grace Alone);
Sola Fide (Faith Alone);
Solus Christus (Christ Alone); and
Soli Deo Gloria (To God Alone Be Glory).
From a vertical, eyes-lifted perspective, they're a beautiful call to true discipleship and uncompromised obedience to One God. From a horizontal, chained to a sinful humanity perspective, they can present a legion of opportunities to live out the Natural Law of Unintended Consequences as each does what is right in his own eyes (Judges 17:6). Let's not let the Reformation divide us. Let's choose instead to see that viewed from God's perspective, the "5 Solas" can help us–Catholics, Orthodox, and Protestants alike–to remain spiritually vertical … in spiritually horizontal world. To be God's Church , our unity reflecting our faith in Him to a world that is utterly lost.