Odd, isn't it, that God would be preparing and protecting all of His people by sending one of His own into years of slavery and imprisonment? In the strange plan of God, what must have seemed like Joseph's string of bad luck was in fact the very preparation necessary for Joseph's use to Pharaoh and the protection of God's people. Were it not for imprisonment for 3 men (cupbearer, baker, and Joseph), the Pharaoh's cupbearer would not have had a testimony that involved dream interpretation.
Genesis 41:15 Pharaoh said to Joseph, "I had a dream, and no one can interpret it. But I have heard it said of you that when you hear a dream you can interpret it." 16 "I cannot do it," Joseph replied to Pharaoh, "but God will give Pharaoh the answer he desires." 17 Then Pharaoh said to Joseph, "In my dream I was standing on the bank of the Nile…"
and he goes on to explain the dual dreams.
25 Then Joseph said to Pharaoh, "The dreams of Pharaoh are one and the same. God has revealed to Pharaoh what he is about to do…"
and outlines the famine to come following years of abundance.
32 The reason the dream was given to Pharaoh in two forms is that the matter has been firmly decided by God, and God will do it soon. 33 "And now let Pharaoh look for a discerning and wise man and put him in charge of the land of Egypt. 34 Let Pharaoh appoint commissioners over the land to take a fifth of the harvest of Egypt during the seven years of abundance. 35 They should collect all the food of these good years that are coming and store up the grain under the authority of Pharaoh, to be kept in the cities for food. 36 This food should be held in reserve for the country, to be used during the seven years of famine that will come upon Egypt, so that the country may not be ruined by the famine." 37 The plan seemed good to Pharaoh and to all his officials. (Gen. 41:15-37)
Time passes and the famine descends, but Egypt has grain…because of a long-lost brother who had been sold into slavery.  The time of reckoning arrives.
Genesis 45:4 Then Joseph said to his brothers, "Come close to me." When they had done so, he said, "I am your brother Joseph, the one you sold into Egypt! 5 And now, do not be distressed and do not be angry with yourselves for selling me here, because it was to save lives that God sent me ahead of you. 6 For two years now there has been famine in the land, and for the next five years there will be no plowing and reaping. 7 But God sent me ahead of you to preserve for you a remnant on earth and to save your lives by a great deliverance. 8 "So then, it was not you who sent me here, but God."
The nuances of the journey from point A to point B often make no sense to us in the flow of time.  To the baker, the cupbearer, Joseph, the people of Egypt, and Joseph's family it might have seemed like nothing but bad luck, total injustice and a world broken beyond repair.  But God…preserves in surprising ways.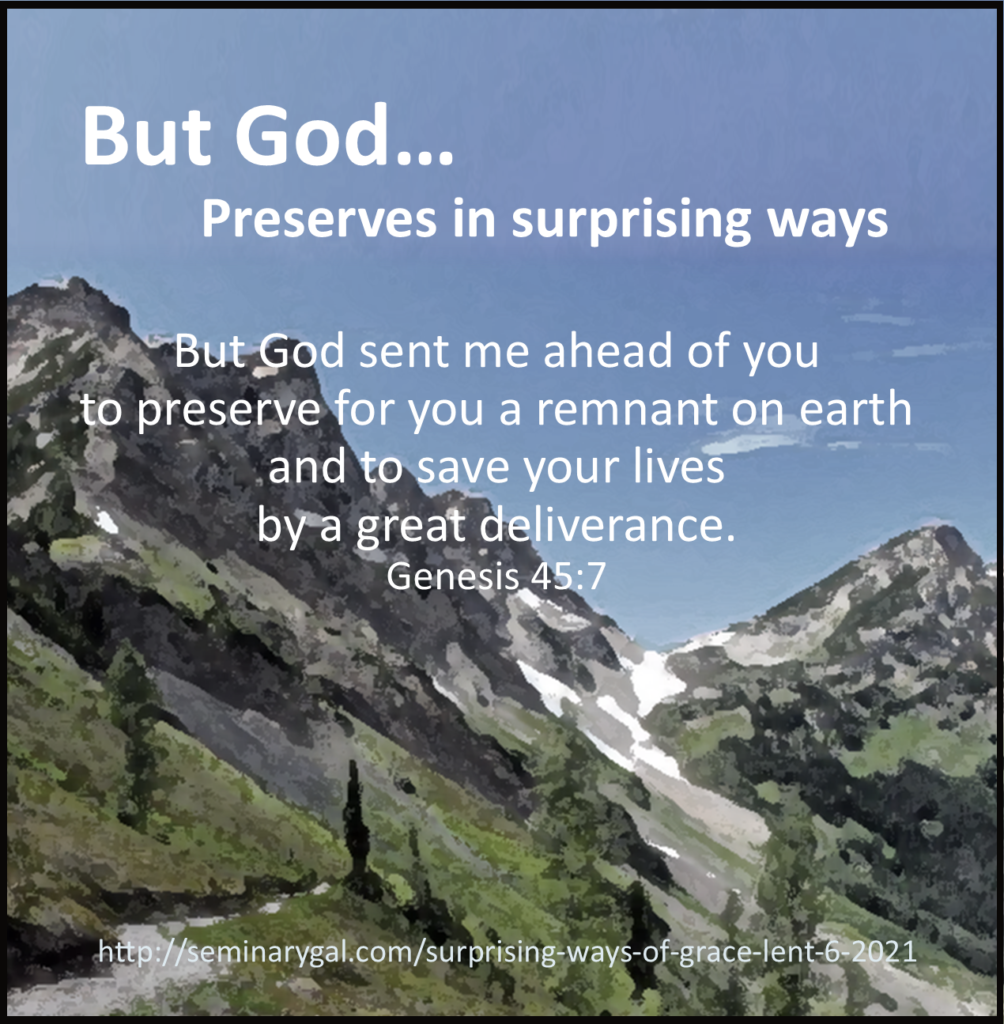 Thank you, Father, that Your plans reign supreme.  Ways that make no sense to us, yet in Your will because of Your perfect wisdom, these ways lead perfectly beyond the mountains that obscure our view to the outcome needed.  Thank You that You give us neither what we want nor what we deserve.  Thank You for Your mercy giving us what we need, that by Your grace we are saved! Your surprising outcomes are better than anything we, ourselves, could imagine and for this we give You glory.  Amen.
===
If you're already signed up on my Home Page sidebar to receive posts, you'll get the 2021 Lent Devotionals automatically. Or you can "Like" Seminary Gal on Facebook and they'll be delivered to your Facebook news feed. If you haven't signed up, today is a great day to do so. Advent and Lenten devotionals remain among my most popular offerings. You don't want to miss this encounter with God to prepare your heart for Easter! Understanding that prior years' devotionals continue to minister, you may want to have access to a full series ahead of time: