The songwriter of Victory in Jesus, Eugene Monroe Bartlett, Sr., was born on Christmas Eve of 1885.  At an early age, he received Jesus Christ as his Savior and as he grew, he came to know his calling to publish hymns and teach singers to sight read.
At the age of 36, he established the Hartford Music Institute which was a shape-note school for teaching music.  (Shape notes—notes in which the heads were different shapes–were thought at the time to help with congregational singing in churches, particularly if music reading skills were limited).
Bartlett wrote many gospel music favorites which were performed and popularized by leading gospel quartets of their day, including several African-American gospel groups, something quite notable given the day in which Bartlett lived.
His commitment to nurturing the next generation of gospel songwriters and singers was evident in his sponsorship of emerging talent.  One of the best known shape note Southern gospel songwriters–Albert E. Brumley—got his start at Bartlett's Hartford school and was eventually employed by Hartford Music.
In 1939, Bartlett became partially paralyzed due to a stroke, making it impossible for him to continue to perform and travel.  However, as is the case with so many people who are devoted to their calling, they rise above their circumstances to create a crowning achievement.  Bartlett wrote his last work—and arguably his most beloved song– "Victory in Jesus" while paralyzed.  Read the lyrics below in a new light, knowing this backstory. Or listen to the great George Beverly Shea singing this gospel classic by clicking here.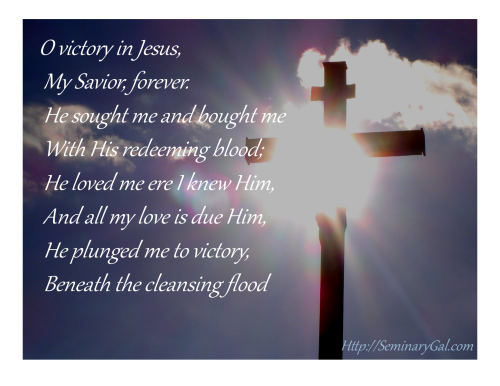 Victory in Jesus
I heard an old, old story,
How a Savior came from glory,
How He gave His life on Calvary
To save a wretch like me;
I heard about His groaning,
Of His precious blood's atoning
Then I repented of my sins;
And won the victory.
Refrain:   O victory in Jesus,
 My Savior, forever.
 He sought me and bought me
 With His redeeming blood;
 He loved me ere I knew Him,
 And all my love is due Him,
 He plunged me to victory,
 Beneath the cleansing flood
I heard about His healing,
Of His cleansing power revealing.
How He made the lame to walk again
And caused the blind to see;
And then I cried, "Dear Jesus,
Come and heal my broken spirit,"
And somehow Jesus came and brought
To me the victory.
 Refrain
I heard about a mansion
He has built for me in glory.
And I heard about the streets of gold
Beyond the crystal sea;
About the angels singing,
And the old redemption story,
And some sweet day I'll sing up there
The song of victory.
 Refrain