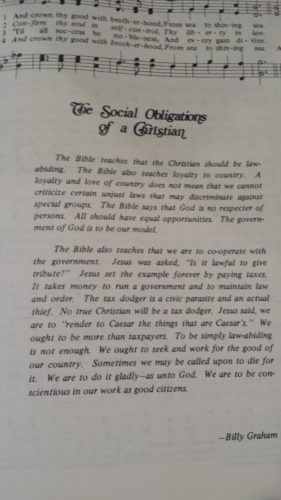 While preparing for the next installment of patriotic hymns, I came across the social obligations of a Christian.  Oh, I consulted a variety of hymnals, most of which I've picked up at second-hand stores.  No one seems to want them anymore but me and a thrift store is about the only place one can find a historic type of hymnal locally.
In America, many people used to own a hymnal.  But that was a time long ago, it seems. 
One of the hymnals I have came courtesy of the Rosenberg family if I enjoy the inscription correctly.  It's called Hymns for the Family of God by Paragon Associates Inc. (Nashville, TN) dating back to 1976.  The Gaithers were on the editorial board.  Stuff like this intrigues me.
Anyway, hymn #691 isn't a hymn at all.  It's a short patriotic note by the Reverend Billy Graham.  The Social Obligations of a Christian looks like this (right) and I transcribed it into a design of my own (below).
In a day when many Christians are conflicted about how to engage with our culture, particularly in an election year, to me it was a gentle and welcome reminder that my obligations to God don't end as I leave the narthex and exit the church building to the world outside.  Our obligations are to each other, too.
We are to be in the world, but not of it.