God created and finished.  From there, God builds. 
How does He do that? 
Through beams and nails for Christ, through times of testing for us,
and for all of us, adhering to the plan from our Creator and architect.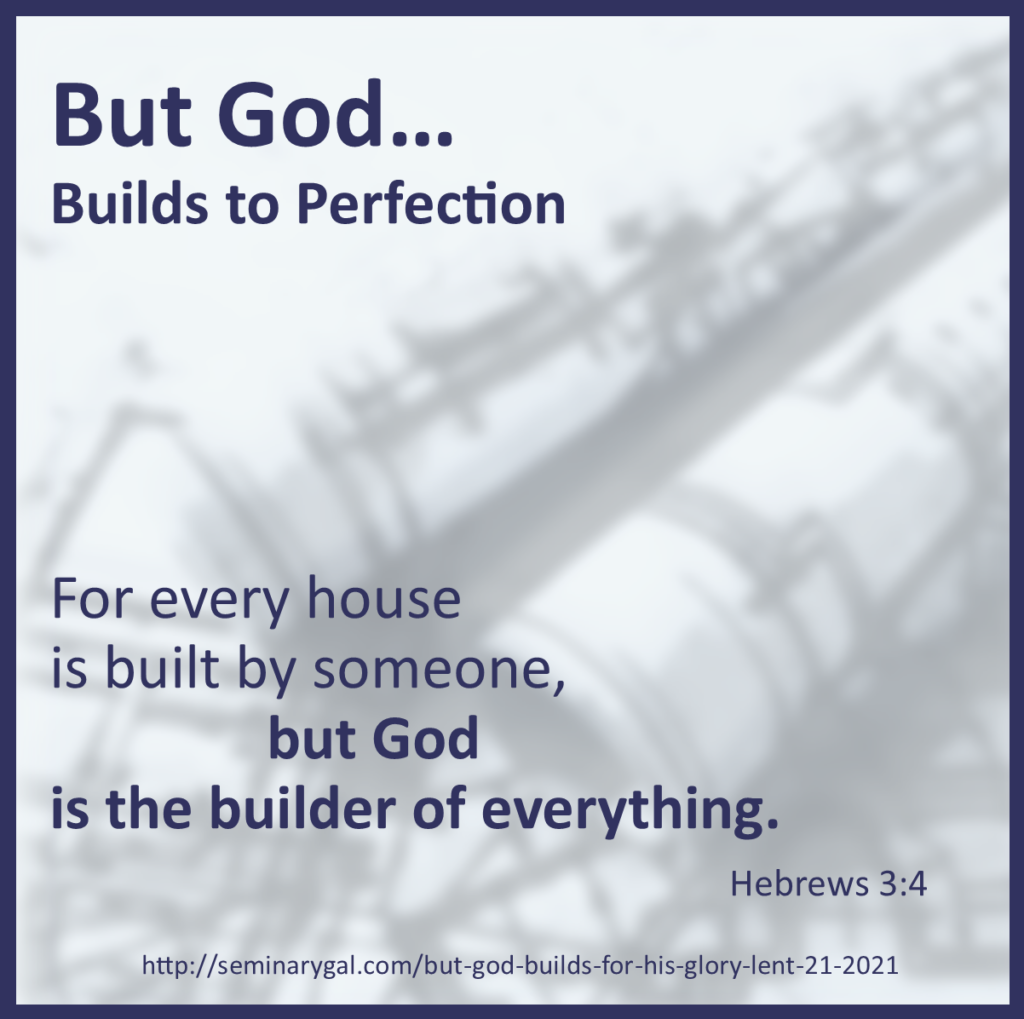 Hebrews 3:1 Therefore, holy brothers and sisters, who share in the heavenly calling, fix your thoughts on Jesus, whom we acknowledge as our apostle and high priest. 2 He was faithful to the one who appointed him, just as Moses was faithful in all God's house. 3 Jesus has been found worthy of greater honor than Moses, just as the builder of a house has greater honor than the house itself. 4 For every house is built by someone, but God is the builder of everything. 5 "Moses was faithful as a servant in all God's house," bearing witness to what would be spoken by God in the future. 6 But Christ is faithful as the Son over God's house. And we are his house, if indeed we hold firmly to our confidence and the hope in which we glory. 7 So, as the Holy Spirit says: "Today, if you hear his voice, 8 do not harden your hearts as you did in the rebellion, during the time of testing in the wilderness, 9 where your ancestors tested and tried me, though for forty years they saw what I did."
 We should not harden our own hearts because we are servants IN God's house.
But we should seek the Builder, the One OVER God's spiritual house (the Church).

1 Peter 2:4 As you come to him, the living Stone– rejected by humans but chosen by God and precious to him– 5 you also, like living stones, are being built into a spiritual house to be a holy priesthood, offering spiritual sacrifices acceptable to God through Jesus Christ. 6 For in Scripture it says: "See, I lay a stone in Zion, a chosen and precious cornerstone, and the one who trusts in him will never be put to shame." 7 Now to you who believe, this stone is precious. But to those who do not believe, "The stone the builders rejected has become the cornerstone."
Is Christ precious to you…
or just another stone to be rejected in a cancel culture?
Lord Jesus, we praise You and thank You that You are faithful as the Son over God's house. We praise You that with beams on which You were crucified, by nails through Your hands and feet, by Your precious blood being spilt that we have redemption by faith in You. To receive Your mercy. To receive Your grace. To receive Your forgiveness for our sins. Let us not harden our hearts in Your sight, Lord. Father God, let us not reject this cornerstone You have prepared, but to build upon our relationship with You so that we might bring glory to You as faithful servants in Your house. In Christ's Name, we pray. Amen.
If you're already signed up on my Home Page sidebar to receive posts, you'll get the 2021 Lent Devotionals automatically. Or you can "Like" Seminary Gal on Facebook and they'll be delivered to your Facebook news feed. If you haven't signed up, today is a great day to do so. Advent and Lenten devotionals remain among my most popular offerings. You don't want to miss this encounter with God to prepare your heart for Easter! Understanding that prior years' devotionals continue to minister, you may want to have access to a full series ahead of time: