When God sets an order that bucks with tradition, what do we do? 
Think He made a mistake?  Think the traditions are not applicable anymore? 
Question His goodness or faithfulness? 
It may sound odd, But God is reliable, not predictable.
Genesis 48:17 When Joseph saw his father placing his right hand on Ephraim's head he was displeased; so he took hold of his father's hand to move it from Ephraim's head to Manasseh's head. 18 Joseph said to him, "No, my father, this one is the firstborn; put your right hand on his head." 19 But his father refused and said, "I know, my son, I know. He too will become a people, and he too will become great. Nevertheless, his younger brother will be greater than he, and his descendants will become a group of nations." 20 He blessed them that day and said, "In your name will Israel pronounce this blessing: 'May God make you like Ephraim and Manasseh. '" So he put Ephraim ahead of Manasseh. 21 Then Israel said to Joseph, "I am about to die, but God will be with you and take you back to the land of your fathers.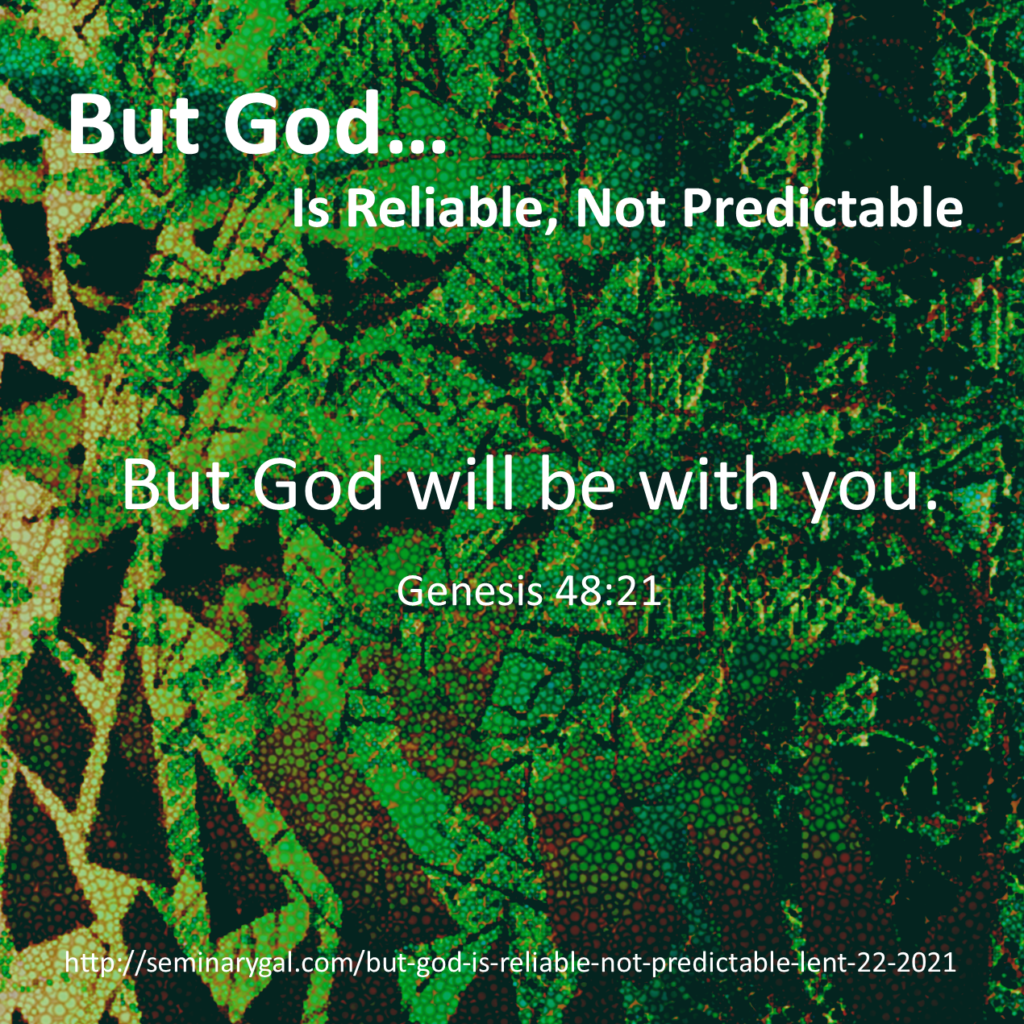 Why would God want to be reliable but not predictable?  Reliability is related to character and God's character is one of faithfulness, integrity, holiness.  Predictability is related to process, thought, and will, behaving in a way that could be determined by someone else in advance.   If we could predict God and His every move, we would be gods.  That will never do!  As we continue our Lenten series, "But God…" and learn to live at peace with the City of Man while awaiting the City of God, we should be glad that He is fully reliable and faithful as His character, but without burdening us with full understanding of His will.
Lord, we thank You that You do not burden us with knowledge of Your return, Your judgment, Your will for us individually, or Your plan for us as a community of people.  It would be more than we could bear were we to know in advance all things…lifespans of family members, eternal outcomes, tragedies, and blessings.  It would change how we act, probably for the worse.  We thank You that the urgency of Your imminent return, the brevity of life, and our ignorance of the future serve to forge a greater dependence upon You.  May we look to You in good times and bad, health and sickness, being grateful for everything You have done for us.  In Jesus' Name.  Amen.
===
If you're already signed up on my Home Page sidebar to receive posts, you'll get the 2021 Lent Devotionals automatically. Or you can "Like" Seminary Gal on Facebook and they'll be delivered to your Facebook news feed. If you haven't signed up, today is a great day to do so. Advent and Lenten devotionals remain among my most popular offerings. You don't want to miss this encounter with God to prepare your heart for Easter! Understanding that prior years' devotionals continue to minister, you may want to have access to a full series ahead of time: