John 13:12 When [Jesus] had finished washing their feet, he put on his clothes and returned to his place. "Do you understand what I have done for you?" he asked them. 13 "You call me 'Teacher' and 'Lord,' and rightly so, for that is what I am. 14 Now that I, your Lord and Teacher, have washed your feet, you also should wash one another's feet. 15 I have set you an example that you should do as I have done for you. 16 I tell you the truth, no servant is greater than his master, nor is a messenger greater than the one who sent him. 17 Now that you know these things, you will be blessed if you do them.
Judas is still here by the way, With Christ in the Upper Room.  Just thought I'd mention that since it's easy to forget that Judas, the betrayer, was there during much of the Last Supper and Jesus knew it.  It can be reasonably inferred that Judas was sitting next to Jesus in a place of honor at the table of fellowship during Jesus' final Passover feast with His disciples.
Jesus, there He was giving final preparations to all His disciples knowing the Crucifixion was around the corner and around the calendar.  And the very one who would set these horrific events in motion–happily from Satan's perspective—was being served at the table of fellowship by Jesus, the Son of Man and Son of God, whom Judas would willingly betray in only an hour or so.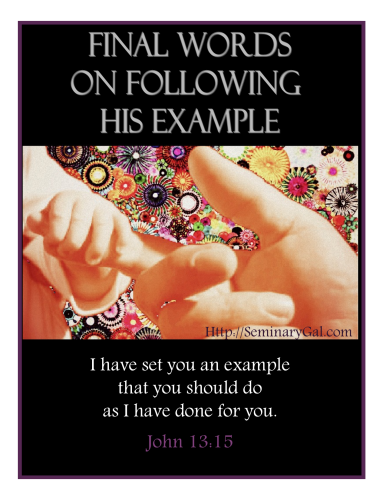 And yet, what do we see here?  Jesus was setting an example by continuing to give last chances for Judas and opportunities for the rest of the disciples to learn what it means to serve others.  To love the brethren, yes, but also what it means to love our enemies.
Just as the contrast of Peter's you…my feet in the Greek of verse 6 is no accident of grammar to emphasize how offensive this idea was to Peter, neither is the reversal of Teacher and Lord in verse 13 with what we see in verse 14.
How often do we put the emphasis on Teacher when we should put the emphasis on Lord?
If the Lord could stoop to serve as an example to us, teaching us (i.e. sinners) by His divine authority, is it really that hard for us to stoop to a lesser degree to serve our virtual equals in life compared to what Jesus did?
* * *
Give it Up for Lent: Seeing others as better or as inferior, especially if they have hurt us
Put it On for Lent: Love of our enemies
For further thought:
Is there a real difference for you between Jesus being just

a

teacher or

the Teacher

?  What about His being a Lord and your Lord?
Remembering His lordship, what difference might it make in how you respond to His teachings?
Do you think Judas was seeing Jesus as both Lord and Teacher?  Why or why not?
Read

Luke 6: 27 "But I tell you who hear me: Love your enemies, do good to those who hate you, 28 bless those who curse you, pray for those who mistreat you. 29 If someone strikes you on one cheek, turn to him the other also. If someone takes your cloak, do not stop him from taking your tunic. 30 Give to everyone who asks you, and if anyone takes what belongs to you, do not demand it back. 31 Do to others as you would have them do to you. 32 "If you love those who love you, what credit is that to you? Even 'sinners' love those who love them. 33 And if you do good to those who are good to you, what credit is that to you? Even 'sinners' do that. 34 And if you lend to those from whom you expect repayment, what credit is that to you? Even 'sinners' lend to 'sinners,' expecting to be repaid in full. 35 But love your enemies, do good to them, and lend to them without expecting to get anything back. Then your reward will be great, and you will be sons of the Most High, because he is kind to the ungrateful and wicked." 

What does this tell us about enemies and God's example for us?
Read 

1 Corinthians 2:8 None of the rulers of this age understood it, for if they had, they would not have crucified the Lord of glory.

  Read also

Luke 23: 33 When they came to the place called the Skull, there they crucified him, along with the criminals– one on his right, the other on his left. 34 Jesus said, "Father, forgive them, for they do not know what they are doing

."  How would Jesus continue to teach us?
* * *
You can receive these devotional studies in your email (Monday through Saturday during Lent) by entering your email address on the SeminaryGal.com home page in the space provided in the sidebar.  Let's meet With Christ in the Upper Room.