John 13:18 "I am not referring to all of you; I know those I have chosen. But this is to fulfill the scripture: 'He who shares my bread has lifted up his heel against me.' 19 "I am telling you now before it happens, so that when it does happen you will believe that I am He. 20 I tell you the truth, whoever accepts anyone I send accepts me; and whoever accepts me accepts the one who sent me." 21 After he had said this, Jesus was troubled in spirit and testified, "I tell you the truth, one of you is going to betray me." 22 His disciples stared at one another, at a loss to know which of them he meant. 23 One of them, the disciple whom Jesus loved, was reclining next to him. 24 Simon Peter motioned to this disciple and said, "Ask him which one he means." 25 Leaning back against Jesus, he asked him, "Lord, who is it?" 26 Jesus answered, "It is the one to whom I will give this piece of bread when I have dipped it in the dish." Then, dipping the piece of bread, he gave it to Judas Iscariot, son of Simon. 27 As soon as Judas took the bread, Satan entered into him. "What you are about to do, do quickly," Jesus told him, 28 but no one at the meal understood why Jesus said this to him.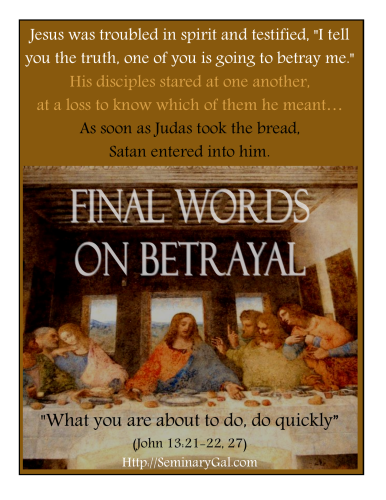 There are times it's helpful to rewind and replay something to see the most pertinent scenes again.  Like when watching a favorite movie or some sort of thriller in which there are crucial scenes on which the entire plot turns.  This is one of those scenes With Christ in the Upper Room.
Suddenly Jesus says he's not referring to all of them and turns to the idea of betrayal.  So let's back up to the last mention of that:  John 13:10 Jesus answered, "A person who has had a bath needs only to wash his feet; his whole body is clean. And you are clean, though not every one of you." 11 For he knew who was going to betray him, and that was why he said not every one was clean.
Judas was one of the selected Twelve.  He was a companion–walking along, following Jesus, listening to His teachings as one included in close fellowship, and participating in the sending out of the Twelve (Luke 9).
But there was something missing.  Judas had the heart of a betrayer.
Judas' individual sins would never be repented and Jesus knew it.  Jesus had given him one last chance knowing full well that it would not result in Judas' change of heart.  It was only for Scripture to be fulfilled.
Jesus didn't single out Judas to plead with him to change his mind.  He didn't engage him in a theological discussion of why Judas was heading down a bad path.  He did not do it to shame him in front of the other disciples.  Instead, He told these disciples beforehand–not so they would grieve for Him–but rather so they'd know later on that Jesus had known exactly what He was getting into.  There wasn't even a warning at the table for the other disciples about what Judas was about to do and the consequences of such an action so that Judas might have second thoughts.
Judas was already too far gone.  Who knows when Judas crossed the line of no return?
Jesus was troubled in spirit.  He felt what we often feel. 
Pain of betrayal.  A wounded heart.  Grave distress.
But He set an example for us in these final preparations before He'd leave.  Jesus looked betrayal in the face and accepted that sometimes God's will requires the ugliest aspects of humanity to do quickly what betrayal will do.  Sometimes, in order for God's greater will to be done in other places, even to bring about the goodness we all need.  God's salvation for us coming through suffering is a reality of a broken world–a world filled with sinners in need of redemption.  The gift of salvation, amazing and beautiful, could hardly have been predicted through something so difficult and ugly as the Cross.  Crucifixion was as ugly as it gets.  But this should serve to drive home how ugly sin is and how–in a sense–we're all God's enemies and betray Him all the time.  What should be our response?  It should give us great gratitude for God's example to us on handling betrayal and it ought to make us even more thankful for salvation knowing the heavy cost to Jesus: His very life.
* * *
Give it Up for Lent: Any bad path you may be on.
Put it On for Lent: Forgiveness of our enemies.
For further thought, read the following Scriptures and pray about sin and enemies and forgiveness.
Romans 5:8 But God demonstrates his own love for us in this: While we were still sinners, Christ died for us.

Hebrews 10:26 If we deliberately keep on sinning after we have received the knowledge of the truth, no sacrifice for sins is left, 27 but only a fearful expectation of judgment and of raging fire that will consume the enemies of God. 28 Anyone who rejected the law of Moses died without mercy on the testimony of two or three witnesses. 29 How much more severely do you think a man deserves to be punished who has trampled the Son of God under foot, who has treated as an unholy thing the blood of the covenant that sanctified him, and who has insulted the Spirit of grace? 30 For we know him who said, "It is mine to avenge; I will repay," and again, "The Lord will judge his people." 31 It is a dreadful thing to fall into the hands of the living God.

Colossians 1: 19 For God was pleased to have all his fullness dwell in him, 20 and through him to reconcile to himself all things, whether things on earth or things in heaven, by making peace through his blood, shed on the cross. 21 Once you were alienated from God and were enemies in your minds because of your evil behavior. 22 But now he has reconciled you by Christ's physical body through death to present you holy in his sight, without blemish and free from accusation– 23 if you continue in your faith, established and firm, not moved from the hope held out in the gospel. This is the gospel that you heard and that has been proclaimed to every creature under heaven, and of which I, Paul, have become a servant.

Pray with thanksgiving that God didn't require us to clean up our act first since none of us could be saved.  Pray also that we would be preserved from taking for granted God's forgiveness. Finally pray about what it means to be presented as holy in God's sight, free from any of the ugliness we bring to the table by our sin.  Thank God for the incredibly high price He paid for this to happen: the shed blood of Christ.
* * *
You can receive these devotional studies in your email (Monday through Saturday during Lent) by entering your email address on the SeminaryGal.com home page in the space provided in the sidebar.  Let's meet With Christ in the Upper Room.