People sometimes can't figure out what to do with grace.
Whether it's disbelief or a suspicion that there's an unconsidered angle
or pride that will not let them accept it,
or a stubborn persistence in attempting to earn it,
there's an odd tendency to manipulate that which is undeniably a gift of God.
Joseph's brothers who had sold him into slavery worried they were heading to the chopping block for their sins now that their father Jacob was dead. So they prepare a little speech.
Genesis 50:17 'This is what you are to say to Joseph: I ask you to forgive your brothers the sins and the wrongs they committed in treating you so badly.' Now please forgive the sins of the servants of the God of your father." When their message came to him, Joseph wept.
I get that. Joseph must have been cut to the quick over their ongoing refusal to see that his heart had been gracious since that first moment the brothers showed up looking for grain. Joseph had long ago forgiven them, having seen God's plan in his life come to full bloom, and having made peace with what it took. He wanted bygones to be bygones. The brothers, however, didn't see it maybe, or couldn't accept it. No wonder Joseph wept.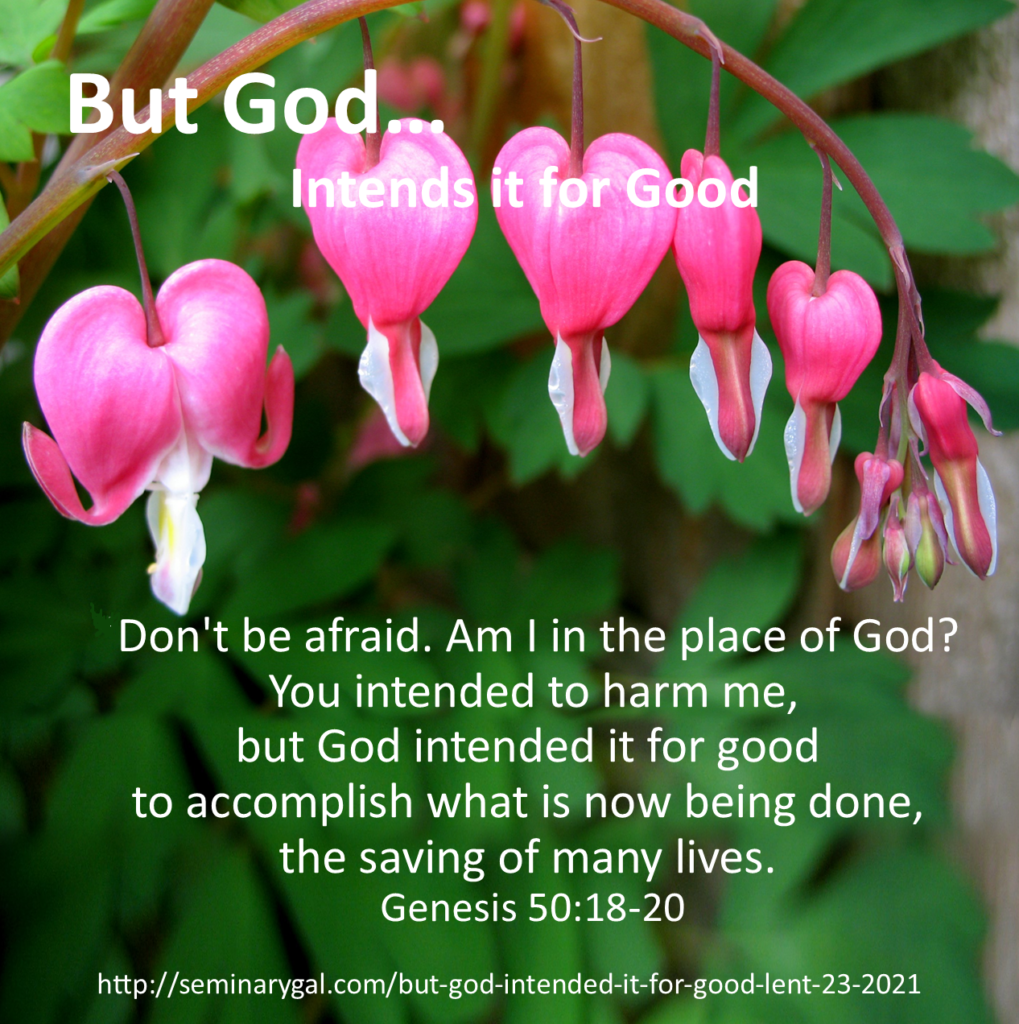 18 His brothers then came and threw themselves down before him. "We are your slaves," they said.19 But Joseph said to them, "Don't be afraid. Am I in the place of God? 20 You intended to harm me, but God intended it for good to accomplish what is now being done, the saving of many lives. 21 So then, don't be afraid. I will provide for you and your children." And he reassured them and spoke kindly to them.
Father God, let this be a model for us that by persisting in grace, we can minister to those in our midst. We can live in peace between the City of Man and the City of God, having made peace with You and having made peace with Your will for our lives. But God…as we've been exploring throughout Lent means that even when we don't understand it, we can accept it. Lord, it is often said that people need to hear the gospel many times before they will receive it because it's hard for us to receive grace as a gift… knowing there's nothing we can do to earn it … there's there's no way we can repay it … and we don't like feeling beholden or like we owe someone something. So we ask Lord that Joseph's model of persistence given for us in Your Word would encourage us to keep preaching the gospel, to keep sharing it with those that we love in hopes that one day they would wake up and see the message of hope … the message of peace … the message of reconciliation that is offered by You through Your Word and our words/actions as followers of Jesus Christ. We praise You for being the author and perfecter of our faith, the Giver of grace, our Savior, and Redeemer and we give thanks with grateful hearts. Amen.
===
If you're already signed up on my Home Page sidebar to receive posts, you'll get the 2021 Lent Devotionals automatically. Or you can "Like" Seminary Gal on Facebook and they'll be delivered to your Facebook news feed. If you haven't signed up, today is a great day to do so. Advent and Lenten devotionals remain among my most popular offerings. You don't want to miss this encounter with God to prepare your heart for Easter! Understanding that prior years' devotionals continue to minister, you may want to have access to a full series ahead of time: